My Review of "Joy Ride"
A fun little road trip movie that isn't totally for me.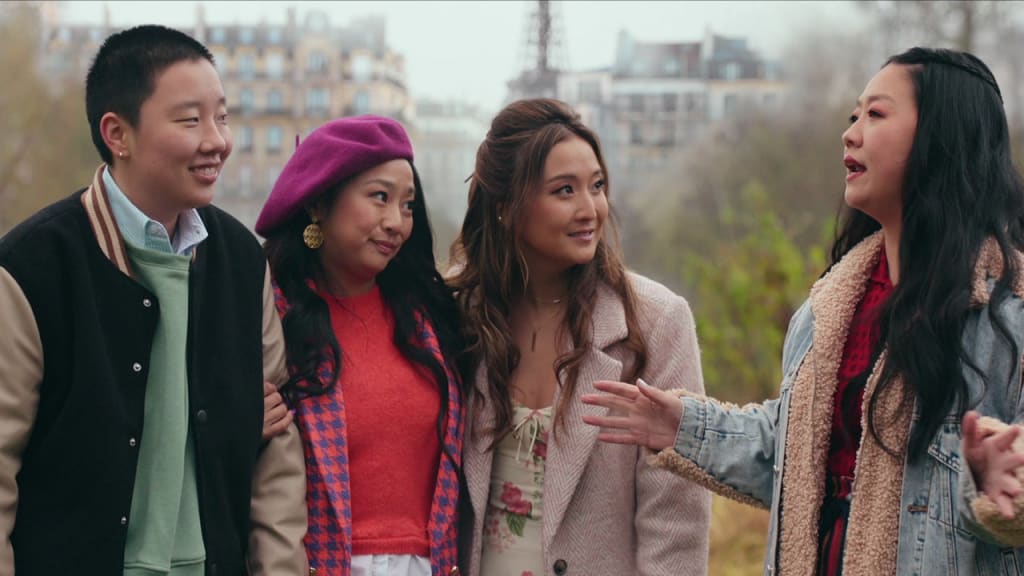 Joy Ride is a comedy that came out in 2023. It's a raunchy comedy that tries to go back to the early 2000s with some of it's humor. Some of it works and some of it doesn't. The characters are fun and they do have a competent story though.
It all starts out with the introduction of Audrey and Lolo. Lolo moves to a small town with her Chinese family to notice that they're the only Asians there. That is until they meet Audrey. She's a Chinese girl adopted by a white family. The two get along because of the fact that they face the same issues while growing up in school.
They fast forward quickly into a time when they're in the middle of growing their careers. Well at least Audrey's career. Audrey has become a pretty successful lawyer in an all boys club and she's hoping to make partner. Meanwhile Lolo is a broke artist waiting for her one big break. It seems as though Lolo is kind of mooching off everyone at this point to make ends meet.
The big catalyst in the movie is when Audrey gets an opportunity to make partner if she can broker a partnership with an affiliate in Beijing China. Not knowing a lick of Mandarin Audrey has Lolo join her on this job trip.
Though pretty soon this trip goes sideways as Lolo invites her cousin Deadeye to join them. There was a lot of potential with Deadeye but they never really utilize her throughout the movie other than being an innocent bystander to everything.
Little does Lolo know, Audrey also plans to meet with Kat her old college friend when she was in law school. So it's kind of a rivalry between Kat and Lolo to compete as Audrey's best friend. As soon as they all meet in China everything kind of goes sideways.
Each of the situations kind of makes sense but at times can feel like weird transitions from one comedy skit to another. I think I would have really enjoyed this movie if I was a lot younger. A lot of the jokes stem from sex and drugs. It's supposed to be funnier since these women are older in age and not expected to be doing some of these wild and crazy things. I guess it's something we expect from a teen comedy.
Then again today adults are not really acting their age anymore and the absurdity of this isn't so far off anymore. In addition, it doesn't totally feel far off for some of the characters to be engaging in some of these weird things. I wasn't really shocked or disgusted at any of these things because I can kind of seeing it really happening.
There are a few swerves that they could have went on but they didn't. I thought they'd at least throw us a few curve balls but it doesn't totally go that way but there are some teases.
The real meat of the movie is the themes of the movie. They have a lot of interesting lessons and insight into the perspectives of very different Asian women. They definitely dive into their personal experiences and I found that kind of more engaging to watch than the comedy itself.
It's really a shame though because there are a lot of potential to some of the jokes in this movie but they kind of fell flat for me. Then again I might not be the target demographic for this movie. Maybe I just didn't get it but I can see some people really getting into this one.
Overall, I still thought it was an okay time to watch this one. I didn't really get into all of the comedy of this one but I did get into the story. There's some fun in learning about these characters. I was invested in each of them so kept me engaged. I have to give this movie a 6 out of 10.
About the Creator
I have tons of opinions that change constantly. I watch a lot of movies and play video games. There are some articles on my struggles with languages and dance as well.
Reader insights
Be the first to share your insights about this piece.
Add your insights