My Review of "John Wick"
Re-watching the original John Wick in 4k I realized that this movie is a masterpiece in action movies.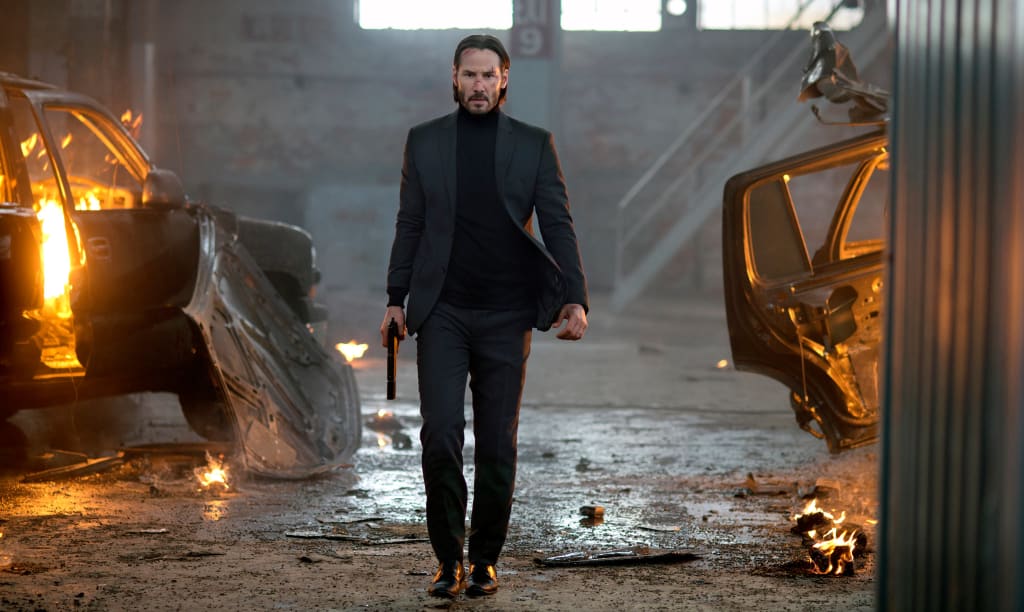 John Wick came out in 2014 and I have bought a number of versions of this movie. I first watched this movie on DVD but then I bought the movie on Blu-ray because I loved the step up in visual resolution. Now in 2020 I had to see what this movie would be like in 4K and I wasn't disappointed.
This movie starts out like one of those movies where they start close to the end of the movie but have a flashback to get back to that point in time. In this case we see John getting out of an SUV beaten and bloodied. He looks at his cell phone and watches a movie of him and his deceased wife.
We flash to the time he was in absolute bliss. His wife and him were extremely happy but she died of some sort of illness. Before she passed away she had ordered a puppy for John sort of as a comforting pet for him to be with because she knows a car won't bring comfort. Even though he really loves his car.
John is reluctant at first but he starts taking to the dog. Unfortunately one day when he's picking up food for his new puppy he comes across this brash and cocky young man at a gas station. This guy basically tries to buy his car from him. The guy won't take no for an answer but John is adamant that he doesn't want to sell.
That night the puppy runs off trying to investigate something and John trying to get to the puppy gets blindsided by the guy trying to buy the car from him earlier. They broke into his house beat John, killed his puppy and then steal his car. That's a lot to take in and they didn't know who they were messing with.
The movie really starts from there and the legend of John starts to be revealed throughout this movie. The young thief so happens to be a mafia leader that John used to work for. When word gets out that John is out for revenge everyone in the city panics and you can feel the tension throughout the movie.
Looking back at this movie I thoroughly enjoyed the setup and the fight scenes. Everything builds and builds upon John's legendary status and further cements who he actually is and why no one wants to mess with him.
The fight scenes are just pure magical because they're so methodical and calculated. Each of the kills that John commits is so efficient because he goes for the head and no one is left in the wake of his destruction. It's like he ensures that no one is left to come after him. This is every action fan's dream because there's so many movies out there where you're yelling at the hero to kill the bad guy or else they'll regret it. In this movie that's not the case. He is smart and efficient. I'm sure everyone watching the movie can attest to that.
Watching it in 4k made me realize just how detailed everything is. When everything is super clear and easy to see you really come to appreciate the work involved. I could clearly see all the movements and the faces. They did a really good job in special effects because I didn't notice any bad effects. They seemed to have used practical effects with everything to make it all look that much more realistic.
The extra resolution just helped me get lost in the movie and I definitely got lost into it. The pacing is so well done that you're never bored or looking for that next scene. Each of the story exposition leads nicely to the next action scene. They just further build on his stature and keep you wanting more.
Overall, I'm really happy I bought the 4k Blu-Ray version of this movie because I can watch this movie over and over again. I have to say that this movie is one of my all time favorites because I've seen it so many times and never seem to get tired of it. That's why I have to give this movie a 10 out of 10. There's no beating the original. If you still haven't seen it go see it! You won't be sorry!
About the Creator
I have tons of opinions that change constantly. I watch a lot of movies and play video games. There are some articles on my struggles with languages and dance as well.
Reader insights
Be the first to share your insights about this piece.
Add your insights