My Review of "Corporate Animals"
An attempt to create a movie that's a cross between The Office and Survivor.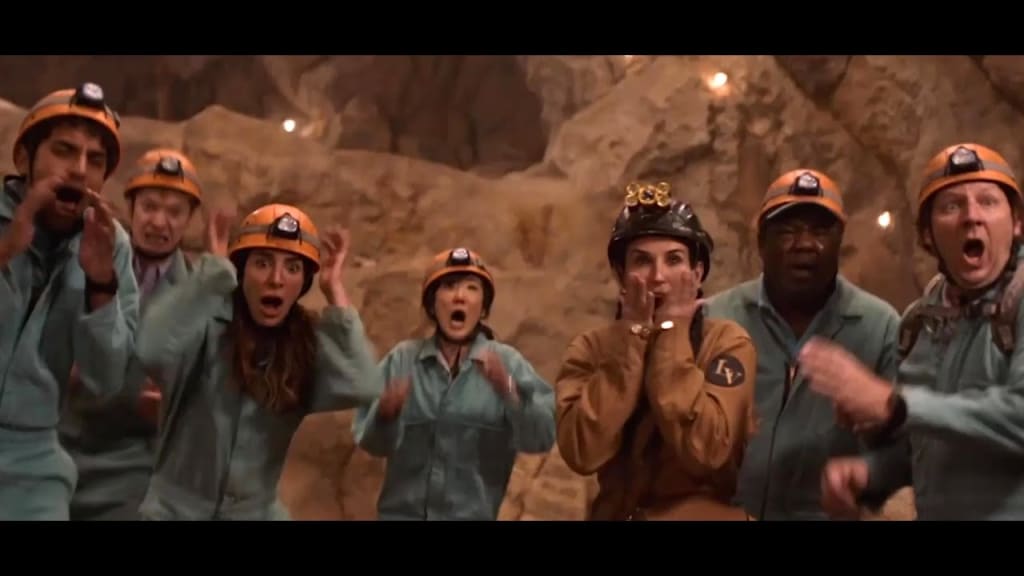 Corporate Animals came out pretty quietly last year. I didn't hear anything about this movie however it does have some bigger named actors in it. It's a comedy about a company work retreat gone wrong. What you get is a bit of a really dark comedy that I had a bit of fun with. I wasn't expecting fireworks with this movie and you shouldn't expect any with this one.
This movie starts out with an infomercial about a utensil that you can eat. I guess it's an okay product if you think about it but the story doesn't revolve around this product. The CEO of this company is Lucy, she's an egotistical sociopath and an all around horrible person. We find this out rather quickly in the movie.
She decides to take some of her employees for a company retreat as a team building opportunity. This seems like a great gesture but we soon see how ambitious Lucy is when she insists that her incompetent team gets placed in the advanced course.
We start wondering why she hired these people in the first place but everything kind of falls into place as you watch the movie. So Brandon, the tour guide brings them into an enchanting cave. Everything seems great until there's an earthquake that prevents the group from returning back to the surface.
This team building opportunity ends up becoming a horrible nightmare. The truth about everyone starts coming out and some crazy stuff happens. Nothing extraterrestrial or science fiction like ever happens but it soon becomes a cartoon in this cave.
First off I think you have to be in a certain mindset in order to enjoy this movie. For some reason I was in that kind of mood and I found a lot of the jokes in this movie pretty funny. As awful as Lucy was in the movie I kind of found that she was a pretty funny character. The movie makes a fun joke about how she misconstrues feminism as females being able to be as bad as men were in the past were to women. In a way I can kind of understand where she's coming from so it was pretty funny.
They even ask each other hilarious ethical questions throughout the movie. Some of the situations they get themselves into had me in stitches because of the absurdity. Again, this movie isn't for everyone. A lot of the jokes that they make deal with a lot of dark situations that they make light of. You have to really keep in mind that it's a movie and that they're just joking around.
There is however an office kind of vibe with this movie. They even have certain characters that kind of remind you of some of the characters that played in the office TV show. I don't know if this was coincidence or if it was done on purpose but the comparison is pretty obvious.
So that's another thing about this movie. It does seem kind of low budget. It feels more like a long TV sitcom than it does an actual movie. That's not a bad thing but some people want a little more polish with their movies. Don't let this deter you from watching this movie though. There is some enjoyment with this one.
Overall, this isn't a very long movie and I laughed at a lot of the jokes. I don't know if I would be able to watch this movie over and over again but this one time was pretty good. I have to give this movie a 7 out of 10. I think if you're able to laugh at some dark subject matter you can enjoy this movie as much as I did. Again not for everyone but if you're in the right mindset it can be fun.
review
I have tons of opinions that change constantly. I watch a lot of movies and play video games. There are some articles on my struggles with languages and dance as well.
Receive stories by Brian Anonymous in

your feed