My Review of "Chip n' Dale: Rescue Rangers (2022)"
A pretty good movie behind a load of distractions in the background.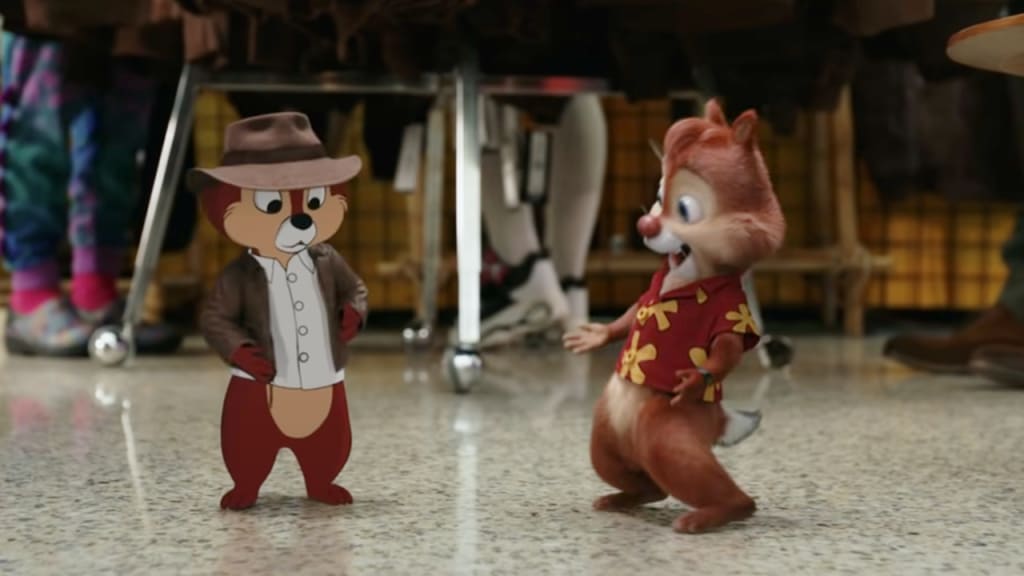 Chip n' Dale: Rescue Rangers (2022) is an unexpected reboot movie that has recently come out exclusively on Disney Plus. I'm a little surprised that they would make this movie straight up available on the streaming platform. This would have been a ton more fun in the theatres watching it with a group of people.
This movie starts off with a narration from one half of our dynamic duo, Dale. He's recounting the time when he was a young chipmunk in a new school. There he met his best friend Chip and everything was about to change for both of them.
They have been life long friends and even made a show together called Chip n' Dale: Rescue Rangers. This movie definitely breaks the fourth wall in so many ways. It's definitely aware of what it is and has a ton of fun doing so.
Unfortunately the friendship didn't last. Eventually Dale was tired of playing second fiddle to Chip on the TV show. He decided that he wanted to make a name for himself. In doing so it had a ripple effect that ultimately cancelled their popular TV show along with his solo act.
Drifted apart, all members of the original rescue rangers would go their separate ways. They never really talk to one another until one fateful day. This is when their good friend Monterey Jack pleads with each of them to help him out.
He's gotten himself into a little bit of trouble. There's this underground ring of crimes going on. Classic cartoon characters are being kidnapped and redrawn so that they can star in bootleg versions of classic movies. Monterey has gotten himself involved as he has become addicted to stinky cheese.
I know the whole concept of this story is pretty funny and it really is. They play on puns like crazy in this movie. Anyways Monterey eventually gets kidnapped and it's up to our dynamic duo to once again join forces to thwart evil.
Throughout their adventures you will see a plethora of easter eggs generously sprinkled throughout the background of the movie sets. You will definitely recognize a lot of the characters and scenarios if you've been keeping up with cartoons and pop culture. These eggs are quite enjoyable but I did find them a tad distracting watching the movie. I couldn't help but search in the background what they were throwing at us next. I guess this will warrant multiple viewings of the movie because of the sheer amount of easter eggs there are.
This movie is also surprisingly really funny. They make fun of a lot of things that we come to expect from these types of movies. The characters in the movie even address this to us as the audience. It's a hilarious time keeping up with the hundreds of jokes that are flying at you at the same time.
Obviously kids are the target audience for this film but adults are the ones that will most likely recognize most of the easter eggs and pop culture references they get themselves into. There's enough entertainment for the whole family. It's just funny that the parents would take a while to explain these easter eggs to their kids.
I also really liked the art direction of this movie. Having chip as a regular hand drawn character while Dale had taken the 3d enhancement effect was pretty cool You can see a plethora of different animated styles throughout this movie as the special guests retain their artistic aesthetic. All this while in a regular real life setting.
Overall, I really liked this movie. I think that this warrants multiple viewings just for the sheer amount of easter eggs in the movie. Some would say that's a cheap way to win audiences and I guess they'd be right about that. I have to give this movie a 7 out of 10. It's a lot of fun for the whole family. If you're a cartoon nerd you will feel right at home with this movie.
review
About the author
I have tons of opinions that change constantly. I watch a lot of movies and play video games. There are some articles on my struggles with languages and dance as well.
Reader insights
Be the first to share your insights about this piece.
Add your insights