My Favourite Old Western T.V. Shows
Something just hits different with the 50s & 60s when it comes to television. See if your favourites made my list!
When the T.V. shows today become overwhelming, it's nice to take a break and delve into the classics. Less swearing, next to no gore, and some creative camera work in lieu of CGI and extravagant effects, makes 1950's-60's shows a welcome change. I've been on a western kick lately, and here are my top suggestions:
Rawhide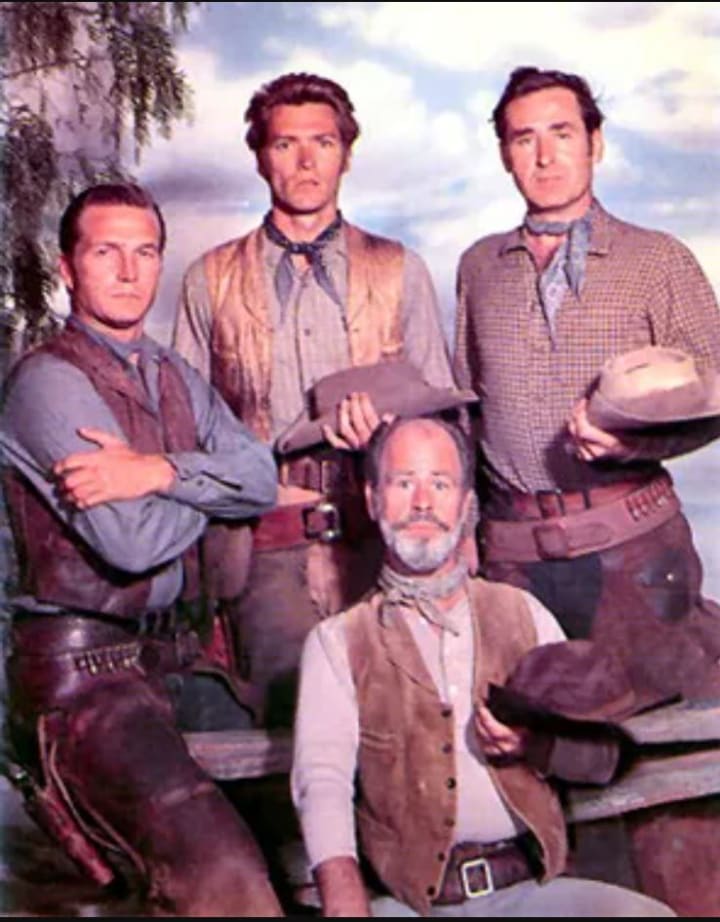 Yes this is the fabled Rawhide. For those of you who don't know, this is where Clint Eastwood got his Hollywood start. Rawhide follows a rag tag bunch of cattle drovers, lead by a weathered and stern trail boss named Gil Favor (Eric Fleming). The group pushes a giant herd of cattle from Southern Texas up North, usually to a railroad where they are met with buyers for the herd.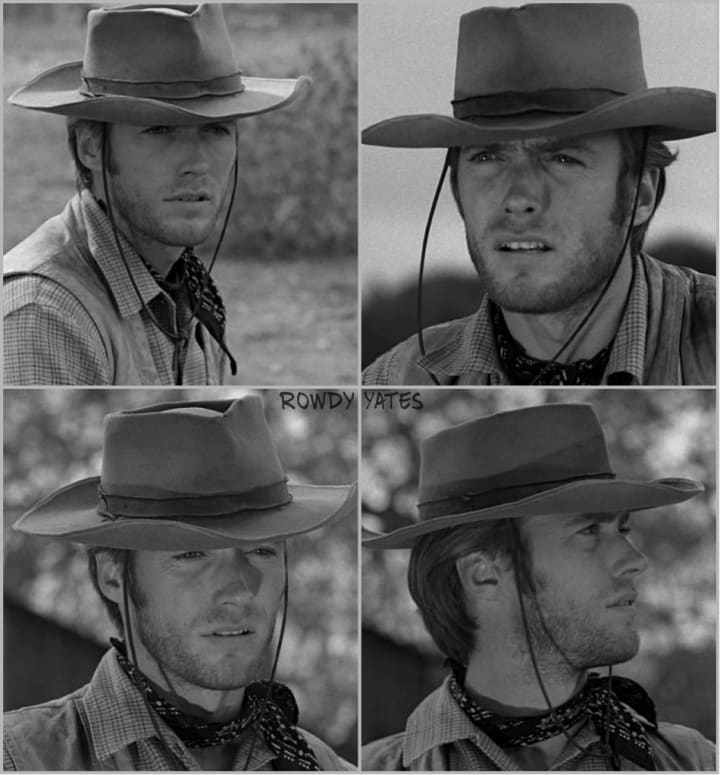 Each season generally follows one cattle drive distance, and episodes revolve around anything from natural disasters, bandits, damsels in distress, saloon fights and more. What I enjoyed most about this series was the chemistry between the main characters. It's easy to believe that the bickering and dry humour from the cast could actually have stemmed from some well played improv. Another perk? I learned a whole new set of words that revolve around cattle and 19th century cowboy slang - might be useful for when I decide to write a wild west themed adventure.
The first seasons of the show were very enjoyable. Nearing the last 2 or 3 seasons, the comedic side of the show took a more slapstick approach, which took away from it's appeal (for me at least). In the place of smart remarks and witty humour from Gil Favor, the apparently stern trail boss became a punching bag for silly jokes (falling, getting thrown in jail and having his shoes stolen etc). Clearly there was a negative kickback, because in the last season they brought back the old Gil, but by that point it was too late. I'm sure ratings had dropped by that point, and it sadly became the last season of the show.
Nevertheless, there's a reason why Rawhide was as popular as it was. It's a classic and well worth the watch!
Cheyenne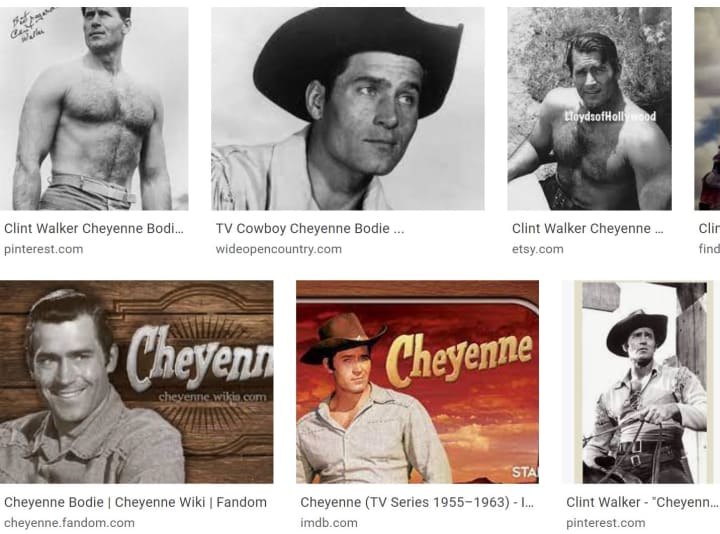 If you enjoy the classic hero, then Cheyenne is for you. He's tall, mysterious, handsome, and just so darn GOOD. By good I mean, he doesn't drink, always tries to do the right thing, he respects women, he doesn't want to fight but will defend himself and others if needed. He's even pretty good at listening and communicating. His one "flaw"? He has commitment issues. He's a wild stallion roaming the untamed American West. No land, no job, and no woman can tie him down. As a result, there are 7 seasons of good old Cheyenne stumbling into some shenanigans and trying his darn hardest to do what's right.
A little background on who plays Cheyenne? His name is Clint Walker, and just like the guy he plays on screen, he was a bit of a wanderer himself before he hit it big in Hollywood. From working on a riverboat, to joining the Marines at 17, being a sheet metal worker, and a nightclub bouncer, Clint was a bit of a stray. It was his good looks and 6'6" stature that won him the lead role in Cheyenne, and Walker was happy to stay type cast in the rugged western role for the rest of his acting days.
It was a hard choice for first place between Rawhide and Cheyenne, so take your pick for which one you dive into first. It all depends on if you prefer a show with lots of characters interacting and developing together (Rawhide), or a single lead surrounded by new supporting cast each episode.
Wagon Train
Before trains and cars, how did all the people get out West? Many packed their lives into wagons and took off across the country in hopes of landing into a place ripe with opportunity. Since the great wild West of America was teeming with danger, people would group together and hire a wagon master to help lead them across the treacherous land in a wagon train. This is where the wagon train series gets its base. With a hot tempered wagon master (Ward Bond), and amicable group of trail hands, the episodes follow the adventures that they all experience together on their way to the promised land.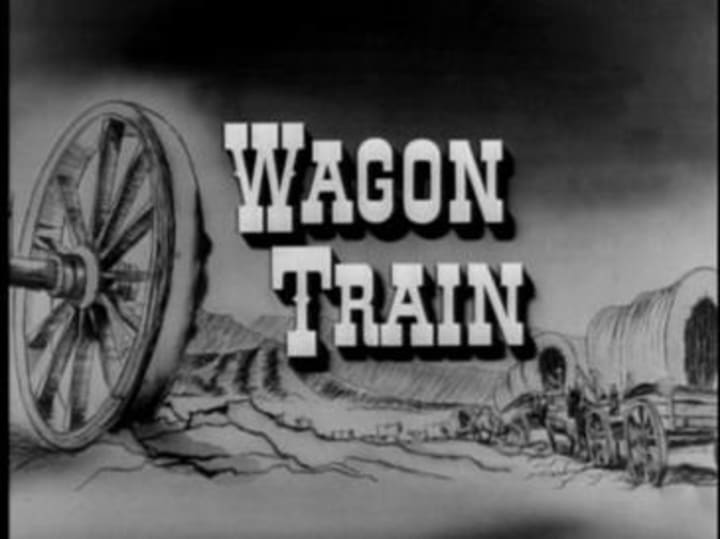 Like it is with most t.v. shows, as the seasons wore on it seemed that the writers began to run out of ideas. The last seasons saw many of the main characters switched out as well which I felt took away from the emotional attachment from the viewers. Some were written out due to necessity like Ward Bond who unfortunately passed away in the middle of a season. Others left the show for other endeavours.
For a family friendly and exciting show, with a star studded cast of guest stars, Wagon Train is one to watch for sure.
The Virginian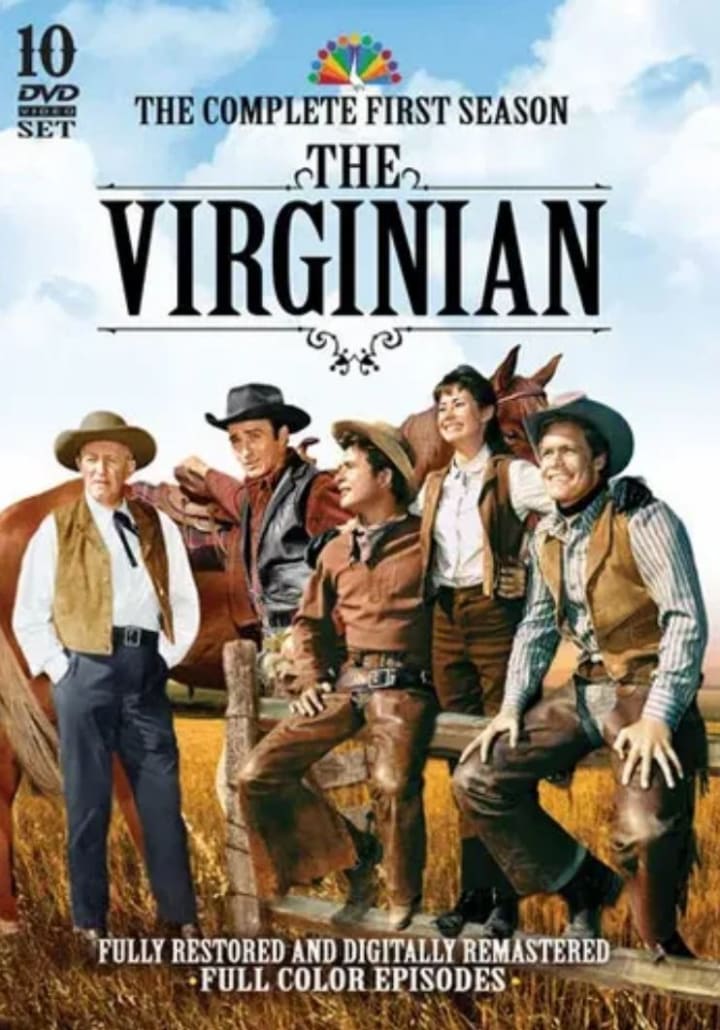 The mysterious Virginian (James Drury) rides into Wyoming territory, where he gets a job at the local Shiloh Ranch. As a smart and fair man with a lot of experience in ranch operations, he is quickly promoted to ranch foreman. The story revolves around the Virginian, the ranch hands, and the family who owns the ranch - a local judge and his daughter. Although many of the main characters are switched out throughout the seasons, the Virginian remains as a main character.
I'll admit I wasn't too impressed with this show at first. I didn't really understand why they only referred to the main character as "The Virginian" - something they continue to do throughout the whole show. I kept thinking, "Ok, they have to let us know what his name is, or was...or whatever. Is there a reason he's only known as "The Virginian"? Does he have amnesia and not know who he is? Why?!" Spoiler alert: They never tell you. Even when they do episodes where he has a love interest. She just calls him "Virginian". I don't get it. I'd be like "Hey man. So what's your name? If we get hitched will I just become Mrs. Virginian or what?". I digress.
Once you get over that, and through the first half of season 1, it starts to get better, I promise. Trampus, who I found annoying and sleazy in the beginning, develops positively and becomes a great 2nd in command at the ranch. The Virginian remains steadfast and true as a level-headed ranch foreman. The rest of the supporting characters/guest stars are all well written and cast throughout the series.
Overall, other than some annoying character swaps, and the occasional question of what the Virginian's name is, the episode plots tend to be entertaining. Definitely consider this for your Western T.V. show arsenal.
Any suggestions on what I should binge watch next?
tv
About the author
Reader insights
Be the first to share your insights about this piece.
Add your insights