Music and Lyrics - A Movie Review
'Music and Lyrics' has a nice moral and excellent representation of the music industry.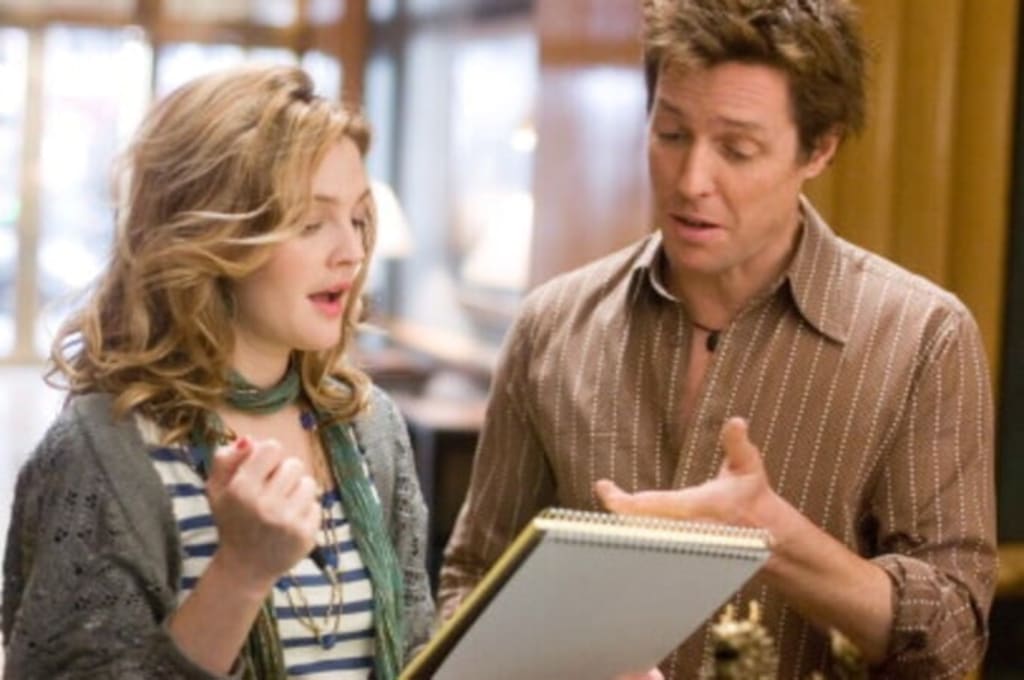 Lyrics are a story. Write them close to the heart.
Music and Lyrics was released to theaters in 2007. Alex Fletcher, a singer, is put in a difficult predicament. Assigned to write a song for an aspiring teen sensation, he only has two days. Luckily, he gets help from an eccentric young woman.
The first time I watched Music and Lyrics I thought it was an entertaining film with a nice moral. For music lovers, it is a genuine representation of the world of the music business. Upon rewatch, I noticed that the film could have gone through a better edit with its story, containing repetitive and unnecessary scenes.
Hugh Grant and Drew Barrymore's chemistry is what sold the film. They reflect on how important it is to learn someone's story. Alex has been in the music industry for a long time. Although charming and having the talents to sing, it's coming up with lyrics that are not his strong suit. Grant actually had to relearn how to play the piano for this film.
Barrymore made me laugh. Clumsy and eccentric, Sophie has more talents than she lets on. I found her character relatable. Embrace your talents and unique qualities. Don't ever let anyone bring you down with negative feedback. Feedback exists to help you improve.
I enjoyed the scenes where Grant and Barrymore worked endlessly to come up with the right lyrics. They were directed very well. For anyone who is thinking about a career in music, these scenes are great examples of what goes into writing a song. During this time, they also help each other solve issues about which they are self-conscious.
Music and Lyrics contain multiple talents. Scott Porter, Brad Garrett, Kristin Johnson, Matthew Morrison, and the film debut of Haley Bennett. I wish the film could have focused on Bennett more. I have become a fan of Bennett's work. Upon seeing Bennett in her most recent film, Hillbilly Elegy, she has grown so much as an actress.
The best character award goes to Kristin Johnson for her comical performance. She and Barrymore built a great sibling dynamic. I like how supporting characters are given a chance to shine their talents. A little too much time in the second half of the film.
Here's where the film loses its charm. The film becomes too repetitive. The first half of the film was established well, but writers felt like they had to repeat its entirety in the second half. It could have been a shorter film. Music and Lyrics delved into too much of the dynamic between Alex and Sophie. There are too many scenes with them bickering.
We have already seen Alex performing at concerts, or scenes showcasing Rhonda's family, and we did not need to have a scene with Sophie running into her enemy when she already learned a resolution from a talk with Alex.
I was also distracted by the poor continuity. When I was watching the film a second time, Barrymore's half-full/half-empty cup of tea had me wondering if the editors were actually paying attention.
Marc Lawrence did a wonderful job incorporating the world of music, but the story was lacking depth. He worked well on the dialogue, characters, and overall direction, but he included too many unnecessary scenes instead of driving the plot forward.
Music fans should watch this film. It is an excellent representation of what goes into writing a song, getting yourself out there, and learning how to build confidence. You never know when inspiration will strike. Despite moments of filler, I enjoyed Music and Lyrics. Find it and watch it.

Marielle Sabbag
Writing has been my passion since I was 11 years old. I love creating stories from fiction, poetry, fanfiction. I enjoy writing movie reviews. I would love to become a creative writing teacher and leave the world inspiring minds.
See all posts by Marielle Sabbag →