Movie Review: "Velvet Goldmine" (1998)
3/5 - my opinion of this movie has changed over the years...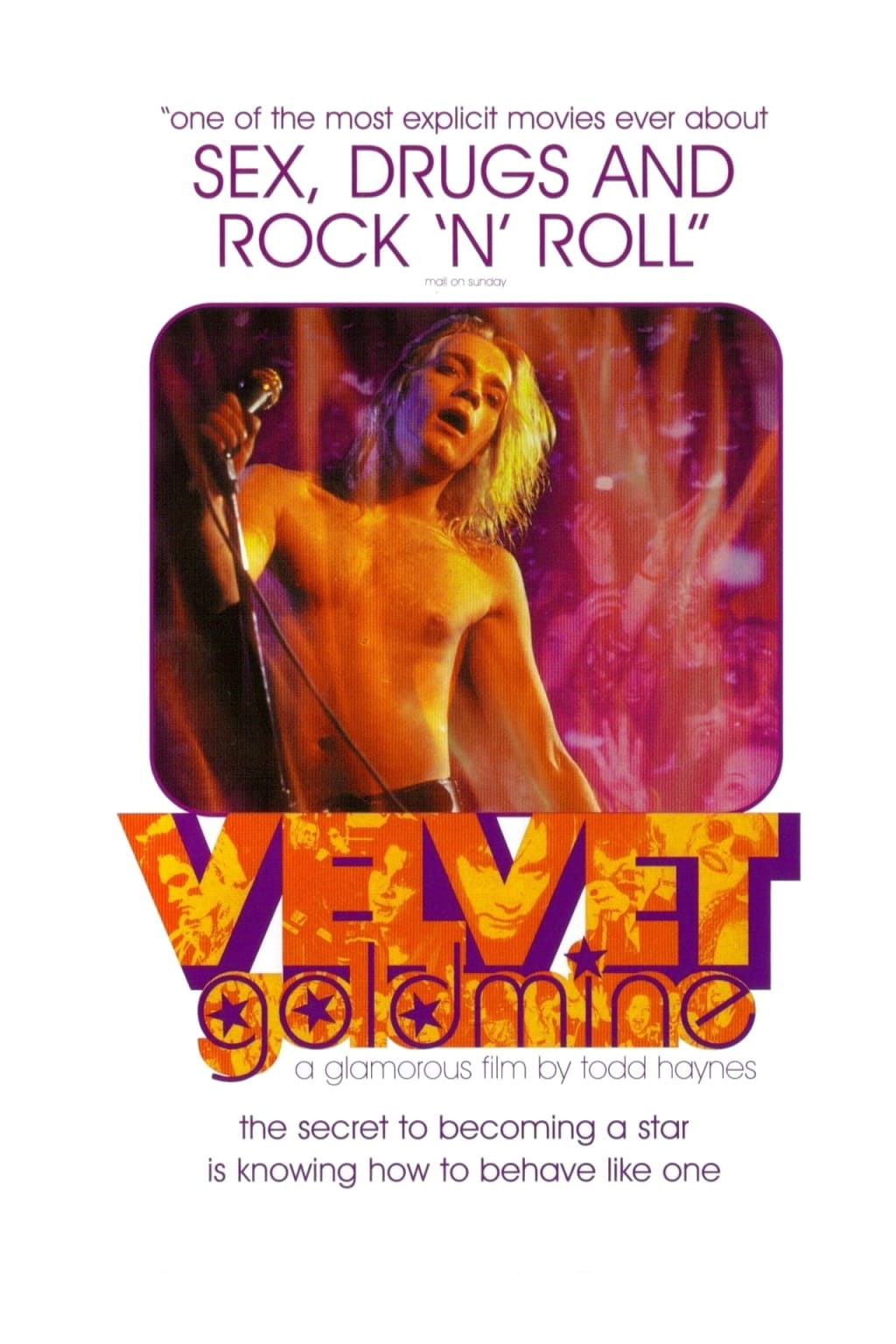 I remember watching this movie for the first time when I was about thirteen and thinking it was the best film I had seen in a while. Then I watched it when I was sixteen and thought it was probably alright, but not the best thing ever. Then I watched it at twenty-five and thought it was utter rubbish and now I watched it again recently and just feel sorry for everyone involved. It is actually a really upsetting story complete with a brilliant soundtrack and some pretty good performances - this is a film where the term 's*** hits the fan* goes to the extreme. The more I watch this film the more I understand that its supposed to make you feel sorry for the characters but also, it does not have the same ring to it as it did when I was a young teenager. I feel that there is supposed to be a youthfulness to it that I do not understand as well now that I am older.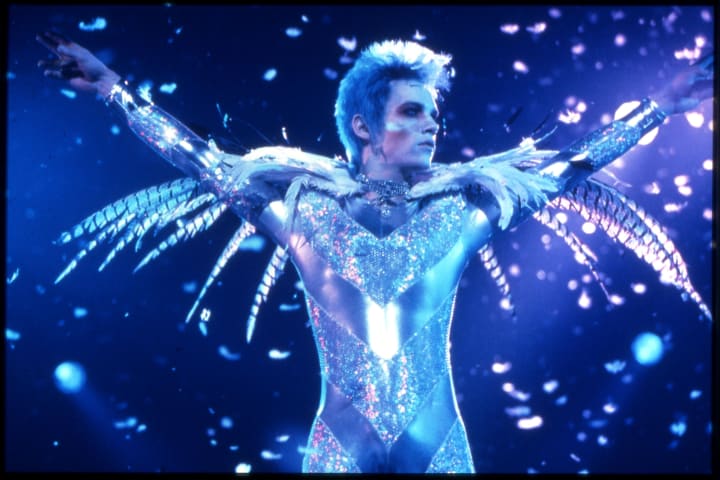 About a reporter who must go on the hunt for a rockstar who vanished after a publicity stunt ten years before, this movie investigates the life of a rockstar tragedy in pretty much exactly the way any other film about the life of a rockstar film does. But, thanks to the great acting performances littered around the movie, we get a slightly better experience than watching Oliver Stone's The Doors (even though that was good too, and a biopic, so that's not fair I apologise). But this film really is an exploration of things that films had been doing for years before and after this one - though I would say that the story in this one was only average.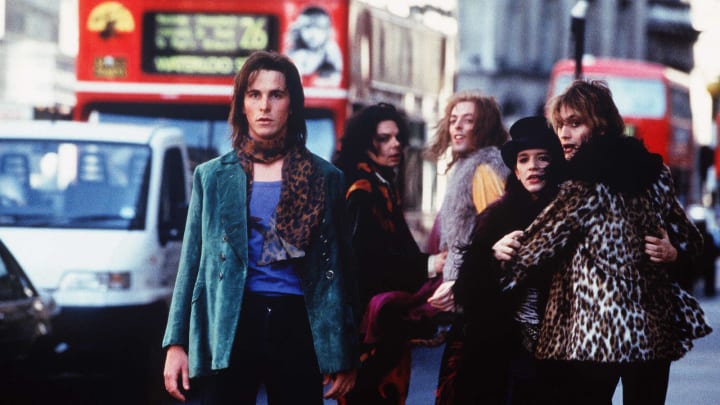 As I have said, the storyline may have been a bit in and out, but the performances were good. Christian Bale plays Arthur, the reporter who has to track down Jonathan Rhys Meyers who plays Brian. I have to say that I was impressed the most by Christian Bale's performance mostly because that by the time I was thirteen, the only thing he was to me was Batman for the most part. That and Patrick Bateman. In this movie though, I think the role was more complex because he was playing a character who used to be an entirely different character and both of those characters were living in secrecy in different ways and had entirely different personalities, one as a result of getting older and the other as a result of not being old enough. I really do believe that it is his performance that tied the whole film together and that without him playing that role or by having any other actor in it, the movie would not be anywhere near as good as it was.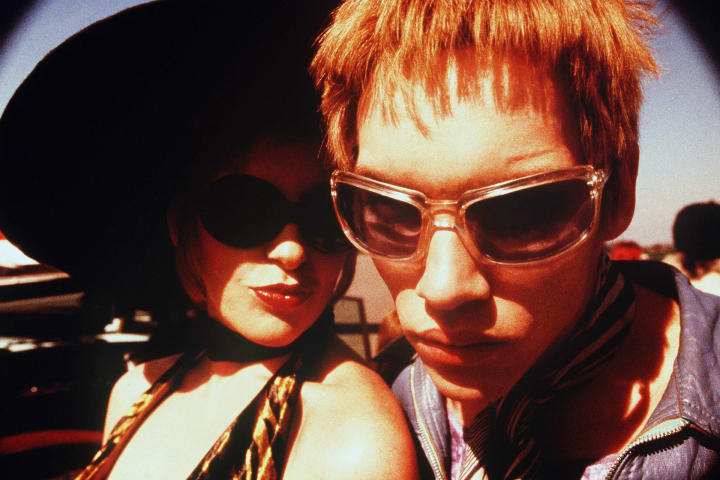 Often the costumes were quite funny and over the top in a way that when I was thirteen and before I actually saw what they wore in that day, would make me laugh. I saw what they actually wore in that day and noticed it was exactly the same. Then I kind of felt bad about laughing but honestly, I grew up in the 'scene' phase and I'm pretty sure that's an insult now so who am I laughing at? I would however, say that whoever did the makeup was very very talented and had some real precision going on there to make Jonathan Rhys Meyers look like Annie Lennox's twin who also happens to be a David Bowie fan.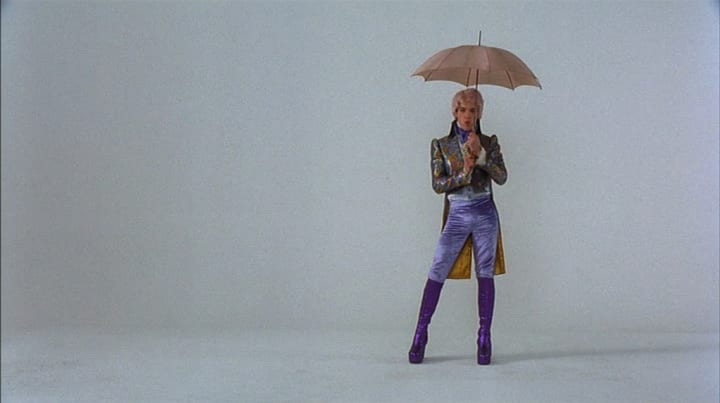 All in all, I enjoyed this movie once. The storyline is shaky and it has some weird dialogue which meant that Todd Haynes only had to write half a script as most of the script has been hijacked from the ghost of Oscar Wilde. I do have to admit, as much as I love Wilde and he wrote my favourite novel, I did find the constant references to him a little self-indulgent of the movie. Again, it was an enjoyable movie once but maybe if you're a young teenager and you do not really understand the concepts of tragedy. If you were a little older than that you would see that except for Christian Bale's performance, there are probably better films than this one. It is sad, but wholly average.
Please note: I have made it through this review without mentioning Toni Collette's awful attempt at a British accent. I love her acting but that accent was horrific.
Reader insights
Be the first to share your insights about this piece.
Add your insights