Movie Review: The Mitchells vs. The Machines
The movie you NEED to see.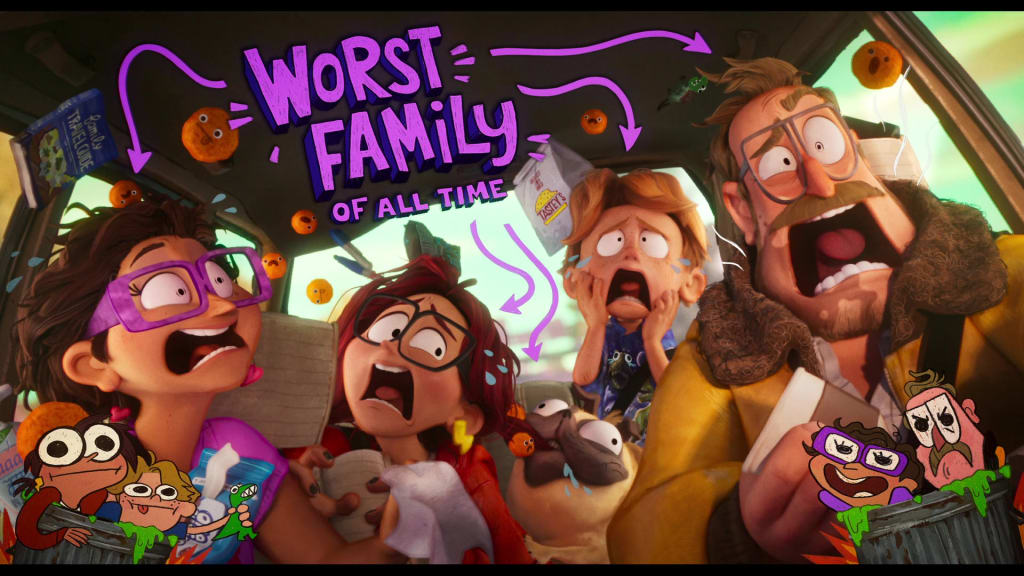 "screencap" image from fancap.net
Let's kick start this review by saying: don't let the fact this is animated put you off from watching this movie. I don't care if you're nine years old or ninety, I promise there is something in this movie for you.
At first, when my brother recommend my family watch this movie I was dubious. I assumed it would be just another kid movie making references to minecraft or many other pop culture references of today's youth.
However, I was pleasantly surprised.
If you want a movie about the end of the world, that also features an ugly dog, brilliant humour, and touching family scenes then The Mitchells vs. The Machines is the movie for you.
Here's a summary: Katie Mitchell is a film-maker wannabe, right in the middle of her quirky teenage years and she's ready to go to film school. Unfortunately for Katie, her dad Rick is the exact opposite of her. He hates technology, never watches her home-made movies and cancels her plane ticket to California. Why? So the family can take a road trip together one last time before Katie goes to college.
What could go wrong? Oh I don't know...just the end of the world due to the new and improved AI "PAL" robots that want to capture all humans and send them into space!
It's honestly brilliant. Just to give you an insight into this movie, here's one of my favourite quotes!
Giant Furby: [shrieking] I will avenge my fallen children!
And I'll let you decide whether or not if that's a mysterious enough quote to make you watch the movie!
This is a great animated sci-fi movie and I've got to say it's not just full of references and jokes just for the kids.
This movie hits on some really interesting and relatable topics. The family dynamic between Rick and Katie portrays the generational differences between parents and their kids within today's society. It also explores the theme of children leaving home, and how parents deal with that.
Right now I am 21 years old, I live with my parents, I'm in the process of buying my first house and leaving home, and I never EVER thought a film about a robot-apocalypse could nearly make me cry.
Yet here we are.
As this film explores the relationship between Katie and her parents, as well as her relationship with her younger brother, I couldn't help but see this family exactly in my own family's image. I have a great relationship with my parents, and my brother is one of my best friends, so this movie really hit home.
TOP TIP, TRIED AND TRUE: If you're about to cry from watching a film and you don't want anyone to know you're about to cry, just say you're going to get some "movie snacks" and hide in the kitchen until the tears subside. It works like a treat!
Putting aside my nearly tearful watching experience, this film is brilliantly chaotic and energetic in all the right places. The animations are over the top and visually explosive, which I love, and some of the reoccurring jokes within the movie are just epic. There is just no way you can't laugh at the Mitchell's silly bug-eyed pug Monchi.
Not only that, but this film has a great cast! Olivia Coleman, Maya Rudolph and John Legend are to name a few of this cast!
All in all I would definitely give this movie 10/10. It has everything that a family film could have, and you should watch it no matter what age you are!
The only negative thing I have to say is: I wish I could have seen this movie in the cinema. Sony was originally going to release it back in 2020, but of course like everything else during the pandemic, it was pushed back. You can watch it now on Netflix!
Here's the trailer if you want to see more!
-
If you enjoyed this review then make sure to leave this article a little heart to show you're love! Tips are greatly appreciated, but no pressure.
If you have anything else to add feel free to DM me @leighooper on Twitter or Instagram and even pop me a follow if you're interested in the author behind the article.
Thank's for reading, I hope to see you soon!