Movie Review: 'Giddy Stratospheres' Starring Laura Jean Marsh
Grief, loss and finding yourself along with a great soundtrack, Giddy Stratospheres is a wonder.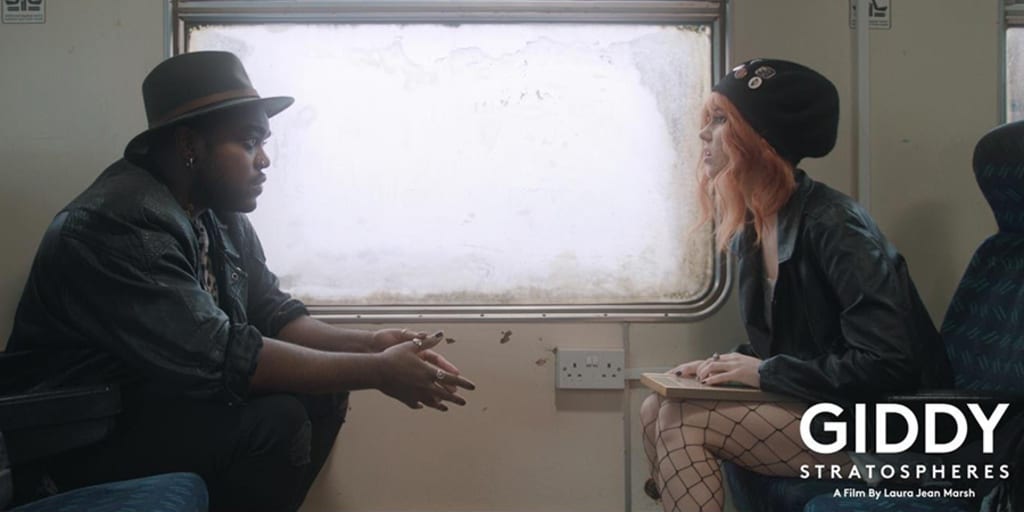 Giddy Stratospheres was written by, directed by and stars Laura Jean Marsh as Lara, a well known and well loved London party girl. Lara fancies herself a club promoter though evidence of her actual job is hard to come by. We meet Lara as she is awakening from a one night stand and heading to her favorite local pub for perhaps another one night stand as such trivialities are common to her life, as her best friend Daniel (Jamal Franklin) indicates.
This particular night of debauchery happens to precede the funeral of Lara's beloved granny and despite having to deliver a eulogy, including a poem she wrote as a child, Lara is eager to indulge in free shots and free drugs. When Lara boards the train the following day it is no surprise that she misses her stop because she passed out, though why Daniel, also attending granny's funeral also missed the stop is unmentioned.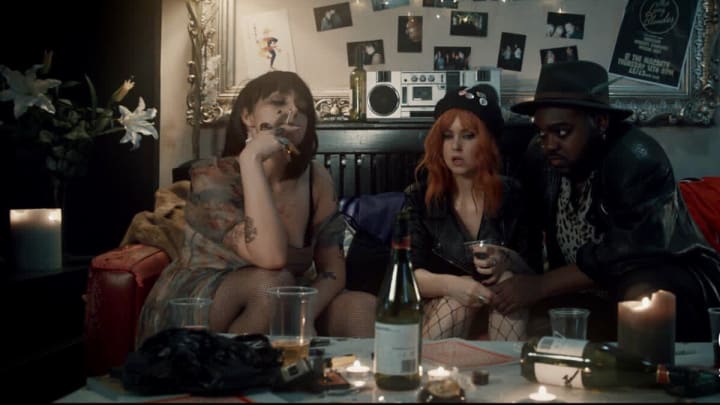 At the funeral are Lara's awful extended family. Now, her mother, Suzie (Charlotte Weston) and her brother, Tim (Nick Helm), aren't so bad. It's everyone on her father's side that are truly awful. First up is a creepy Uncle who can't help but hit on his own niece, eww. Then there is Lara's obnoxious cousin George (George Weightman) and his somehow even more obnoxious wife who speaks at an unwelcomely high volume.
Lara's father is nearly as obnoxious as the other members of the family and has brought with him his new wife, Lara's stepmother, who can't help but find ways to insult Lara's appearance in ways that are astonishingly passive aggressive. Indeed, were it not for Daniel's presence it is hard to imagine Lara making it through this gauntlet of terrible, unbearable and just plain awful human beings who just happen to be her extended family.
Well, actually, Lara doesn't make it through. While delivering her granny's eulogy, Lara has a massive breakdown. She appears at different times to be crying uncontrollably and laughing uncontrollably and her mixed emotions have a number of origins beyond being sad about granny. Something happened the night before, at the pub, before she boarded the train and arrived for her funeral performance.
I'm not going to go into any spoilers about what happened to cause Lara's breakdown, you should see Giddy Stratospheres for yourself to find out. It's a story filled with grief and good humor in equal measure. Giddy Stratospheres is about a woman dealing with drug and alcohol addiction, low self esteem and directionlessness. She has one anchor in the world and it's her best friend, Daniel. Take that away and who is she?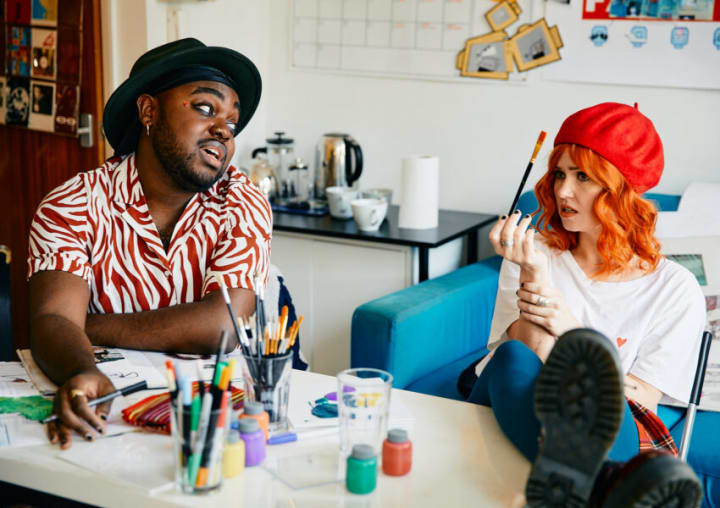 The title, and indeed, in a way, the movie itself, is based on a song by the band The Long Blondes. The lyrics get a number of visual references in the movie Giddy Stratospheres and if you read the lyrics you can get a sense of the character Lara as perhaps the person that the song is about. That's a very loose interpretation on my part but I like the loose poetic symmetry of how the song Giddy Stratospheres plays like an unheeded warning to one of the characters in the movie.
Giddy Stratospheres has an incredible soundtrack of early 2000s indie pop. I wasn't familiar with much of any of it before watching the movie but I really loved it in the movie. Fans of London's indie music scene in the early 2000s will be in heaven with not only the music of The Long Blondes but also The Rocks, Le Tigre, The Rapture and Theoretical Girl among many others. Even as I wasn't familiar with most of this music, I still loved it.
Most of all though, I fell in love with star, writer and director Laura Jean Marsh who invests Lara with wit, soul and charm to spare. Though she has many, many troubles, you can sense her spirit and through her lovely and charming friendship with Daniel you can see the kind of loyal, loving and caring person that you know you would want to be friends with, even after she borrows money she will never pay back and makes you pick her up in the middle of the night when she's not capable of getting home on her own.
Giddy Stratospheres will be available for streaming rental via most platforms on September 14th, 2021.
About the Creator
Hello, my name is Sean Patrick He/Him, and I am a film critic and podcast host for Everyone's a Critic Movie Review Podcast. I am a voting member of the Broadcast Film Critics Association, the group behind the annual Critics Choice Awards.
Reader insights
Be the first to share your insights about this piece.
Add your insights