Movie Review: "Fargo" (1996)
5/5 - a historical moment for black comedy cinema...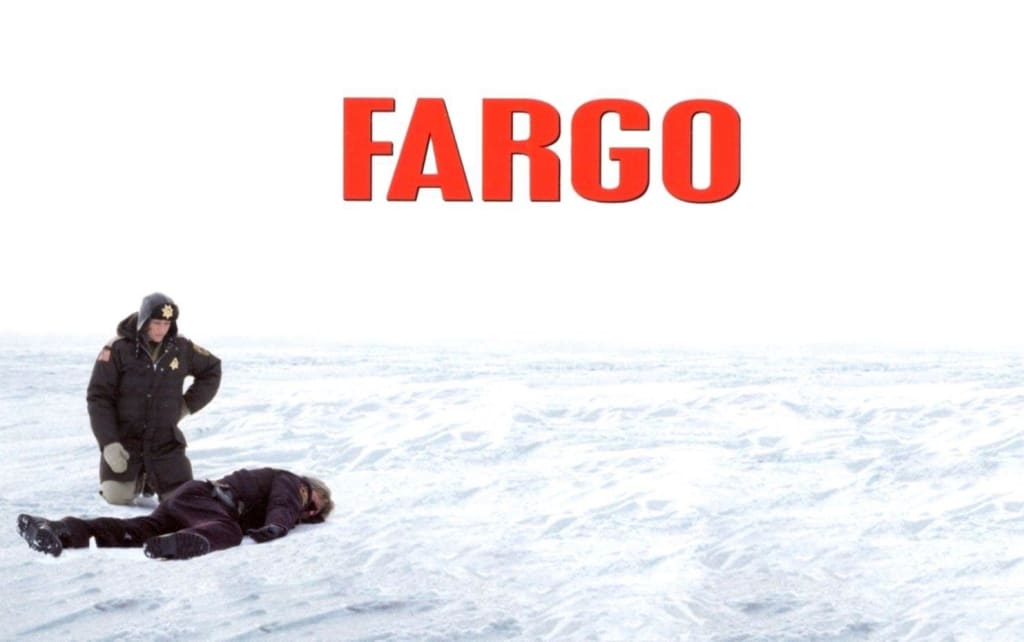 From: Plex
There are many recent comedy films that like to call themselves 'black comedy' and there are lots of tragedy films today that also like to call themselves 'black comedy'. None of them, though, quite compare to The Coen Brothers' 1996 Northern Gothic, Fargo. It is the perfect blend between atmosphere and storyline, between characters and absurdity, to create an epic that at only 90-something minutes, manages to pack a punch just like their future films will.
I remember watching this some years back whilst I was still in school and I have only watched it a couple times since. I rewatched it last week and noticed again, how much I have always admired the simplicity of this movie. The setting is so dark and snowy, the way it is shot is not fancy or over the top - it is all stripped down to everything bare and simple for the sake of making the story come out more.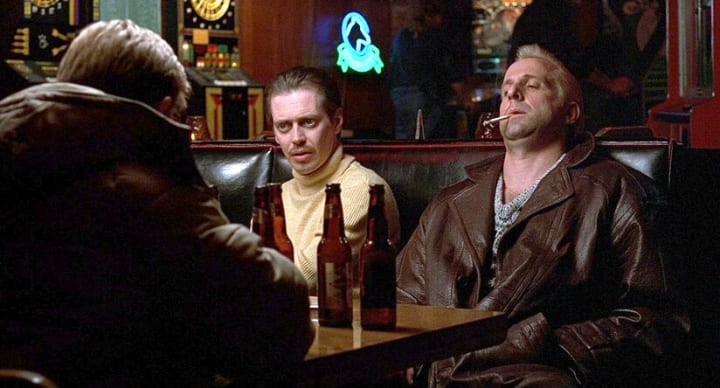 The story itself is one of absurdity and fraud - it is a brilliant story which relies heavily on some strong personalities such as: William H. Macy's Jerry, Frances McDorman's Marge and Steve Buscemi's Carl. These actors had to do the job of enhancing this atmosphere as well as just acting the characters and without this perfect cast, I do not think the film would have worked the way it did. There is nobody at all who has been miscast in this movie.
The movie's summary is just this: whilst in financial difficulties, a car salesman named Jerry Lundegaard stages the kidnapping of his wife in order to get money out of his wealthy father-in-law. Unfortunately, things take a turn for the worst when the criminals start messing Jerry around, three people die in Minnesota plus, the heavily pregnant and ruthless police officer Marge Gunderson is sniffing the trail.
There are various sub-plots in the film that would make anyone who has not seen it yet think 'how are they going to fit all of this into a ninety-or-so minute movie?' but they do. The sub-plots are vital. First of all, you have the one about the child of Jerry and Jean and his problems, then you have the one about the two criminals who have to be around each other though they do not seem to want to be, and after that you even have the one about Marge and her husband who paints Mallards. They might be little sub-plots but they are all really well explored throughout the film and add into the main plot without much pushing and shoving.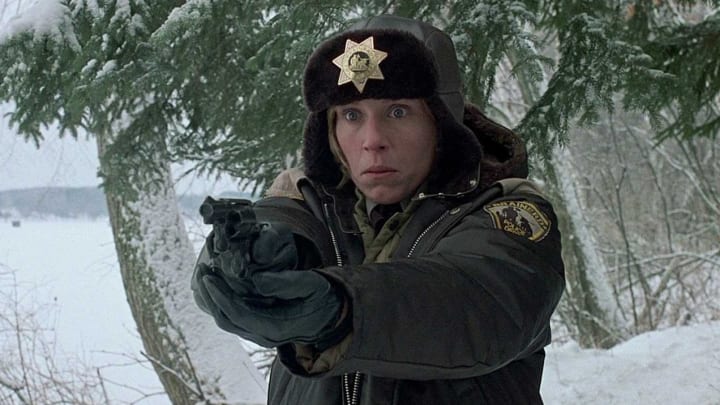 There are also some beautiful shots of the snow in this film. The Minnesota snow is gorgeous and haunting at the same time, it is the perfect place to set something so filled with blood and gore because not only do you have the weird visuals where nobody, audience or character, can see - but you also have a crisp white backdrop on which to set tons of violence such as shooting and feeding someone through a woodchipper. So much blood upon the snow makes it almost look even more violent than usual with the frozen bodies upon the floor give an even more horrific view to the scene.
Frances McDormand is one of my all-time favourite actors. Her roles have always been so thorough and filled with complexities. I love how her speech in this is so simple and yet, there is so much going on with her character. First of all, she's an officer, then she's heavily pregnant but does not stop doing her job, after this she is also chasing down someone who has run out on an interview she was having with them and then after all of this she is practically going at it alone - alone into the unknown world of these criminals and crooks.
All in all, I think that this is one of those films where you do not recognise how much value it has until you have watched it a few times and really felt it in your bones. A lot of the characters are awful, awful people and then, you have the few redemption characters of the movie where you, as an audience member, have something to depend on for the film to come back together again and hopefully, the bad guys get what's coming to them.
Reader insights
Be the first to share your insights about this piece.
Add your insights