Movie Review: 'Cruella' is a Feast for the Eyes
The look of Cruella is the star of the otherwise vacant Disney villain origin story.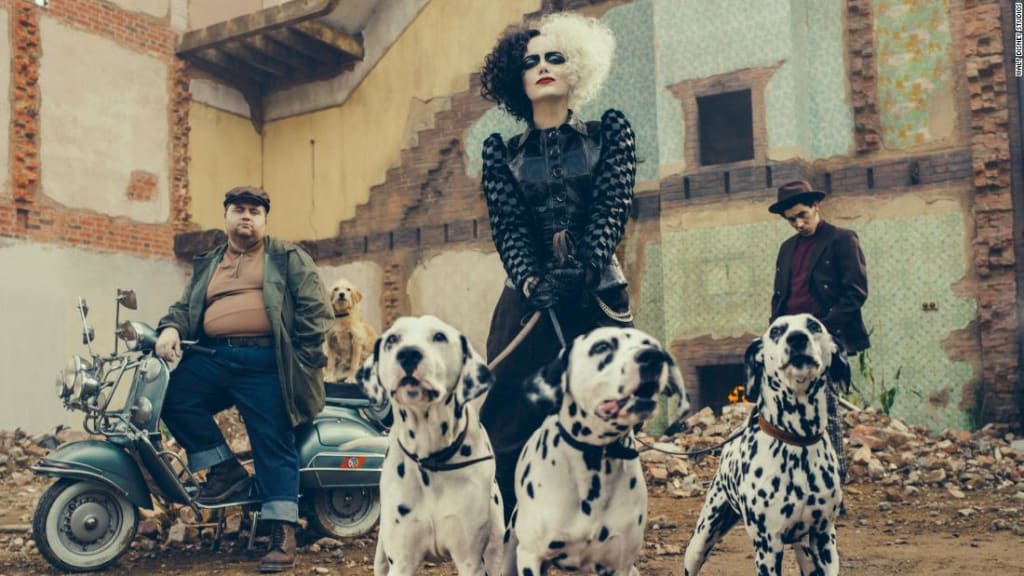 Cruella is a punk rock visual fantasia shot through the prism of the Disney empire. Directed by Craig Gillespie, and starring Emma Stone, the film carries a distinctive aesthetic but one wonders what beats beneath the metaphorical chest of this spectacle. Sure, we do have the emotion of yet another dead Disney parent, one killed before our very eyes near the start of the film, but we've grown so used to this Disney trope that the impact is relatively minor.
As the story goes, Estella (played as a child by Tipper Seifert) was a young evil genius, a Riot Grrl in her bones, kept grounded by the love of a mother, Catherine (Emily Beechum), a seamstress forever relegated to working menial jobs to keep her and her daughter safe. After Estella gets herself thrown out of yet another boarding school, the two make plans to start over in London but first they have a stop to make.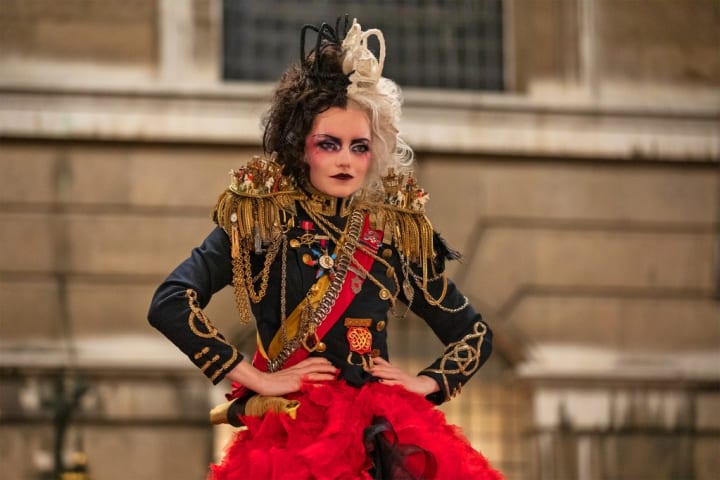 At a posh party filled with the very rich and royal of England, Estella finds herself sneaking into a gala and seeing it as a place where she belongs. Unfortunately, she creates a scene with her mongrel puppy and is chased by three evil Dalmatians (foreshadowing!). The dogs follow Estella to the back yard where her mother is having a heated interaction with someone Estella doesn't recognize. Suddenly, the Dalmatians race past Estella and toward her mother, causing Catherine to tumble over the side of a cliff to her death.
Estella escapes and eventually manages to make her way to London to mourn her mother. There she meets two boys who become her lifelong friends. The Badun Brothers, Jasper (Joel Fry) and Horace (Paul Walter Hauser), introduce Estella to their criminal lifestyle of lifting wallets and other small grifts and she takes to the criminal lifestyle with verve and talent. Once a grown up however, Estella's dream of being a fashion designer comes to the fore.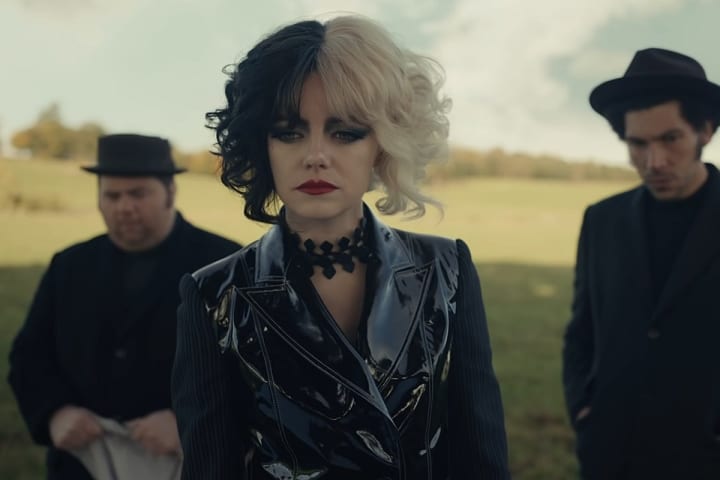 Happenstance leads Estella to show off her talent in a way that catches the attention of The Baroness (Emma Thompson), and she earns a job working with her team of designers. The Baroness however, proves to be a cruel mistress who steals her employees designs while belittling everyone around her, including Estella. When Estella uncovers evidence that it was The Baroness who may have prompted the death of her mother, via the sight of a necklace Estella was carrying all those years ago, now in possession of The Baroness, she launches a scheme for revenge.
Thus, Cruella is born. Cruella is Estella's even more morally ambiguous alter-ego, a punk rock designer who makes a splash by consistently upstaging The Baroness at a series of public events. She also gives exclusive interviews to reporter Anita Darling (Kirby Howell-Baptiste), the only childhood friend Estella had ever made. Anita, no fan of The Baroness, helps Cruella burnish her legend, much to the dismay of The Baroness.
Cruella is set in the 1970's, in London, and one of the best choices director Craig Gillespie makes is in embracing a punk rock aesthetic for Cruella's costumes and shenanigans. The film embraces both the glam of David Bowie and the trashy look of the Punk scene of London in the 70s, the film is set in late 70s London, to create an undeniably cool look for Cruella. This comes about in the second act of the movie and it is by far the best part of the movie. The design is terrific and the introduction of the scene stealing John McRea as Artie, a flamboyant London shop owner, livens up the movie.
That's not to say that the earlier portions of Cruella are bad, they're not, they just tend to drag a little when compared to what happens following Estella's transformation into Cruella. The movie takes on a new look and energy in the second half and I really enjoyed that. As the second act winds into the third act however, the plot is relatively benign and predictable. The upstart Cruella is an anti-hero only because The Baroness is far worse than she is and our rooting interests are tempered by a cliched plot in which Cruella must learn a lesson in order to maintain her relationships with Jasper and Horace, and these scenes don't have quite the emotional authenticity assigned to them by the plot.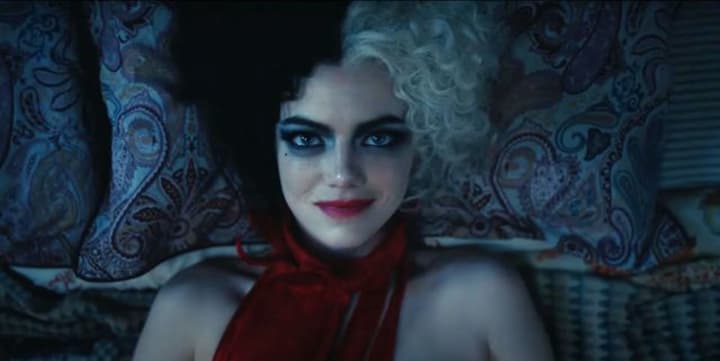 Emma Stone is clearly having a ball playing Cruella. Her English accent drips with witty contempt and she appears born to wear the fashions that make Cruella an outsider artist superstar in the 70's London fashion scene. More of that would make for a very interesting but also, very different movie. I wanted a movie where Cruella becomes Miranda Priestly, Meryl Streep's character from The Devil Wears Prada and, no surprise, Aline Brosh McKenna, the mind behind that character, has a story credit on Cruella. The movie Disney wanted however is one that can set up another live action 101 Dalmatians movie, a villains origin story/family adventure a la Maleficent.
Disney's version of the movie is alright but it didn't stick with me in the way the terrific costumes and shooting style did. I loved the look of 70's London fashion in Cruella. I loved the soundtrack and the style. Kudos to cinematographer Nicolas Karakatsanis, production designer Fiona Crombie, and especially to costume designer Jenny Beaven who created eye-catching looks for Cruella. Composer Nicholas Britell is also in for some praise as his musical score is a perfect accompaniment for the tremendous aesthetic of Cruella.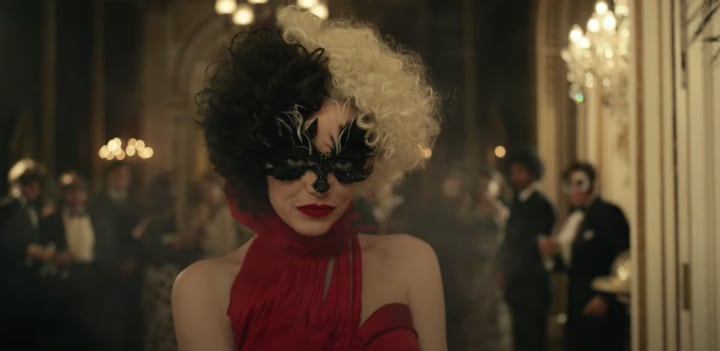 Sadly, the look of Cruella is far more memorable than the movie as a whole. There is no beating heart behind the movie. The scenes intended to invest us emotionally feel hollow and not particularly well earned. These scenes are more functional than emotional and that leaves Cruella feeling hollow in the end. Emma Stone does a wonderful job giving life to the character but without an emotional core, the film is more of a hollow spectacle playing out perfunctory scenes in a Disney adventure.

The 80s were something of a golden time of cinematic history. Where the 70s played host to some of cinema's most warped creations, the 80s brought on a sense of joviality, fun filled excitement and a genuine thirst for adventure and progress. The 80s saw the maturity of filmmakers like Steven Spielberg and saw the continued releases of Kubrick classics. However, the 80s were known for one more thing. The badass action movie. Die Hard started it all, but since then we've had a rich collection of glorious action movies to comb through since, and we all know that you can't have a good action movie unless you have a great villain.

What goes bump in the night? Probably the scariest video game monsters. Warning! These horrifying monsters may cause you to sleep with your nightlight on for the next week or so. Creators have imagined the creepiest, crawliest monsters to scare players since video game inception. Everybody has their own idea of what is scary. Mutated humans? You got it. Aggressive ghosts? Got that too. Some of the most vicious and terrifyingly grotesque monsters in all of gaming will haunt your nightmares for days. From various horror games throughout the years, proceed with caution while reading about the scariest video game monsters!

Video game soundtracks are perhaps the most underrated part of any video game. Usually, critical criteria will venture far more towards the gameplay or presentation, but rarely an in depth dissection of the soundtrack. Soundtracks not only are key to creating a mood in video games, but they are usually excellent pieces of music in their own right. This is a flaw we seek to reprimand with our list of greatest video game soundtracks.

Who's ready to get your cosplay on? There is literally no branch of cosplay more creative than steampunk - the possibilities for leather, gadgets, and guns over a puffy, lacy, frilly trunkful of ladylike goodness are almost unlimited. Here we'll take a look at some of the best-known ladies of steampunk and the artists who cosplay them. And when retrofuturism meets the Victorian Era in October, you're all set for a very steampunk Halloween. Get ready to take some skirts, goggles, wigs, gloves, boots, and a whole bunch of corsets to their maximum potential and rock the spookiest night of the year (or cosplay year round).

Several years ago, Ellen Page made an incredibly relatable observation that could have come straight from the pages of my own childhood in the early 90s. "As a girl," she said, "you're supposed to love Sleeping Beauty. I mean, who wants to love Sleeping Beauty when you can be Aladdin?"

An eighteen-year-old honors student was getting some refreshments during an intermission to Paramount's The Warriors at an Oxnard, California, movie theater when another youth demanded a quarter from him. He refused, and was stabbed to death. The Warriors, the first gang movie, had dropped into the the theater that night. It dropped out the very next day. It was winter 1979, and there were still intermissions during movies.