Movie Review: 'Condor's Nest'
If you enjoy movies surrounding World War 2 and its aftermath, you might enjoy Condor's Nest.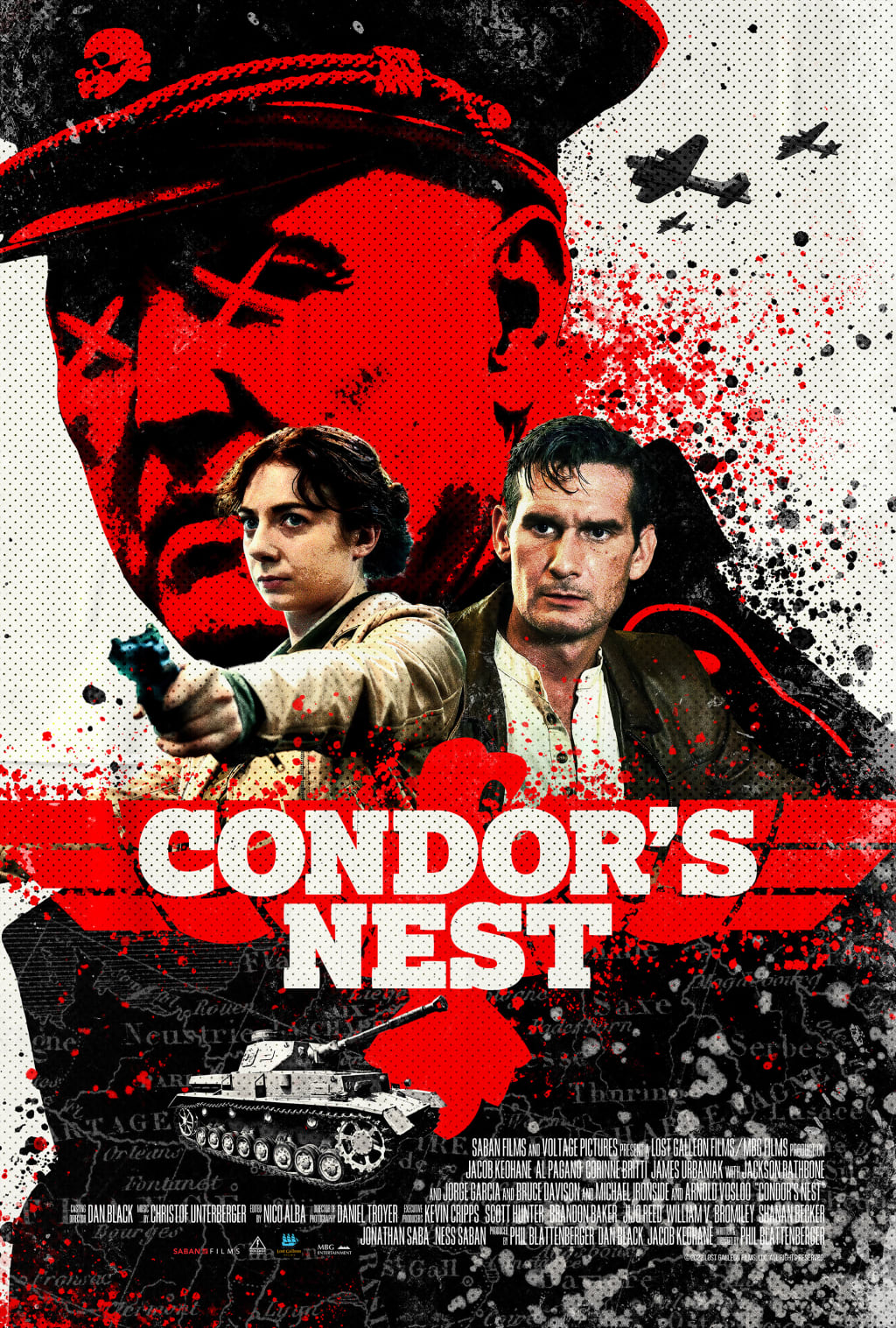 Condor's Nest (2023)
Directed by Phil Blattenberger
Written by Phil Blattenberger
Starring Arnold Vosloo, Michael Ironside, Jackson Rathbone, Jacob Keohane
Release Date January 27th, 2023
Published February 8th, 2023
Condor's Nest opens on a tense war scene. A British bomber is flying over Germany at low altitude, preparing to drop bombs on a strategic target. Six men are aboard and remain when the plane is shot down in the German countryside. As one man leaves and looks for a way to help his fellow soldiers, German soldiers arrive on the scene. Led by an imperious S.S Officer, Col. Martin Bach (Arnold Vosloo), this is a particularly brutal group of soldiers. Bach's interrogation of the British crew involves shooting anyone that doesn't provide valuable information, whether they have valuable information or not.
Watching this unfold from a distance, as he had fled to seek help and find shelter, is Pilot Will Spalding (Jacob Keohane). Trained with his gun on Col. Bach he knows that if he shoots and misses he will give up his position and any chance to save his crew. This leaves Spalding in agony as he watches two members of his crew be executed. One of the crew passes away from injuries in the crash before he can be asked to give up information. The last two members of the crew are then, seemingly about to be released. They are allowed to turn and begin running into the forest with a vague promise of safety from Bach, until he orders them shot dead as well.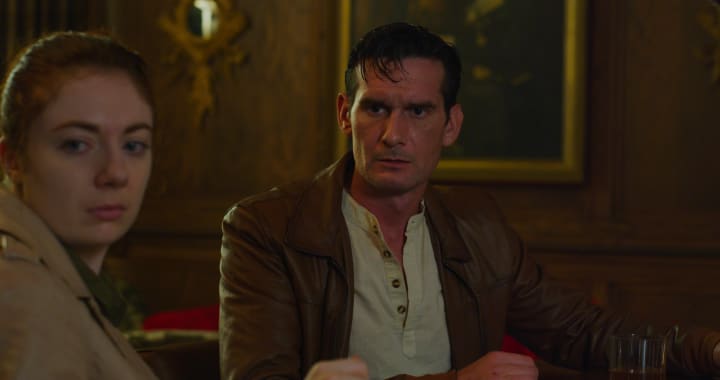 From here, Condor's Nest jumps a decade into the future. It's 1954 and a haunted Jacob Spalding is now living in Argentina. If you're not aware, Argentina became a hotspot of former Nazis who managed to escape as Germany fell at the end of World War 2. Spalding believes he has tracked Colonel Bach to Argentina and he's using any means necessary to locate Bach so that he can gain his revenge. This quest for vengeance leads Spalding to a shaky, distrustful alliance with Albert Vogel (Al Pagano), a former Nazi scientist on the run from both Nazi Hunters and Israeli Intelligence.
Vogel strikes a deal with Spalding, he will take him to Bach and in exchange, Spalding will help him reach a safe house where Vogel hopes to be whisked away to safety by Russian intelligence, eager to have a German scientist that the Americans don't have. Their tentative alliance is upended by the arrival of Leyna Rahn (Corinne Britti), a Jewish mercenary working for Israeli Intelligence in Argentina. Vogel is the scalp she's been looking for and she aims to take him.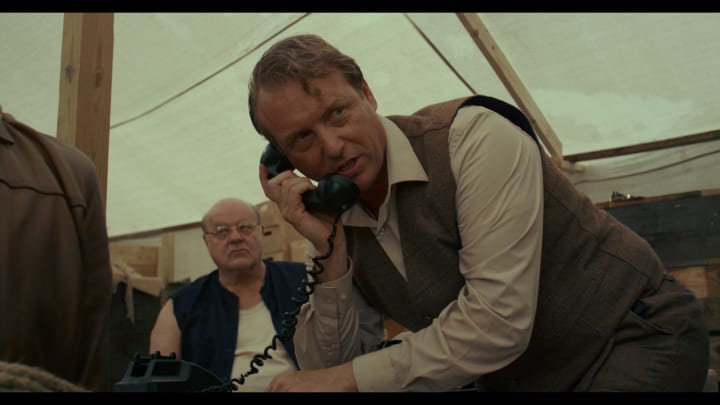 This is all well plotted and easy to follow. It's solidly compelling and writer-director Phill Blattenberg delivers it all in a highly competent piece of direction. That said, there is a particular blandness to the leading man that limits the appeal of Condor's Nest. Jacob Keohane is a handsome guy but surrounded by supporting actors with more range and bigger personalities, he comes off as lacking. Pagano's Vogel is a strong example. Pagano delivers a colorful and compelling villain, a selfish, double-dealing, traitor; Vogel steals every scene and renders his co-star quite boring by comparison.
That feeling extends to several more of the supporting players, familiar faces with far more charisma and presence than the leading man of Condor's Nest. Twilight's Jackson Rathbone may not be very good in Condor's Nest, he is in fact quite terrible in this movie, but he is full of energy that is lacking in Keohane's performance. Arnold Vosloo meanwhile carries with him a towering, villainous presence. Vosloo's an old pro who shines in front of the camera, his charisma blows his co-star off the screen.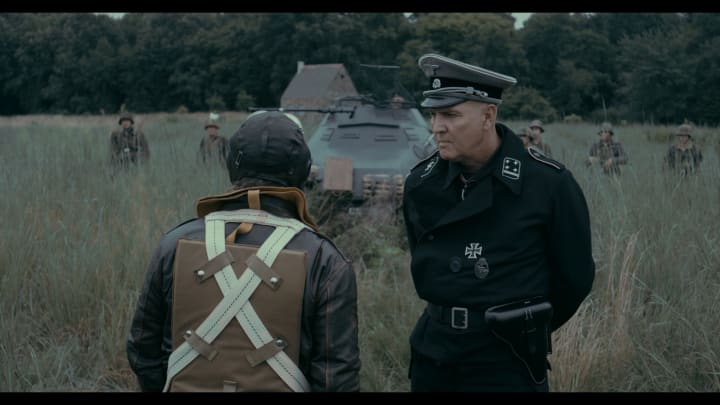 And there are several more better-known character actors in Condor's Nest, each pulling more focus away from the lead. James Urbaniak plays Heinrich Himmler, Michael Ironside and Bruce Davison each shows up as a member of Himmler's inner circle in Argentina, and former lost star Jorge Garcia pops up in a needless cameo role. It all distracts from what is not a bad plot but one that is left lacking due to the empty vessel in the lead role.
I feel bad being so hard on Joseph Keohane but I am not going to sit here and lie to you, his performance just simply lacks. He's not terrible, he's not a bad actor, I imagine he was directed to be a humorless, self-serious man of action and not a man with a lot of time to be charismatic. He's haunted and traumatized in a time when men aren't supposed to show such vulnerability. That said, when you surround a performance like that with bigger, broader, more outlandish or powerful performances, it magnifies what is missing in that lead performance.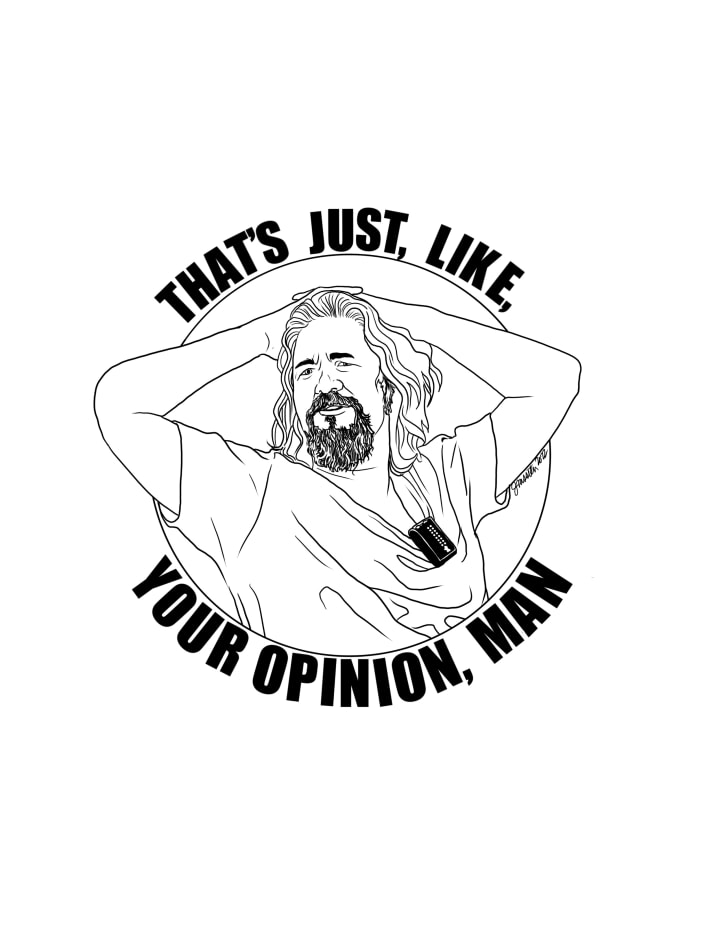 It's not a fatal error but rather a miscalculation. Condor's Nest still has some appeal for fans of the war movie as a genre or people who are fascinated by the post-war hunt for Nazis. This movie is solid in capturing what makes people fascinated by that period in world history. That said, the overall appeal of Condor's Nest is quite limited. The movie has a very specific and limited audience. There's nothing wrong with that and if that audience finds this movie, great. Enjoy. You might have to lower your standards a little, but, again, this isn't a terrible movie.
Find my archive of more than 20 years and nearly 2000 movie reviews at SeanattheMovies.Blogspot.com. Find my modern review archive on my Vocal Profile, linked here. Follow me on Twitter at PodcastSean. Follow the archive blog on Twitter at SeanattheMovies. Listen to me talk about movies on the Everyone's a Critic Movie Review Podcast. If you appreciate what you have read, consider subscribing to my work here on Vocal. If you'd like to support my writing you can do so by making a monthly pledge or by leaving a one-time tip. Thanks!
About the Creator
Hello, my name is Sean Patrick He/Him, and I am a film critic and podcast host for Everyone's a Critic Movie Review Podcast. I am a voting member of the Broadcast Film Critics Association, the group behind the annual Critics Choice Awards.
Reader insights
Be the first to share your insights about this piece.
Add your insights