Movie Review: 'Bethany Hamilton: Unstoppable' A Portrait of Determination and Faith
The documentary 'Bethany Hamilton: Unstoppable' the best glimpse yet into the life of the 'Soul Surfer'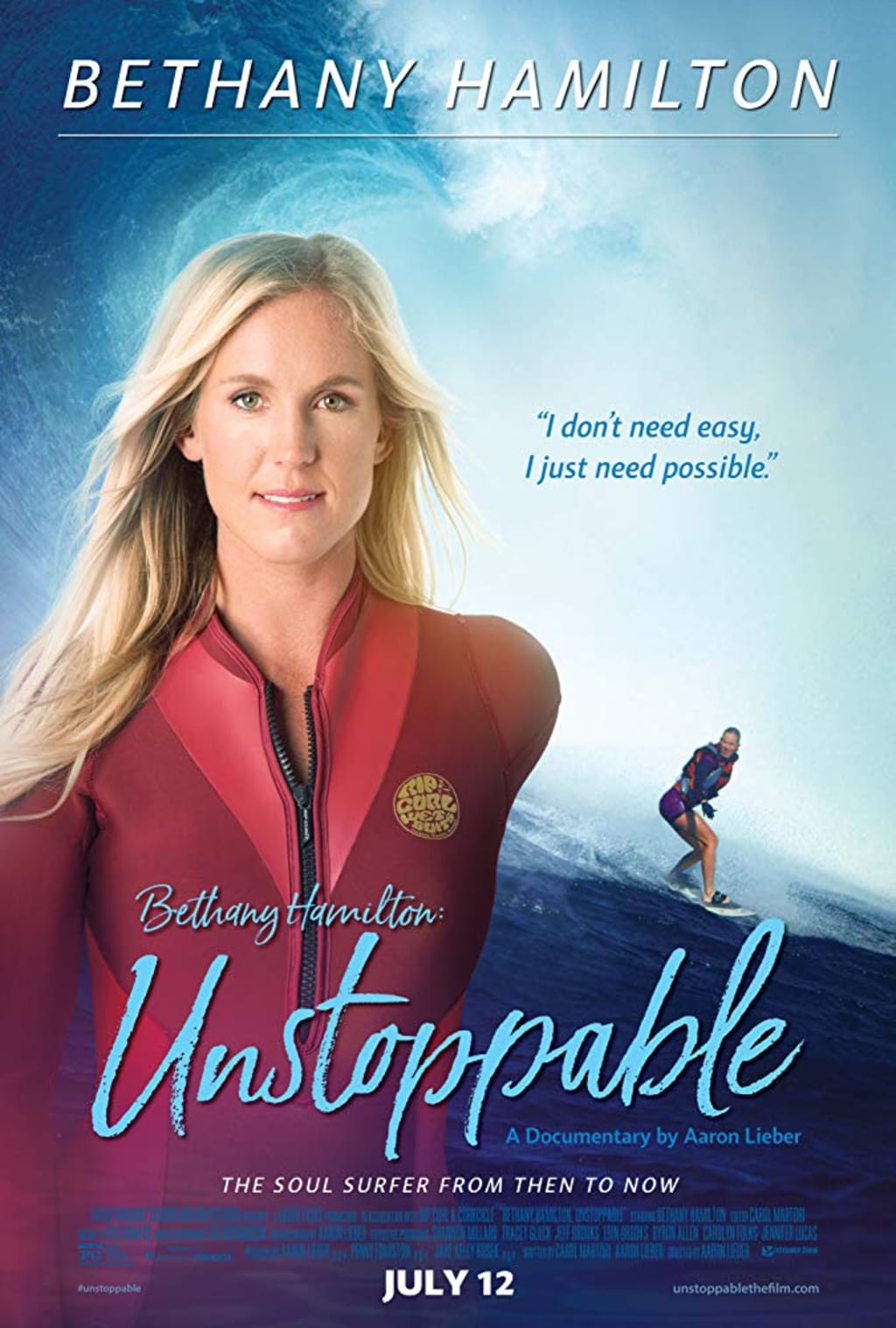 Bethany Hamilton: Unstoppable is moving and entertaining. The young lady, known once as the 'Soul Surfer' is all grown up, married, and a mom today. And, Bethany Hamilton is damn sure still a surfer and despite everything, she remains one of the great surfers in the world. It's a remarkable story and one exceptionally well captured by Director Aaron Lieber. With gorgeous underwater photography and Bethany telling her own story, we get the best glimpse yet of her exceptional life in Bethany Hamilton: Unstoppable.
Bethany Hamilton: Unstoppable begins by taking us back to Bethany's birth in 1990. Bethany's parents were surfers and her mother, Cherilyn Hamilton, was the best surfer in her corner of Hawaii. Naturally, Bethany's father, a fellow surfer, was immediately drawn to Cherilyn and two were quickly married. Bethany was their youngest child following two older brothers and all of the kids were immediately taken into the water and taught to surf.
It was Bethany who emerged from the family as the best surfer and thanks to the fact that her family documented her life and career, we get a lot of remarkable footage of Bethany's young life as she was a rising star in the surfing world and as a regular, sweet hearted kid. This footage before Bethany suffered the shark attack that famously took her arm is fascinating and exceptionally well employed in Bethany Hamilton: Unbreakable.
The documentary features never before seen footage from the days and weeks after Bethany became world famous for surviving a shark attack. Among the most surprising and moving is not anything to do with how she felt about herself but rather how she was glad that she was the one who was attacked and not her best friend Alana Blanchard. This is an early, very emotional moment that sets the tone for what is an emotional rollercoaster of a documentary.
The aspect that draws me to Bethany Hamilton, even as I am not a surfer and don't have many things in common with Bethany from what we know of her, was her remarkable resilience and compassion. Her first instinct after surviving a shark attack was to worry that her friend was okay and was not harmed. That's a wealth of compassion that is exemplary of the woman Bethany has become, a woman who has dedicated herself to the cause of helping others.
You might assume that Bethany's fame peaked in the wake of surviving her shark attack but you would be wrong. Through her sheer force of positivity and remarkable determination, Bethany Hamilton has kept consistently in the headlines without her becoming someone who forces her personality into the world. It's as if the world comes to Bethany rather than the other way around. It's rare to see someone so organically rise in our culture and yet, that is the story of Bethany Hamilton. It's a story especially well captured in Bethany Hamilton: Unstoppable.
Director Aaron Lieber in his third feature surfing documentary following up 2008's The Pursuit and 2013's Lakey Peterson: Zero to 100, once again dives headlong into the world of professional surfing and finds his best work yet. The story of Bethany Hamilton is so much more than her shark attack. Unstoppable is a story of an athlete with the highest level of drive and determination and it's a story of faith, deep, and abiding.
Bethany's dedication to God has provided her with solace since her tragic surfing accident, an accident that would have led lesser souls to question God's benevolence. Not Bethany, whose faith appeared to have deepened as she embraced what she believes is God's plan for her. That plan appears to be to inspire people who have struggled like she did. Bethany has rejected the label of disabled and created a path for herself that rejects outmoded ways of seeing people with what appear to be physical limitations.
Watching Bethany inspire young kids, as we see portrayed numerous times throughout Bethany Hamilton: Unstoppable, is lovely to watch but seeing that she was more than just a story to inspire children and other people with physical limitations is the best part of this documentary. Bethany Hamilton comes off in Unstoppable as incredibly down to Earth and yet with an almost otherworldly talent. She ranks alongside people like Michael Jordan or Lebron James, innate talents whose inner drive appears so much greater than the average person.
That same drive drives Bethany to help people and while that is a big part of Bethany Hamilton: Unstoppable, I would be remiss if I didn't mention how entertaining the movie is on top of being a profile in courage and charity. The surfing scenes, though quite foreign for those who don't understand the sport, are nevertheless breathtaking in photography and well played for drama if you aren't someone who has followed Bethany's career closely. Late in the movie, a training montage takes over for a solid 4 to 5 minutes of screentime, just music and surfing and it's quite a sight.
Bethany's home life with her husband and baby is also well portrayed. Bethany is an incredibly down to Earth and laid back person, the opposite of the surf warrior who is stomping waves throughout the action scenes of Unstoppable. Bethany is warm and loving and watching her caring for her baby in between surf heats, mere months after giving birth is a big, must see highlight, of Bethany Hamilton: Unstoppable.
Bethany Hamilton: Unstoppable opens in theaters and On-Demand on July 12th.