Movie Review: 'Berserk,' a Solid Debut for Director-Writer-Star Rhys Wakefield
The guy with the punchable grin from 'The Purge' makes his writing and directing debut in Berserk.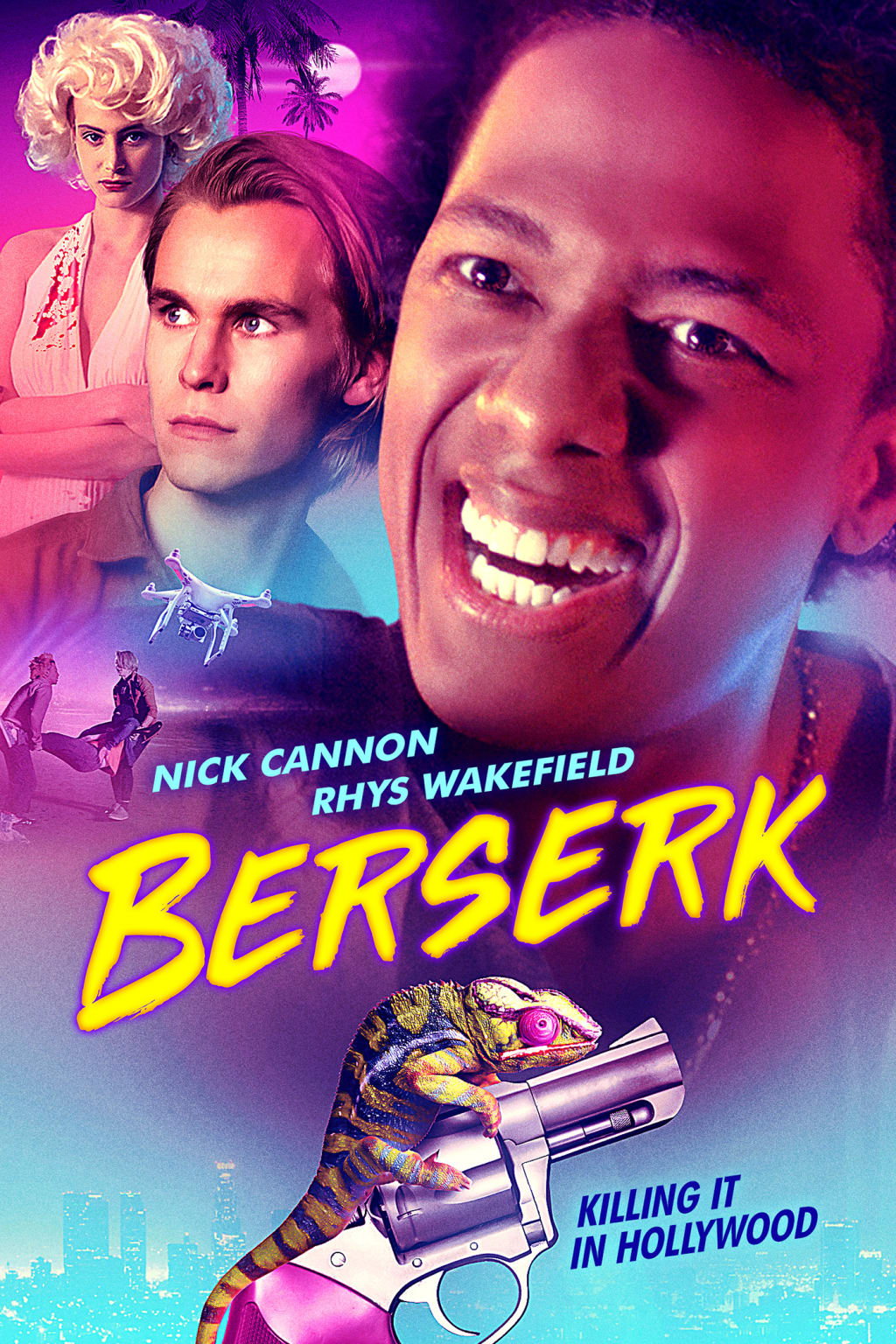 Berserk stars its very own writer, director, and actor, Rhys Wakefield as Evan. Evan is a wannabe movie star actor, director, and writer, though he has done very few of those things during his relatively short Hollywood career. As we meet Evan, he is in the midst of being fired by his agent. He manages to retain his representation with a promise that he will get his best friend, Raffy (Nick Cannon) to star in his movie, and the two of them will finish the script in one night.
Dripping with desperation, Evan arrives at Raffy's mansion, and sets about convincing his friend that they can finish a script that they have only barely begun, in one night. The movie is a zombie movie and the two are attempting to crack the idea of real fear. Unfortunately, their privileged lifestyles have kept them from ever really feeling what it is like to feel real fear. In an effort to get their creativity going, they decide to take copious amounts of drugs.
This leads to our first plot complication, the accidental death of another major movie star. Raffy has recently been menaced by fans jumping his fence and snapping candid photos of his life from a vantage point clearly through the massive glass-window-enclosed living room. Mistaking their movie star pal for Raffy's stalker, and being whacked out on drugs, Evan accidentally kills their friend and the night becomes a series of drug-fueled mishaps that will have both experiencing the depths of fear.
Berserk has a relatively thin, and overly familiar, Hollywood premise. That said, Rhys Wakefield and Nick Cannon are an oddly compelling pair. They have a tense friendship, one divided by success for one, and desperation for the other. They are legitimately friends but the power dynamic between the two has caused evident strain. That plot point fuels some of the action of Berserk; the parts that aren't fueled by lots of drugs.
The look of the movie isn't all that distinctive, but the energetic performances of Wakefield, Cannon, and supporting players Nora Arnezeder, and former Psych star, James Roday, help keeping things clicking along at a good pace. Arnezeder is a jilted love who pragmatically agrees to forgive Raffy's infidelity, if she can direct their movie. Roday plays a cop whose presence leads to shenanigans with the dead body our stars are doing their best to hide.
The dead body plot plays out in an unexpected fashion. It's a tad convoluted, but the film arrives at a relatively satisfying conclusion for how the leads might get away with their accidental murder, but even that has a twist. If that sounds exhausting, Berserk may not be the movie for you. I didn't mind the fast paced quick change of the final act, and its varying revelations and violence, and so I kind of enjoyed Berserk.
It's been quite some time since Nick Cannon has been anything other than a talent show host. Reality TV was kind to Cannon where movie stardom had not been. The attempts to make Nick Cannon a box office draw were quite sad and failing. Movies such as Drumline had an affable quality while 2005's Underclassman and the Can't Buy Me Love rehash, Love Don't Cost a Thing, were unwatchably terrible.
Here however, Cannon shows promise. Playing a primadonna action movie star fits Cannon well. He's well built, he has an unpracticed charisma mixed with narcissism and more charm than he's shown in any of his previous film work. Honestly, I dreaded seeing his name in the credits based on his past movies, but he won me over in Berserk by being consistently entertaining as the preening movie star.
As for writer-director-star, Rhys Wakefield, I am intrigued. He has charm and good looks and he has a cockeyed sort of view of direction that gives Berserk a little touch of style. The visual style is very much that of a first time director experimenting with form, but I appreciated what he was attempting. Wakefield has likely lived this character in his career, and that feels evident from his performance which has an authentic quality to it.
Berserk isn't among the best movies I have seen thus far in 2019, but it is a solid movie with just enough energy, laughs, and surprises to keep me engaged. It helped that the run time of Berserk is just below 90 minutes. Any longer and I can easily imagine Berserk growing tired, and unable to maintain the momentum that propels the best moments in this otherwise only above average Hollywood tale.
movie

Sean Patrick
I have been a film critic for more than 17 years and worked professionally, as a member of the Broadcast Film Critics Association for the past 6 years. My favorite movie of all time is The Big Lebowski because it always feels new.
See all posts by Sean Patrick →