'Molly of Denali' Is Everything
The new show on PBS giving us the Indigenous representation we need.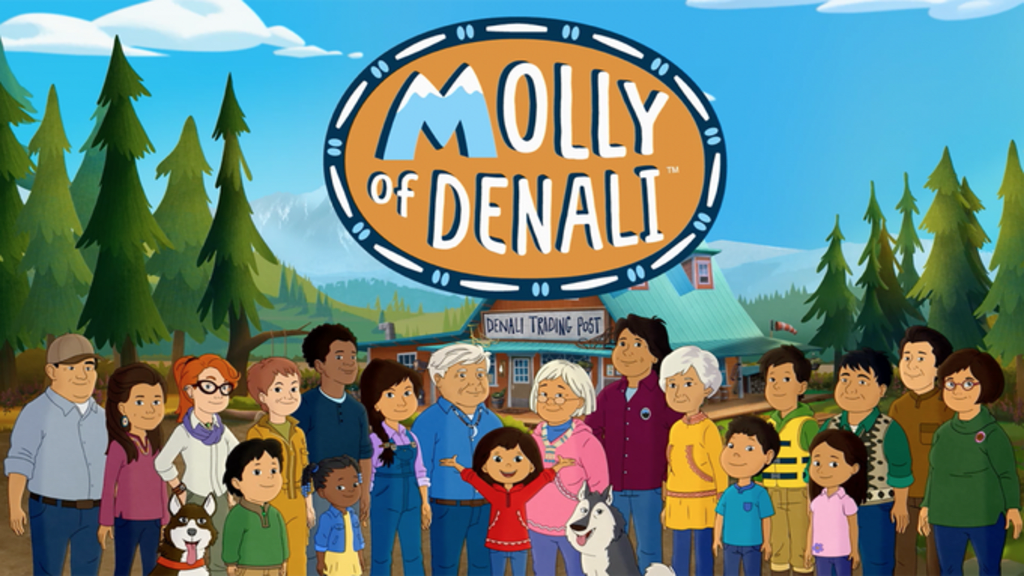 Molly Of Denali a new show on PBS Kids. Picture from PBSkids.org I do not own this picture. 
The Importance of 'Molly of Denali'
The highly anticipated children's show Molly of Denali aired its first episodes July 15th on PBS and PBSkids.org.Molly of Denali is an American-Candian created by Atomic cartoons the same studio that worked on Netflix's Hilda (2018). The show follows a young Native Alaskan Girl named Molly Mabray who lives with her family in the fictional village of Qyah, her family runs a tourist outpost. The show stars Sovereign Bill (Tlingit and Muckleshoot) as Molly.
Growing up with Tiger Lily and Pocahontas as Representation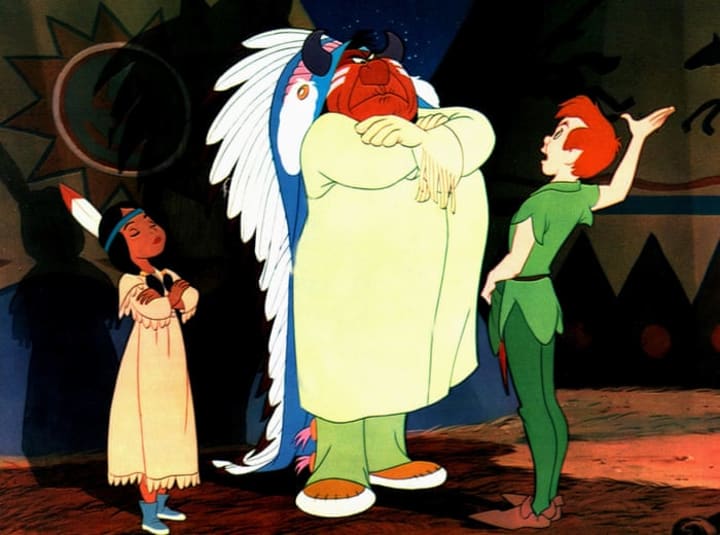 As Indigenous peoples, we haven't had the most accurate representation in the media, Native American characters are usually one dimensional and rely heavily on harmful stereotypes of Native peoples. In kids programming, there has never been a character like Molly. My partner and I didn't grow up with characters like Molly, we grew up with our people portrayed as warbonnet wearing, broken English speaking, a pan-indigenous culture having, side characters. Our most mainstream representation was sport team mascots and westerns.
Going up, we had characters that were coded as Native, but were never given a proper nation, tribe, or clan. And if they were Native, they were historically inaccurate and did more harm then good. These characters, like Pocahantas, whose real name was Matoaka and Peter Pan's Tiger Lilly, a fictional character whose "chief" father sings "why is the red man red," and spoke in broken English. Between the two we have Matoaka who was a real person, whose people suffered at the hands of settlers, was stolen from her people and her homelands and died in a foreign land. Matoaka was one of the MMIW (Missing and Murdered Indigenous Women) she wasn't a fictitious princess with the powers to paint with the colors of the wind. She was a 12-year-old girl whose world was destroyed by invaders.
Tiger Lilly is the opposite of Matoaka, but just as damaging. Tiger Lilly is a fictional character, and even then she could not escape the violence of men kidnapping her from her people. Tiger Lilly, her father, the village they lived-in was every possible Native American stereotype you could imagine. They didn't even bother giving Tiger Lilly's people a Nation, where they live is called the "Indian encampment." These types of portals in TV and movies have to lead to folks thinking that Indigenous people are mono faceted, and that our cultures are something they can put on like costumes. It's lead to folks thinking it's okay to dress their children up as these negative portrayals of Indigenous people.
The only modern Native character that my friends and I could recall of was Elisa Maza from Disney's Gargoyles. Elisa was a Black and Native (Navajo) cop living in New York City. The creators of this show actually took the time to give her a nation and a cultural background. However, her being Native is scarcely a part of the story and is only brought up a few times. There was even an episode where they were with the Haida Nation (my people). It was still really cheesy and nevertheless gave into "spiritual" stereotypes of Indigenous peoples. Even with all these "native" characters, nothing has ever shown non-Natives what real Indigenous people are like. And Native children didn't get to see ourselves or our cultures as worthy enough to be shown on TV or movies.
Molly is the Representation Our Youth Deserves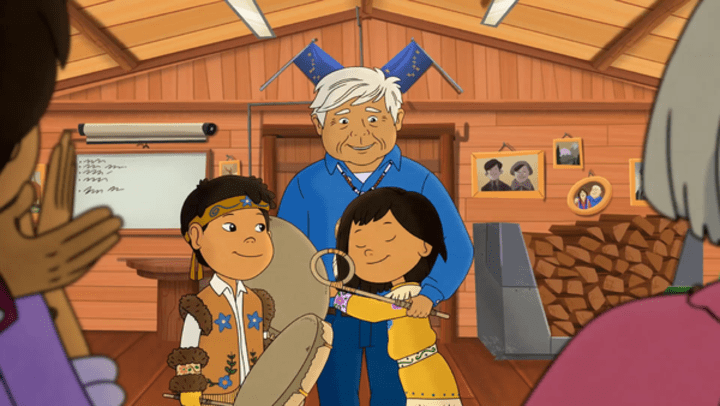 *Mild Spoilers ahead.
My daughter and I watched the first episodes and listened to the podcasts that are available on pbskids.org and mollyofdenalipodcast.org. The first emotional episode, "Grandpa's Drum/Have Canoe, Will Paddle" had me sobbing. They choose the most powerful episode to be aired first and I think that was to show Indigenous parents that this show was going to talk about even the most complex issues. In "Grandpa's Drum" Molly embarks on an adventure to find her Grandpa's drum. She learns about when her grandfather and other Indigenous kids were taken by the government and placed in Residential Schools. In these schools, our kids were not allowed to speak our languages, sing our songs or do anything that connected them to their Indigenous identity. During this episode I thought of my family, I thought of the family of my friends and community members who all have similar stories. Sitting there with my daughter, I broke down in tears. It was the combination of hearing these stories in this medium and sitting there with my daughter while watching. It filled me with sadness, joy, and overwhelming pride.
The next segment "Canoe, Will Paddle" was cute and uplifting, it explained the connections that we have to our canoes and the water. We enjoyed watching Molly, and her friends learn about the canoes and learning what it takes to paddle a canoe. The third episode was our favorite. In "Berry Itchy Day/Herring Eggs or Bust." In "Berry Itchy Day" Molly and her family go berry picking and have to prepare their own medicine to keep the bugs away. The showed plants like yarrow and wild onion that I used to harvest with my family. The second also highlights something else that my family does every spring, harvesting K̲'áaw (herring eggs). In "Herring Eggs or Bust" Molly and her friends talked about how to harvest herring eggs on the hemlock branches. K̲'áaw (herring eggs) are important food/medicine for my people and is one of my favorite foods. During this episode you also see Molly's mother using an ulu to cut Muktuk. Little touches like that to tie into everyday life means everything. Indigenous kids getting to see things like that, things that are a part of their real everyday life matters.
What I would like to see in the future:
Thus far the show has done a tremendous job showing various parts of Indigenous Alaskan cultures. I would like to see them talk about totem poles, longhouses, and cedar canoes. I would also like them to talk about important Indigenous Alaskan leaders, like Elizabeth Wanamaker Petrovich (Tlingit), who fought against discrimination of Indigenous people in Alaska. I would appreciate episodes that talk about our stories from different parts of Alaska. The importance of our salmon.The ongoing fight to protect the land and water.
I would also like other animation studios and networks to see how Indigenous characters should be written. How to work with Indigenous talent to create something that will have a positive impact on Native children. In the last few years, we have seen growth in children's programming to be more diverse and inclusive. It's a trend that I would like to see continued growth. The only way for that to happen is when shows like Molly of Denali come out, we have to watch them and talk about them. We have to show the studios that produce these shows that these are stories that we would like to see in our media.
If you haven't checked out Molly of Denali go to pbskids.org they have three episodes up, along with games and other activities for the show.