Missing Westeros? Check Out These Other Films and Series Starring Your Favourite 'GOT' Stars
You can still get your fix of your favorite 'Thrones' Stars!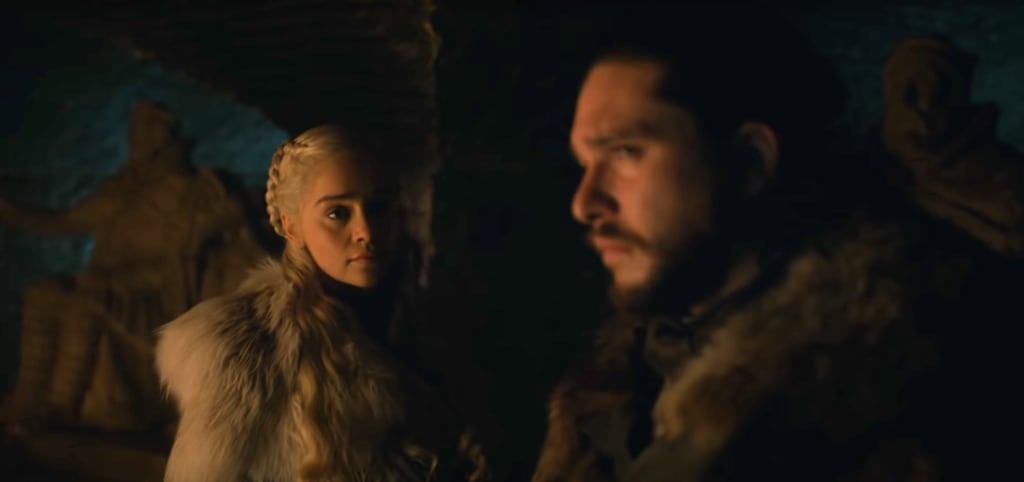 Jon and Daenerys. Credit: HBO
After eight groundbreaking seasons, Game of Thrones has come to an end, and some fans are already suffering Westeros withdrawals.
What's a fan to do?
Some fans are planning to re-watch the series from the beginning, one episode per week. Others are reading or re-reading the novels, on which the series is based. For those not so inclined to read, another option is to seek out other films or series in which our favourite Game Of Thrones stars appear. To help anyone who chooses this endeavour, I have compiled a list of such films below.
Pompeii stars Kit Harington as Milo, a slave/Gladiator brought to Pompeii days before the eruption of Mount Vesuvius. His goal is to kill the corrupt Senator Corvus and avenge the death of his Mother. Unfortunately his Gladiator duties, a forbidden romance with a Noble girl, and the impending eruption of Mount Vesuvius complicates matters.
Pompeii is very much a popcorn flick. If you don't go in expecting too much substance, there's enough action to keep most audiences entertained, and the plentiful shots of Kit's abs should keep the ladies happy.
In How To Train Your Dragon 2, the second film in the planned How To Train Your Dragon trilogy, Hiccup and Toothless find themselves dealing with a powerful new threat in the form of Drago Bludvist. Kit Harington lends his voice to the character of Eret, Son of Eret, a dragon trapper employed by Drago. He reprises the role of Eret, now an ally of Hiccup, in How To Train Your Dragon: The Hidden World.
It's nice to hear Kit obviously having some fun with Eret's voice. As an added bonus, fans with little ones can share these films with them, while also getting a mini Thrones fix.
7 Days In Hell is a mockumentary starring Kit Harington as Tennis prodigy Charles Poole, alongside Andy Samberg as his rival, Aaron Williams. Narrated by various celebrities, the film explores the events leading up to, and during, a Tennis match between Poole and Williams that ended up lasting seven days.
This one is good for a laugh. Released shortly after Jon Snow's 'death' in Season Six of Game of Thrones, many fans clung to the fact that Harington hadn't cut his hair for the role of Charles Poole as hope that Jon may survive.
In this miniseries dramatizing the 1605 'Gunpowder Plot' (a failed assassination attempt on King James I), Kit Harington plays his own maternal ancestor, Robert Catesby. The Gunpowder plot led to the celebration of Guy Fawkes Day.
Harington helped develop Gunpowder, and also works as an executive producer on the series.
Emilia Clarke gets to make a mark on #SciFi history, becoming the third actress to play heroine Sarah Connor in Terminator Genisys, a soft reboot of the franchise. A twisted time travel plot has Sarah teaming up with her reprogrammed Terminator guardian, Pops, and soldier Kyle Reese to fix the timeline after her yet-to-be born son, supposed saviour John Connor, is corrupted by Skynet.
Interestingly, Emilia is not the first Game of Thrones star to play Sarah Connor. Her co-star, Lena Headey, played the role from 2008 to 2009 in the short-lived TV series Terminator: The Sarah Connor Chronicles.
Romantic comedy/drama, Me Before You, has Emilia Clarke starring as Louisa Clark, a down on her luck young woman still living with her parents, and struggling to find a new job. She eventually wins a position as a carer/companion for Will Traynor, a formerly active young man left paralyzed and depressed after a freak accident. While Louisa's constantly upbeat nature annoys will at first, the pair eventually begin to bond.
The film also features Charles Dance (Tywin Lannister), in a supporting role as Will's Father.
This Star Wars anthology film chronicling the early adventures of Han Solo starred Alden Ehrenreich as the young Han, and Donald Glover as a young Lando Calrissian. Emilia Clarke appeared as Qi'ra, Han's first love who later joins him for his first big smuggling gig.
Qi'ra survived the events of Solo, leaving things open for the character to appear in other Star Wars prequels.
All Daniel wants is to give his Father a dignified send-off. This becomes difficult when an unexpected guest, Peter—played by Peter Dinklage—appears, revealing sordid details to Daniel, of his father's secret life. From that point onward, the day collapses into hilarious chaos.
Death At A Funeral is packed with laughs from start to finish. Dinklage plays the role of the troublesome Peter in both the original British film and its American remake.
A remake of the classic Lassie Come Home, 2005s Lassie tells the well-known story of Lassie's extraordinary cross-country trek to return to his beloved owner, Joe. Lassie spends a significant portion of the film in the company of travelling performer, Rowlie, played by Peter Dinklage, and his dancing dog, Toots.
Dog-lovers will need their tissues handy.
The ninth season of the Doctor Who revival features our very own Arya Stark in a four-episode guest stint. Starting out as an average, yet clever Viking girl named Ashildr, intervention from The Doctor leaves her functionally immortal. Centuries of solitude and constant heartbreak morph Ashildr from that average girl into Lady Me, her immortality leaving her increasingly out of touch with the short-lived beings around her.
Williams' performance as Ashildr/Me was so popular that a novel, Legends of Ashildr, was released, chronicling her character's adventures in between the first two episodes in which she appears.
The above films and series are just a small sample of what our beloved Game of Thrones cast has to offer. Dig a little deeper, and you may find even more cinematic gold.
Reader insights
Be the first to share your insights about this piece.
Add your insights