Mine – South Korean TV Drama [TV Series Review]
By: *Karlton A. Armistad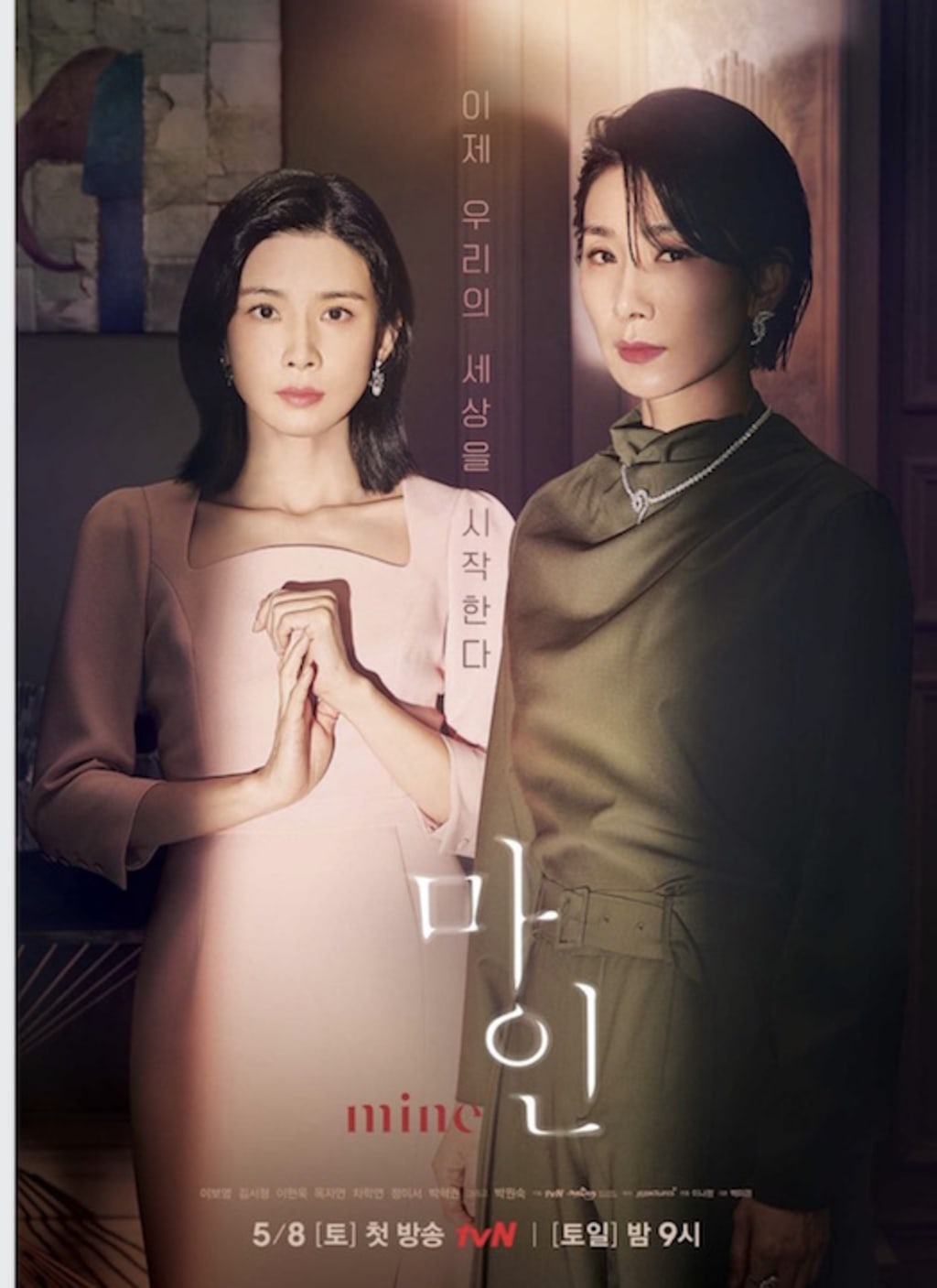 "PROMO PHOTO, Property of JS Pictures, South Korean Television Production Company'
South Korean TV Series Mine is set in the opulence of the Country's booming business district and the families that own it and so many parts of trade across world. This TV Series shows you the lives of two powerful and successful women married to the sons of one of the wealthiest families in South Korea that own the Hyo Won Group, a powerful global conglomerate with investments all over the globe.
Seo Hee Soo (played by Lee Bo Young) is an established actress who meets Han Ji Yong ( played Lee Hyun Wook) while visiting/working in London where he is studying. He does not reveal to her at first that he is from one of the wealthiest families in South Korea as he wants their relationship to blossom naturally, so he can introduce her to his baby son Han Ha Jun ( played brilliantly by Jung Hyun Joon) from a previous relationship.
The couple marry and as Seo Hee Soo becomes accustomed to her role as daughter-in-law and mother to baby Han Ha Jun.
She meets and gets to know her sister-in-law Jeong Seo Hyun (played by Kim Seo Hyung) wife to the family's eldest son Han Jin Ho (played by Park Hyuk Kwon), believed to be the weaker of the Chairman's heirs.
Jeong Seo Hyun is step-mother to Han Soo Hyuk (play by actor knowns as 'N') a favourite to take over the Hyo Won Group in future as far as outgoing chairman Han Suk Chul , his wife and the family's matriarch Yan Soon Hye (played by actress Park Won Sook) are concerned.
A Bond forms between the 2 women, which at first could be mistaken for rivalry to get the praise and adoration of their father-in-law Hyo Won Group's outgoing chairman Han Suk Chul (played by Jung Dong Hwan).
The season boast 16 hour long episodes that take you on such an emotional rollercoaster, you're left wondering at points, should I continue, still you drawn back by the savagery of cast lines in the country, a very magnificent Peacock that serves as Yan Soon Hye's pet and the soft, yet alluring way certain relationships unfold, secrets/plot-points are introduced and play out.
There is also a subtler way love scenes are portrayed in the Asian film industry that allows for you to use a lot more imagination than in North American and European productions. Touches, kisses and signs of affection are more meaningful, with women exerting power and influence over their male counterparts without having to make it about sexual intercourse and wild on-screen fetish moments.
Another huge and major part of the series for me is the estate on which the Family lives. In real life the buildings are a Museum of Art, but the Series separates the area into a smaller building that houses the family of the 2nd Son Han Ji Yong, and the Main Building which houses the Chairman and the 1st Son Han Jin Ho and his Family. Each house has its own staff and complete loyalty and confidentiality via the Contracts and non-disclosure agreements staff are made to sign and agree to.
The factions in each house for alliances and fight for family members trust and generosity and makes for a very intimate look into how day-to-day life takes place. A one way system into and out of the Estate is maintained and certain guests without a vehicle are transported around the estate by a golf cart driven by the estate's house-man Kim Seong Tae (played by Lee Joong Ok).
The producers of the series Kim Geon-hong (Executive), Lee Jin-seok & Shin Ye-ji along with production company JS Pictures spared no expense when it came to Wardrobe either. Every suit, dress, piece of jewellery and footwear was exquisitely thought through to give viewers a true sense amazement at what wealth and privilege can buy.
Bags by Hermes, jaw-dropping jewellery from Tiffany & Co., Fendi & BVLGARI give a truly clean and pure detail to a lifestyle I can only dream of and wish for.
Some of the plot points could have come sooner in the series I will admit but with so much going on from murders to brutal bare knuckle fights, same-sex relationships that dare not get revealed, facilitates you forgiving a few extra moments of waiting on a revelation to take place.
The final 2 episodes bring a very moving crescendo into reality and with it comes dealing with loss, a life-changing decision and a power struggle that leaves a woman at the top, a huge change in social practices for film and television in typical Asian society.
If you are an old-romantic I would highly recommend you give this series a watch and if you just like binge-watching something entertaining on a long weekend, Mine is just what the doctor ordered. I am more than happy to give it My 7.5/10 watch worthy rating. Let me know how you found it after you check it out please? [END]
NB: The series is on Netflix UK for your viewing pleasure
[AUG 2021]
About the Creator
Carlton A. Armistad is the pseudonym for Andrew R. Little. I prefer writing under this as it allows me to look at any body of work I complete separate to my personal day-to-existence, and safeguards my relationships and family.
Reader insights
Be the first to share your insights about this piece.
Add your insights