Meagan Good-Franklin
Inspirational Icon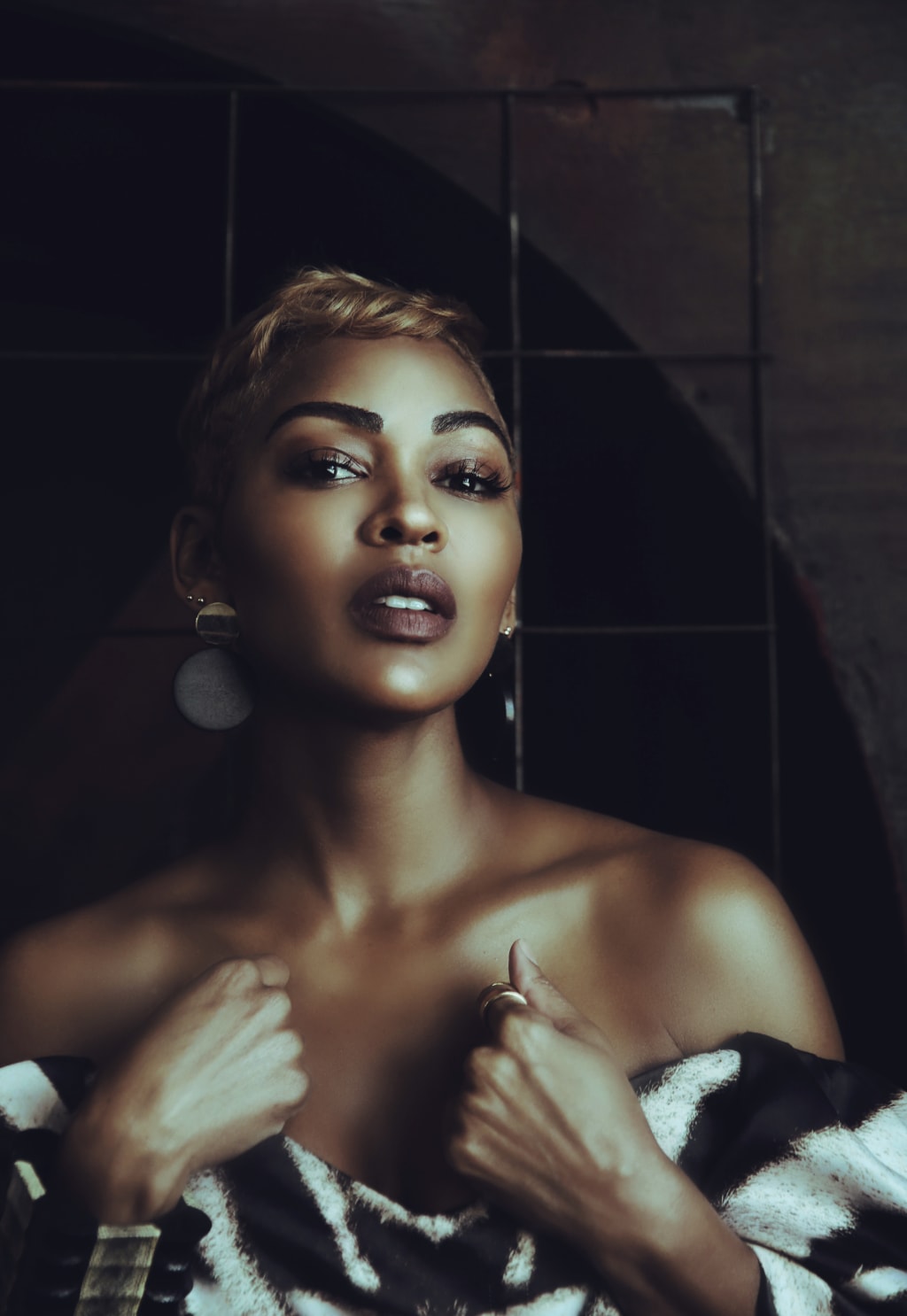 Meagan Good-Franklin (Actress: Shazam! & The Intruder)
Meagan Good-Franklin is an American actress, inspirational to many with an Instagram following of nearly 6 million. Beginning her career very early, Good has appeared in numerous television shows such as (Cousin Skeeter, My Wife and Kids, Californication, Prodigal Son, Code Black, and reprising Steven Spielberg's Minority Report in the lead role of Detective Lara Vega). Meagan has appeared in music videos such as 50 Cent's 21 Questions, and so many legendary films. In 2011, Good was featured in an ensemble cast of the successful film version of Think Like a Man. Reprising her role of "Mya" for Think Like a Man Too in 2014.
She played Joanna Locasto, the lead character on the NBC drama series Deception. She also starred in the 2013 comedy Anchorman 2: The Legend Continues, as well as starring in various horror films such as Venom (2005), One Missed Call (2008), Saw V (2008), The Unborn (2009), and DC Comics' Shazam! (2019).
The 2019 film Intruder which Meagan stars in alongside Michael Ealy is an American psychological thriller film directed by Deon Taylor. Good and Ealy are a couple who buy a house in the country, only to realize its previous owner (Dennis Quaid) refuses to let it go. The Intruder was released by Sony Pictures Releasing and grossed $41 million worldwide. Meagan's next film, Monster Hunter, starring with Milla Jovovich and T. I. Harris is set to release December of this year.
Meagan Good-Franklin, La'Myia Good-Bellinger, and Dijon Talton host a weekly talk show series "Cousins". Each week, they welcome special guests and attack current issues facing our world today.
With an over 30 year career in film and, television Meagan has made her mark as an Icon in the industry. She also has an amazing style! The memorable and versatile roles which she masters on-screen with flawless victory marks Meagan Good-Franklin as one of the best Black Actresses in the game today. Her talent, faith, and resilience have kept her a leading lady for decades to now being able to call the shots becoming a Producer and Director; with her directorial debut of "If Not Now, When?" set for theatrical release January 8th, not only is she an Icon, she is an artist and humanitarian.
Celebrity siblings, Meagan Good-Franklin and singer/producer La'Myia Good-Bellinger founded The Greater Good Foundation, with a mission to enhance the quality of life for all young women through one-on-one connection and programming. A role model Meagan continues to be for all women of color who aspire to enter into the business of entertainment.
Vocal readers, please enjoy our interview!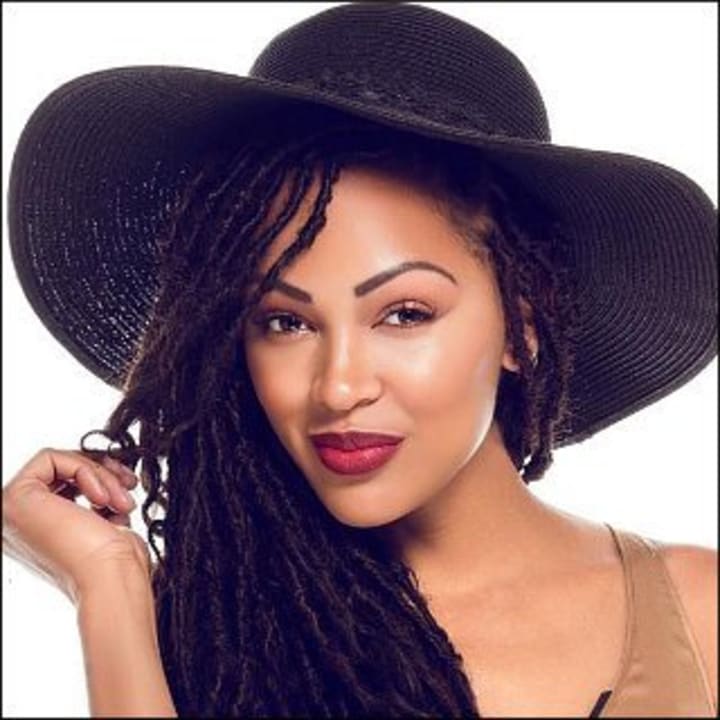 Tammy Reese:
What inspired you to become an Actress?
Meagan Good-Franklin:
As a kid, I grew up in a predominantly white neighborhood and I've dealt with a lot of racism. My mom put me into acting when I was a child to have a creative outlet outside of the little city I grew up in.
In the beginning, I did acting more as a hobby. Then when I got about 11 years old I had a teacher who really had it out for me, and really gave me a hard time for simple and crazy things such as if I wore baggy clothes, I got sent to the office.
Back then you had to have a certain grade point average if you were under the age of 17. That year I really struggled in school, I didn't make the grade point average I needed. I was out of acting for about a year because of it. That's when I realized this isn't just a hobby for me, acting is indeed something that I really love and want to do. So I worked with a tutor, got my grades together, came back the next year, and booked my first speaking role in a movie which was Friday.
Tammy Reese:
Yes, and the rest is history!
You have over 30 years in the TV and Film industry. With an iconic body of work that we all love.
For you, what are some memorable moments in your career so far?
Meagan Good-Franklin:
One of the most memorable ones was when I was 19 years old and I was coming off of a Nickelodeon show that I used to be on for 3 and a half years. I was coming of age, trying to make that transition from child actor to adult actor.
I started to see a lot of people around me getting work while I was feeling stagnated. It was the first time I prayed and asked a lot of questions. Questions like is this what I am supposed to be doing, and pursuing? After praying and asking all the right questions I got confirmation that acting is what I should be pursuing. Also, I got confirmation that it's bigger than being in the industry or being an actress, it's about using the platform to be of example in my faith.
Knowing that I was in the right business and knowing that it had been confirmed through faith was a big turning point for me. Because nine times out of ten as an actress you can hear no, no not you, you're not right for this part. That can make you crazy and insecure but in having that confirmation; I gained a different type of confidence. It helped me keep my sanity and always have perspective. As a result of that perspective and growth; it gives me so much joy to see other people win! It's given me the genuine ability to always celebrate other successes without comparing my journey to anyone else's.
Tammy Reese:
Trust the process and do the work. I love it!
Has the pandemic shaped your day-to-day life or not so much?
Meagan Good-Franklin:
Oh, Yea things have definitely shifted for me. I was in New York filming a TV show for Amazon with Tracy Oliver who wrote Girls Trip and a bunch of other really great people. We were about 2 and a half episodes in and all of a sudden we got shut down. We were all told that we will be back to work in two weeks, so I get back home and it's now months and months later.
The biggest thing for me though is that DeVon and I were talking about starting a family at the end of the year. Also, I was supposed to be filming Shazam! 2 this year.
I had all these plans that I thought I had a timeline planned out for but now all of that has shifted. First I was a little bit sad thinking I don't know what I'm going to do now. Then I leaned in towards the fact that I'm home and this situation has allowed me to grow and spend more time with my family. I prayed and reflected on what I'm supposed to be getting out of this season, what I'm supposed to be learning, how I'm supposed to be growing, and what revelations am I supposed to be receiving.
I changed my attitude and mindset and said let me get this good rest in because when I get back to work it's going to be crazy! Especially working on a show because it's not a sprint- it's a marathon. A movie schedule is totally different than a TV production schedule.
I do feel so blessed though to spend this quality time with my husband. We've also decided to do marriage counseling in our off time. Not that there are any issues, but there's something to be said about being proactive instead of reactive. Since we have this time, we get to lean in and look underneath the hood to see if there is anything that we need to work on or help each other with. I'm super thankful to have the opportunity to be so thoughtful about "intentionally" doing marriage work.
The other thing is my 2nd nephew on my side, my sister's son Eazy, had just turned 5 months when I was leaving to shoot my show in New York. Years ago, my first nephew had just turned 5 months when I went to go do a TV show in Vancouver for 6 months. This time around I was really sad about leaving them to do the show. I was going to miss 5 months to 1 year of his life as I did with my first nephew. The cool thing is I came right back home. I saw my nephew turn 1-year-old and got to see him start walking. I had more time to spend with my mom as well. Overall it actually has been a blessing, and very much needed.
Tammy Reese:
I'm so glad that you got to bond further with your family during this time.
What a beautiful thing!
Meagan, what is your stance on the idea of the Black Lives Matter Movement?
Meagan Good-Franklin:
It's a horrible and yet incredible time in history. I am so thankful to be old and young enough to understand, to witness this moment, and to be apart of it. The Black Lives Matter Movement is the biggest civil rights movement that we have ever seen in history in all 50 states period! Even other countries are protesting and understanding the significance of the Black Lives Matter Movement!
I think it's a strange blessing the pandemic has helped provide. To now be able to shed crystal clear light on these issues in terms of having the ability to press the agenda for equality for "everybody". Some people just were not quite educated or aware of the magnitude of what is going on around the world and in this country. The pandemic really opened the eyes of so many who couldn't just be occupied in a way that would normally take the attention away from what has been and is still happening constantly.
It's frustrating that some people do think the movement is about black power in a negative way when in actuality it's literally about equality. Someone recently said at a rally that some people think the Black Lives Matter Movement is trying to start a war, it's the opposite, some of us are trying to stop one. I thought that was a powerful statement because so many people are unaware of the war that people of color have been in constantly throughout history and it hasn't stopped.
We are no doubt growing as a country and shifting things, but it's also just as bad as it has always been. I mean, we still have modern-day slave catchers. The policing genesis actually came from slave patrols which is something I'm almost embarrassed to admit I've only recently learned. But it's not about being embarrassed, it's about growing and continuing to educate ourselves to move with authority and understanding. It's a unique time in current history and you have to determine which side of the line you want to stand on. At this point, there is no indifferent, because indifference and doing nothing are tolerantly siding with the either. You can't just be "not a racist". You have to be anti-racist. So being silent and doing nothing is in fact a choice of a side of the line.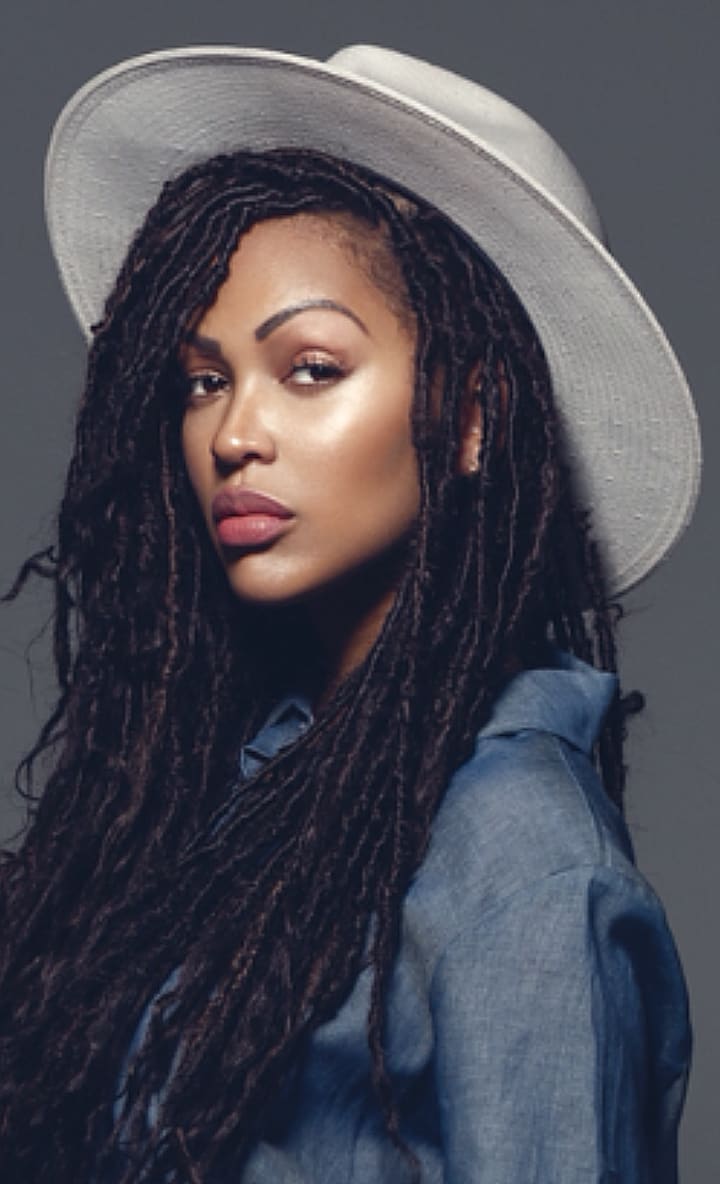 Tammy Reese:
Wonderfully said, so needed to be said as well.
Meagan, we have all felt the loss of Chadwick Boseman. He has deeply impacted us all.
How has Chadwick Boseman impacted you, the film industry, and Black culture?
Meagan Good-Franklin:
Chadwick impacted me first as a human being. When I met him for the first time in Vegas in 2013, I was filming Think Like A Man Too. DeVon and I were walking around the hotel and we ran into him. We ended up going to a New Edition concert together. My best friend is married to Ricky Bell and Ricky got us all in. We were totally vibing out.
I never met anyone like Chadwick. His spirit is curious as a kid, so pure but also full of wisdom. He was such a beautiful human being and a very special person. So genuine, humble, and kind. I say that with every sense of those words. You could feel his spirit coming off of him when you spoke to him.
His passing definitely caught me off guard. A loss of a friend or someone that you know of course, but also the loss of a human being that we need to be here especially in these times because of all that he represented. Who he was and all that he embodied that we didn't even get a full chance to experience. I feel so deeply that Chadwick made the world a better place just by him being in it. My grief for his loss was intense and almost surprising given the few short experiences I had with him. He did accomplish so much in such a short period of time.
In terms of his impact as an artist, I've been in the business for over 30 years and he has inspired me by his ability to show his self-worth. I've never done anything that I felt I was settling. I've never been in a situation that I felt like I compromised myself -ever ...but I do think some of the things that he did his way made me feel like it's OK to feel like you deserve more. It's OK if this person doesn't see my worth or value me in this situation, and it's OK to walk away from it. I do that in life in general but as a child actor, in an industry where Black actresses are often underpaid and unappreciated sometimes you forget it's OK to demand your worth.
That made an impact on me to start saying no and pay me what I've worked so hard my whole life to deserve. No, I shouldn't have to subject myself to work so hard to get an opportunity to play a character you have seen me do a million times. You either want me or not. Chadwick has absolutely inspired me in that way and it has been life-shifting for me. As a former child actor, I tend to want to please everybody and I tend to want to be as humble as I can be, not ruffle any feathers, and not offend anybody.
As for the culture, the impact has been immeasurable from all the iconic roles he has played. He didn't just play the roles, he embraced each character and brought them to life. In a way that is undeniable and incredible how his talent was. Also, him encouraging, influencing, and inspiring his fellow beings and actors to see things within themselves that they didn't see before and be unapologetic about it is such an incredible legacy to leave behind.
Tammy Reese:
An incredible legacy to leave behind without a doubt.
He will forever be missed and honored.
How do you think our country and our people can heal moving forward after so much sadness and uncertainty this year has offered?
Meagan Good-Franklin:
Our country and people can heal going forward by not losing hope, that is the biggest thing and leaning on each other for support. Even fighting for joy because joy is a form of resistance as well. We have every right to be upset and angry. But we also have to lean into how special, worthy, brilliant, and incredible we are. Continue to love and educate each other about the things about us that are so dope and so attractive that people follow our culture and want to actively be like us in so many ways, even subconsciously in some instances.
Do the work because all hands are on deck. Everyone has a part in this movement and a part to play in our healing. We have to do everything within our own powers to play our roles even if that role is just voting, showing up, or using our platforms and changing the hands of those who are in control. This is a great start to healing. It's not the answer to everything but it sure as hell is a start.
Tammy Reese:
We have to start somewhere and that is a start for sure!
So Meagan, what are you currently working on?
Meagan Good-Franklin:
I just did a music video for an artist name Diarra who is an artist out of Senegal. A very interesting video where we show African Heritage, the Black Panthers, Shirley Chisholm, the experiences of Ahmaud Arbery, Breonna Taylor, and Rashard Brooks. Also in the video, we celebrate us as Black people across the board in our pain and triumph. It was an awesome opportunity to press into my artistic activism and something much needed in this season.
Besides that, I'm doing a TV talk show on Omnis with my cousin Dijon Talton and my sister Lamyia Good-Bellinger. We started the show right from our living room. We've had T. I., Dr. Melina Abdullah (of Black Lives Matter LA chapter) on the show and other special guests. It's called Cousins Talk and it is available on all platforms.
I go back to doing my TV show in January and we are still waiting for the official word of when we start Shazam! 2. So there's a lot to look forward to at the top of the year.
The first movie that I Co-Directed just sold about 3 weeks ago. It is called If Not Now, When? I Co-Directed the film with my friend Tamara Bass who wrote it. We both starred in it, and we both produced it. The film will be out in theaters on January 8th.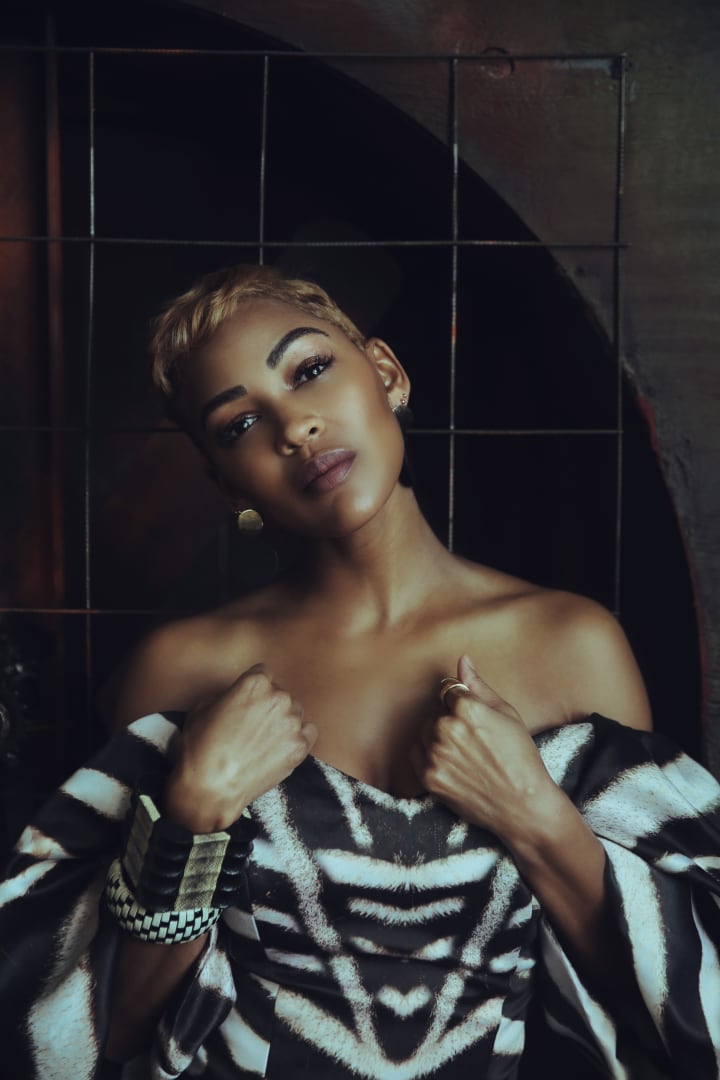 Tammy Reese:
Amazing! Congratulations on all of your success so far, and for all the continued blessings and accomplishments to come.
Meagan Good-Franklin:
Thank you! Thank you so much Tammy!
Tammy Reese:
Absolutely! You're very welcome Meagan!
What do you think is the future of the film industry?
Meagan Good-Franklin:
The industry is resilient, I don't see how we will ever stop entertaining people because it's such an important part of all of our lives. Where there's a will there's a way.
A lot of production companies are back into production. Things are starting to get back up and running here in states where they have the virus better contained. Also in Canada.
Ultimately I don't think any of us are educated enough on covid-19, but from my perspective or at least what I think I know, it may be around for a while but we have to get back going. I believe the industry will be just fine, it will just have to take some time.
Tammy Reese:
We as a society need entertainment that inspires us, educates us, and uplifts us.
I am completely honored to ask you this next question which is what do want your legacy to be?
Meagan Good-Franklin:
I want to be someone who helps other people, someone who loves unconditionally. I don't focus my energy on winning an Oscar. Would that be cool? Of course, but honestly, that is not a goal of mine that I genuinely care about.
I wouldn't be mad if it happened but it is not something I am setting out to accomplish. Something I would love to win is an Essence Women's Brunch Award. That award is for honoring the "human being". It acknowledges the career and body of work, which is great too, but the award is not all about the career. It's about the person and what that person has put out into the world. It's also about what someone did to make the world better for someone else, and what impact they left for others.
That is way more important to me, actually, it is most important to me when I think of goals. That would certainly be a goal of mine rather than a legacy that's about my career. Also being who I was authentically created to be at my full potential, and making sure I am showing the love of Christ and that my life exemplifies that. I want my legacy to set a good example for young women and that I did something that was worthwhile because I made someone else's life better.
"Don't do the minimum, do the maximum"

-Meagan Good-Franklin
Tammy Reese:
What advice would you have for anyone who wants to get into the entertainment industry?
Meagan Good-Franklin:
Make sure that you make decisions from your self-love, self-worth, and knowing that it's bigger than you. There is nothing wrong with people who want to be famous but fame is overrated. You have to have perspective. I think that's why a lot of people who come here and they kind of struggle and fall apart because they don't have the peace, or the joy, and are not locked in on purpose.
I would lastly say do the work. Don't do the minimum, do the maximum. There are millions of talented and beautiful people in the world and the ones who really get to a certain place are not there because they are more talented or more beautiful than someone else. They are where they are because they are doing the work. It's so not worth it to do anything that you will ever regret or make you not be able to look yourself in the mirror because it's not that serious. It's just a job. Don't let it become your identity. I always check myself. My motto is "Don't ever believe your own hype."
Be sure to check out Cousins Talk which is available on all platforms www.cousinstalkshow.com and continue to follow Meagan's iconic career and journey by connecting with her on Instagram.
About the Creator
Filmmaker/Actress/Writer/Journalist/Publicist
Award Winning Multimedia Creator
IG @TammyReeseMedia
Reader insights
Be the first to share your insights about this piece.
Add your insights