Maybe I Do - A Movie Review
'Maybe I Do' is your typical rom-com that we've seen before.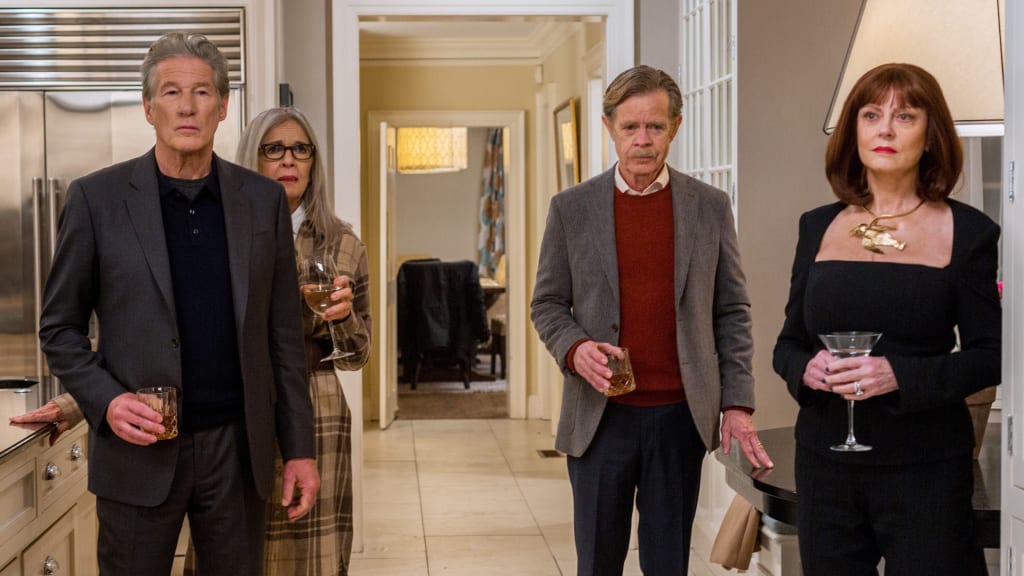 Our parents are just meeting tonight. What's the worst that could happen?
Maybe I Do is a 2023 film. Michelle and Allen invite their parents so they can finally meet. Except, they already have met. On this night of chaotic messes, each parent has a different opinion about marriage leading the young couple to question their relationship.
Although most rom-com tropes are copied in Maybe I Do, the film has a sweet story that urges viewers to give love more than one chance. Led by a group of fantastic actors supplying the best of comedy, the story is not as strong, omitting an important plot dynamic that left the film unfinished.
Most moviegoers will recognize actors from a plethora of films. As the quartet who feverishly race in circles trying to keep secrets in the vault, Maybe I Do was cast well. Diane Keaton, William H. Macy, Richard Gere, and Susan Sarandon did a fantastic job with character study, interactions, and examining their relationships.
They had good chemistry. Except, their relationships weren't a prime example. Sam and Monica are so unhappy that I am surprised they stay together. Their relationship is so vile that they make cruel remarks.
I have seen Emma Roberts in films since she was a kid. My favorites were Aquamarine and the Nick series, Unfabulous. It's been a privilege to watch her grow as an actress.
I didn't realize until after the movie that Roberts and Luke Bracey played the romantic couple in Netflix's Holidate. Holidate has earned criticism, but I liked it mainly for Roberts and Bracey's interactions.
After the film, my friend and I were discussing that Maybe I Do could have been a sequel to Holidate. What if it was? That would have made their dynamic more meaningful.
Too much time is consumed by the quartet trying to work through their issues. Roberts and Bracey are forgotten. The adults bog down the film, leading to the young couple's story being resolved off-camera! The story is wrapped up too quickly.
Why didn't they show us the adults having a conversation with Michelle and Allen? Their relationship is the most important part of the story. The adult's conversations and confrontations with one another become so repetitive. There's too much switching back and forth to varying perspectives.
As I learned, Maybe I Do is based on a play written by Michael Jacobs in 1978. Adapting his own work as a film, most of the film's blocking and dialogue delivery are reminiscent of the style of a play. That was distracting. Actors don't have much intent, following their directions over what felt natural.
Jacobs should have dictated more time with the young couple. It's a shame that Michelle and Allen's dilemma is solved off-camera. In my opinion, if all couples worked out their issues together giving their kids advice, Maybe I Do would have had a more appealing ending.
I am not satisfied with the ending. What was said and done during this time to make our couples come together and form new bonds? That's not something that should be left ambiguous.
Issues in the story aside, Maybe I Do is saved by the actor's solid comedic timing. There were several funny moments. I remember bursting out laughing when Howard quietly leaves the kitchen as his wife is in a virtual church session. The best laugh of the film is when the characters unexpectedly meet up at the house.
Maybe I Do is your typical rom-com that we've seen before. If you want, you should go see it in theaters.
About the Creator
Writing has been my passion since I was 11 years old. I love creating stories from fiction, poetry, fanfiction. I enjoy writing movie reviews. I would love to become a creative writing teacher and leave the world inspiring minds.
Reader insights
Be the first to share your insights about this piece.
Add your insights