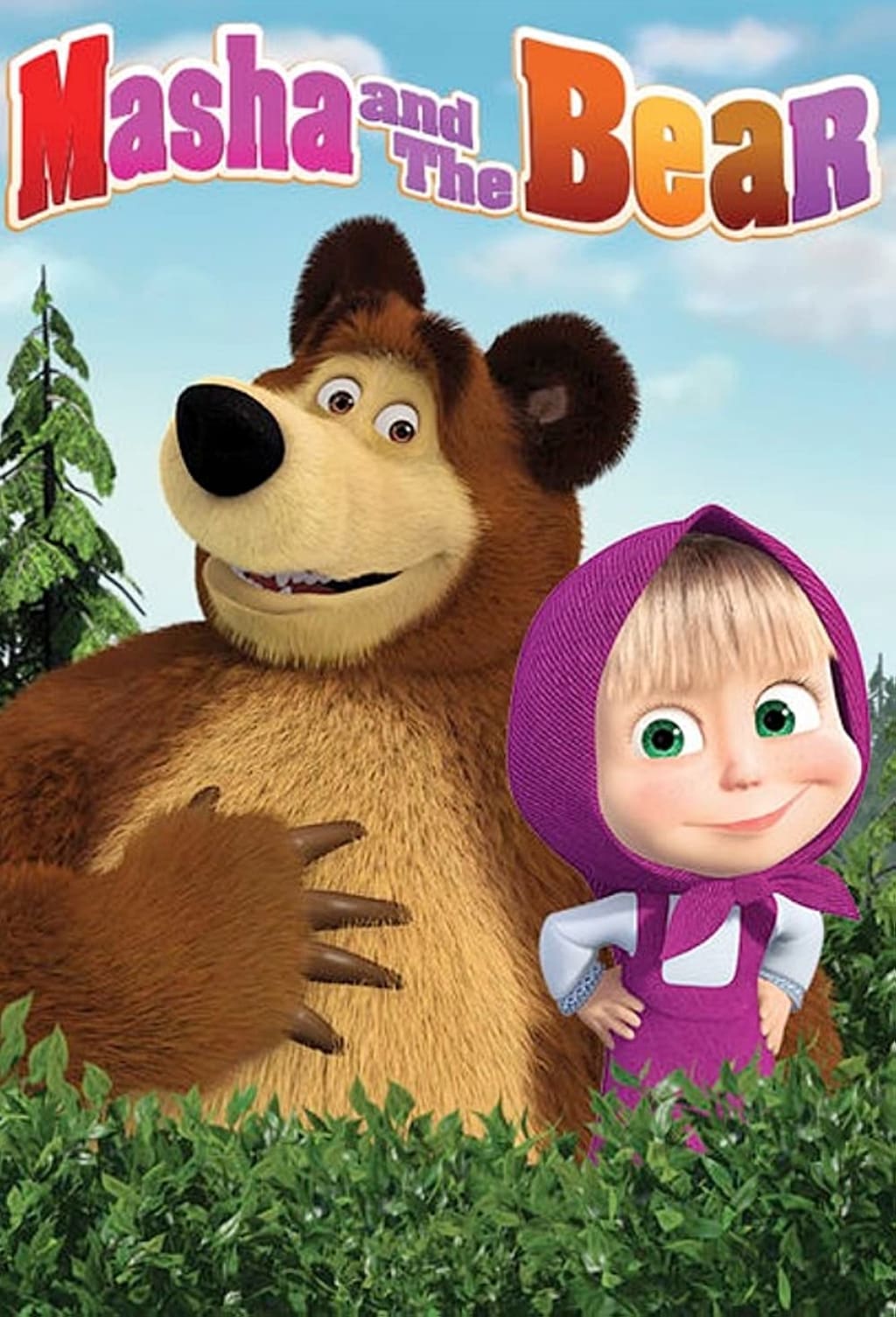 Masha and the Bear: Image courtest of IMDB
At first glance, the Russian children's show 'Masha and the Bear' appears sweet and wholesome. A rambunctious young girl befriends a former circus bear, and they have a range of adventures. Along the way, they form a loving bond. Sounds great right?
WRONG!
Scratch beneath the surface and you realize that we've been duped, and Masha is much more than a little girl who annoys her animal friends.
How old is she really?
You never see a parent in Masha's life. She seemingly lives on her own, with only the animals in the yard for company. She disappears into the woods and no humans come looking for her. In fact, the only person who seems to worry about her existence is the Bear.
Even if it were the case that her parents were working away, she can support herself, and at no point does she choose to contact or engage with adult humans.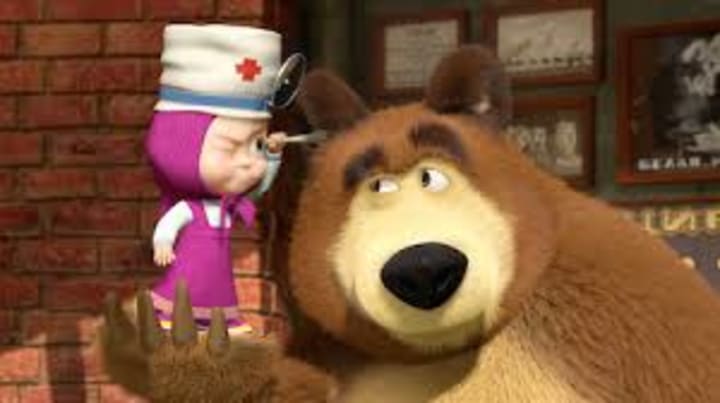 Once you accept that she lives on her own, and has no human supervision, then the question must be asked. Just how old is she really? Perhaps she suffers from some form of dwarfism and uses this to her advantage.
But why would an adult pretend to be a child unless it was to manipulate those around her?
Why do the animals fear her?
We won't get into the fact that some animals live in their normal habitat, some live in modified accommodations like the wolves in their ambulance, and some, like the bear, live in houses. One thing that is consistent is that the animals are all fearful of Masha.
They run and hide from her. They are terrified of her. What evil experiments has she conducted on these poor souls?
She does endear herself to the Bear, but only after tormenting him too. Perhaps it was that she needed to recruit some muscle for whatever criminal enterprise she is spearheading.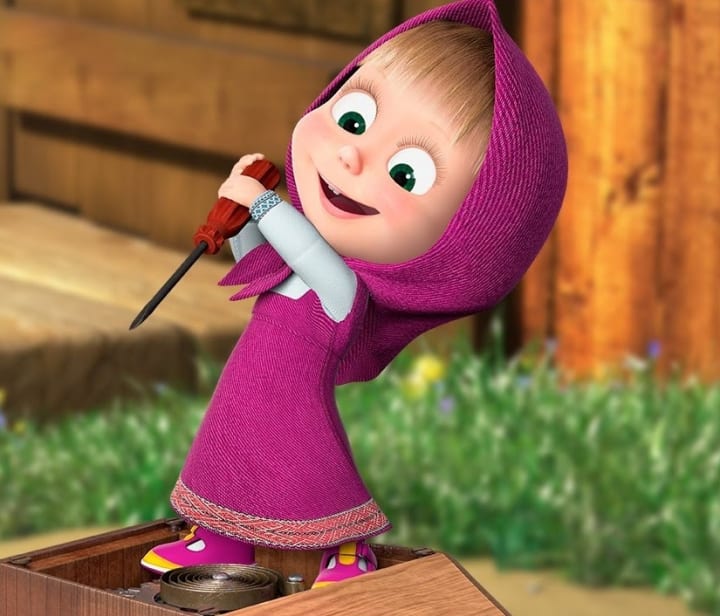 Does Masha have previous military service?
In one episode the Bear uses his pint-sized offsider to protect a patch of carrots from a thieving rabbit. Masha dresses in a Russian border guards' uniform, that seems to fit her perfectly, and as she stands post sings a Russian war song "Thunder clouds are up above our border…"
How has she learned to march with military precision? Where has she learned the words to a Russian war song? Not something that you would expect from a normal 3-year-old.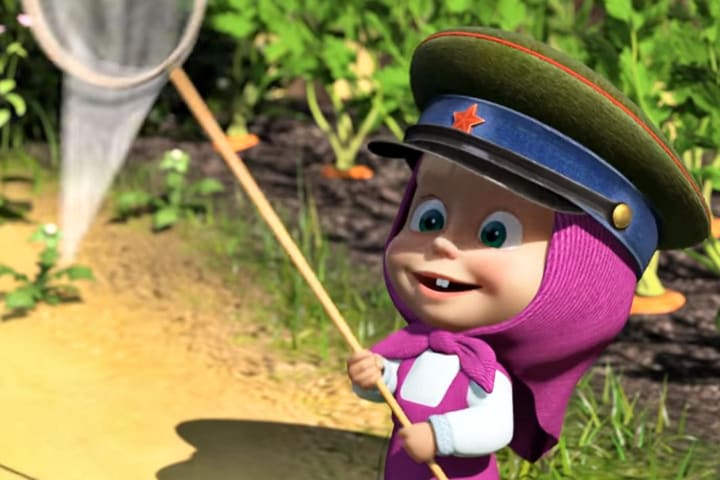 Her prior military service is all but certain. Maybe her dwarfism is what led the military to recruit her in the first place. Make her seem like a child, not someone the enemy would suspect.
Her desire to exploit the Bear's scientific knowledge
The Bear is clearly smart beyond what we would expect from a bear. Perhaps he is really a human since he is the only animal that seems to live in a house and he may have been mutated to this form through a horrible accident.
Masha regularly utilizes his technical advancements including time travel, space travel, and various other inventions. Is it an accident? Or is she instead trying to appear to be a bumbling child who is instead assessing the feasibility of each of his experiments?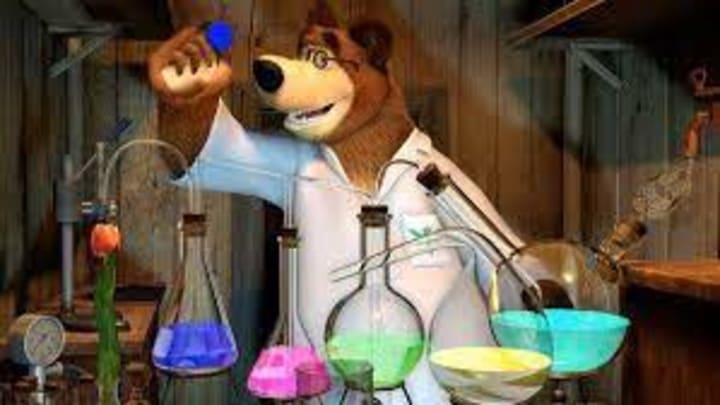 She clearly wants to utilize his knowledge to her own advantage and has a higher-than-normal rate of "accidental" use of private experiments. Maybe the chemicals Bear has produced that promote the accelerated growth of crops are to be used for illicit purposes. Perhaps she is looking to exploit knowledge from the future to provide her with an unfair advantage in the Stock Market.
Conclusion
What might seem like a bumbling child is a cold, highly organized, calculating criminal mastermind. She is actively running a criminal enterprise and she doesn't care who gets in her way. Perhaps she is the modern face of Russian organized crime, either way, she is to be respected and feared.
++++++++++++++++++++++++++++++++++++++++++++++++++++++++++++++++++++++++++++++++++
Now if you've read this far, I certainly hope you know this has all been very tongue-in-cheek.
I started watching Masha and the Bear with my daughter. It's hilarious for adults and children. It is currently available to watch on Netflix. If you've got kids or you just want to have a bit of a laugh, check it out.
About the Creator
Amateur storyteller, LEGO fanatic, leader, ex-Detective and human. All sorts of stories: some funny, some sad, some a little risqué all of them told from the heart.
Thank you all for your support.
Reader insights
Nice work
Very well written. Keep up the good work!
Top insight
Compelling and original writing

Creative use of language & vocab
Add your insights