Marvel's Black Widow
Movie Review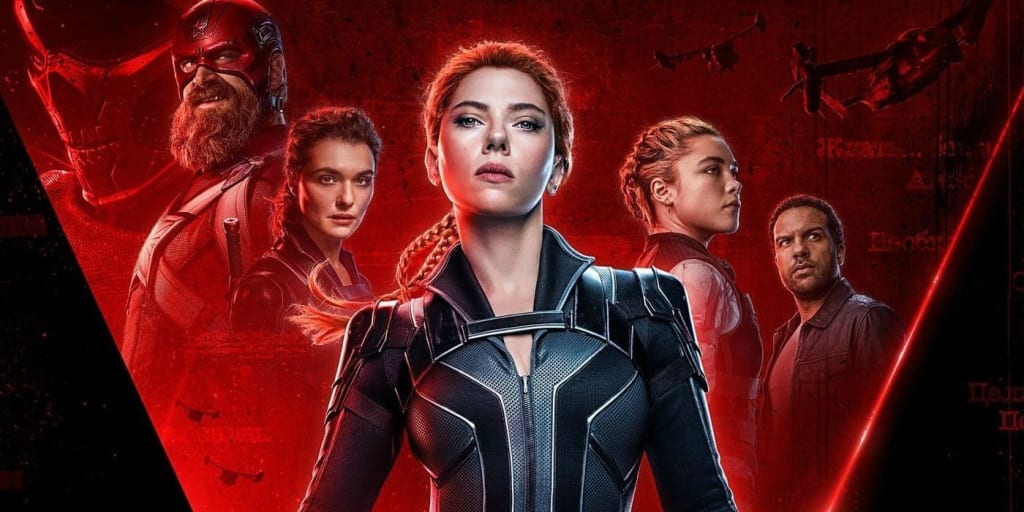 Black Widow
Movie Review
After more than a year-long delay, Disney and Marvel Studios finally released the highly anticipated and long overdue solo superhero movie, Black Widow. Scarlett Johansson reprised her role as Natasha Romanoff, a former KGB spy and assassin turned Avenger, after appearing in the MCU in supporting roles for a decade. This solo movie explores the character of Black Widow's shadowy and troubled past and fills in the gaps of her whereabouts between the event of Captain America: Civil War and Avengers: Infinity War.
The superhero film starts in 1995 showing a young Natasha playing with her little sister Yelena at a playground in Ohio, portrays by Florence Pugh as an adult. Little Yelena falls and scraps her knee, their mother Melina, played by Rachel Weisz comfort her daughter, and the three return home. Husband and father, Alexei, plays by David Harbour, arrive and the family sits down to enjoy dinner, as he announced they are going on a big trip. The action kicks in as we learn the family is on a Russian covert op mission to steal intel from S.H.I.E.L.D. The fake family escapes to Cuba where they are met with Dreykov, a general for the Soviet and head of the Red Room, who's portrayed by Ray Winstone. The Soviet general orders the two young girls to be sent to the Red Room, where they will become one of his Black Widows.
The film then moves on to events that take place after Civil War. U.S. Secretary of State Thaddeus Ross is on a pursuit of catching Natasha Romanoff when she and other Avengers violated the Sokovia Accords. Natasha escapes from Ross and his men and retreat to a remote safe house. Her sister, Yelena, sent Natasha a clue to be with her in Budapest. While there, Yelena tells Natasha that the evil Soviet general Dreykov is still alive, despite Black Widow's attempt assassin on him years prior. The two once known as sisters, now track down the closest thing they had to a family, Alexei and Melina.
Director Cate Shortland does a very good job of honing in on recreating the same style as the Russo Brothers did in both Captain American: The Winter Soldier and Civil War. Pattie Jerkins tried the same with Zack Snyder style with the first Wonder Women movie. Many of the action scenes are filmed beautifully much like in the vein of a Jason Bourne or John Wick film. As always, Scarlett Johansson does great in her performance as Black Widow, however, it is Florence Pugh and at some times David Harbour, who stole many of the scenes.
What could be only explain as a new trend in lazy film editing, as Black Widow suffers from uneven and fast pace editing. Combine with this editing style and the MCU's stupid need for jokes, many of the dramatic and emotional scenes are lost on the audience engagement. However, it is worth noting the jokes are not as much here as other movies in the MCU.
Overall the very long overdue Black Widow movie is very much an enjoyable summer action flick, that any MCU fan will love.
Viddyoze: The Web's fastest 3d animation platform. Create truly incredible animation elements right inside your browser!
http://nstudio.viddyoze.hop.clickbank.net
Send support to: https://www.buymeacoffee.com/NeverStudios
Links: https://www.liinks.co/neverstudios
Teespring: https://teespring.com/stores/geeking-around
Youtube: https://www.youtube.com/channel/UCLBndztPI8CTI_gDsjKN9Jw
Podcast: https://anchor.fm/geeking-around2
Blog: https://vocal.media/authors/louis-mihael
Webcomic: https://tapas.io/series/Geeking-Around-The-Webcomic
Kickstarter: https://www.kickstarter.com/projects/kirastarwars/kira-a-star-wars-story-part-1-reprints?ref=project_build
If you want to help support Us, please like and subscribe.
Fiverr: https://www.fiverr.com/louismihael?public_mode=true
Never Studios: https://neverstudios.wixsite.com/neverstudios-
#blackwidow #avengersinfinitywar #buckybarnes #peterparker #thor #marvel #blackpanther #loki #tonystark #natasharomanoff #mcu #robertdowneyjr #infinitywar #marvelcomics #blackwidow #avengersendgame #tomholland #steverogers #hulk #captainmarvel #endgame #hawkeye #ironman #chrisevans #tagwagai #thanos #spiderman #scarlettjohansson #captainamerica #marvelstudios #avengers #florencepugh #davidharbour #rachelweisz
#RestoreTheSynderVerse #ReleaseTheAyerCut