Castlevania
Season 4 Anime Review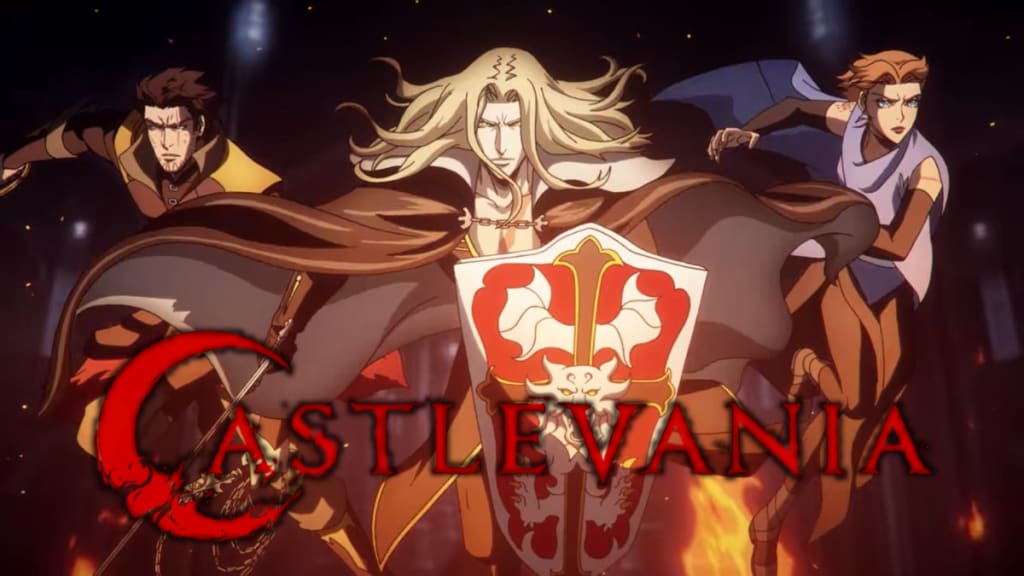 Castlevania
Season 4
Anime Review
The curse of Dracula continues to spread throughout Wallachia in the fourth and final season of
Netflix's adaption of Castlevania. Originally planned as a film in 2007, the project lingers in development hell for many years. In 2015 Netflix picked up the project with director Sam Deets, producer Adi Shankar, and writer Warren Ellis. The animation was done by Frederator Studios and Powerhouse Animation Studio, with both studios heavily influenced by the art style of Ayami Kojima, character designer of Castlevania: Symphony of the Night, and many others in the game series, as well as the spiritual sequel Bloodstained: Ritual of the Night. The animation studios were inspired by the 2d hand-drawn animations of Ninja Scroll and Vampire Hunter D: Bloodlust among others, with many animators, who previously worked on Bloodlust.
At the beginning of season 4, we find Trevor Belmont and Sypha Belnades living the life, Trevor has ever only known, life as a monster hunter. Tired and frustrated from fighting night creatures, the couple discovered a group of cultists, apparently hellbent on resurrecting Dracula back from hell. After all the fighting and traveling, Trevor and Sypha arrive in Targoviste, the dreadful city where it all began.
Meanwhile, Alucard continues to live a lonely life inside the haunted walls of his father's castle. A mysterious horse appears at the castle's front gates, with a rider kill by night creatures carrying a note. The note plea for the Alucard of the castle to be the protector of a nearby village that is being attacked by the hellish monsters. There the dhampir meets the village head-woman, Greta, and the alchemist/scholar/your humble servant, Saint Germain. Alucard agrees to allow the village to seek refugee at the castle.
In a similar vein as Game of Thrones, Castlevania follows many different characters besides the main three heroes. As also in the same vein as Game of Thrones dreadful season 8, Unfortunately, many of these characters' stories at times seem rushed, incomplete, or made no sense whatever. The vampire queen, Carmilla at the end of season 2 was made out to become the main antagonist of the series after the death of her master, Dracula. However, in season 3 we see the Queen of Styria become just another side character when she lay out her plans to your sisters. With season 4, Carmilla's development as a villain was overall two-dimensional. The constant complaining of stupid old men doesn't make one a great antagonist. Other characters like Saint Germain's development can be compared to Jaime Lannister's character in season 8 of the HBO series and not to mention his drawn-out flashbacks, which parts should have been in season 3. Isaac started with a very interesting story and became a fan favorite. However, somewhere between seasons 3 and 4, Isaac has a change of heart.
Not all hope is lost for season 4 of Castlevania, despite the shortcoming of a few bad character developments, the three main characters do receive quite satisfying endings. As Trevor and Sypha fight off a raid attack from the vampires Varney and Ratko. Varney used a transmission mirror to open a portal to Dracula's Castle. Reuniting with Alucard, the trio fights against the vampire general Dragon, who has taken over command of Dracula's army. The heroes discover they are too late, as their eyes lay upon an opening to hell with Dracula in clear sight. A creature appears and Trevor is separated from his allies in a final showdown between the last of the Belmont and the old killer himself, Death.
In a previous episode of my podcast, GEEKING AROUND, I mentioned how I felt the animation wasn't as polished as in the season before it. I'm proud to say, I was proven wrong. Each episode in this final season had at least one epic battle, whether it's big or small, with excellent flawless animation. Ever since I was around 10 years old, Symphony of the Night was one of my favorite games, so naturally, Alucard is my favorite character in the anime series. See Alucard perform many of his special moves from the game in the anime, was very nostalgic. Still, there were was parts the animators cut corners, however, I feel most people wouldn't even notice them.
Overall despite the lack of some character development and most likely unnoticeable corner-cutting animation, season 4 of Castlevania will not only go down in history as one of Netflix's best originals but one of the best video games adaption ever. Confirmed by one of the producers and later by Netflix, a spin-off series in the Castlevania universe is in the works. Personally hope to see an adaption of games, Lament of Innocence, Aria of Sorrow, and of course Symphony of the Night.
Viddyoze: The Web's fastest 3d animation platform. Create truly incredible animation elements right inside your browser!
http://nstudio.viddyoze.hop.clickbank.net
"Don't try to ruin my life with lies when yours can be with the truth." - Gina Carano #firekathleenkennedy #istandwithginacarano
Send support to: https://www.buymeacoffee.com/NeverStudios
Links: https://www.liinks.co/neverstudios
Teespring: https://teespring.com/stores/geeking-around
Youtube: https://www.youtube.com/channel/UCLBndztPI8CTI_gDsjKN9Jw
Podcast: https://anchor.fm/geeking-around2
Blog: https://vocal.media/authors/louis-mihael
Webcomic: https://tapas.io/series/Geeking-Around-The-Webcomic
Kickstarter: https://www.kickstarter.com/projects/kirastarwars/kira-a-star-wars-story-part-1-reprints?ref=project_build
If you want to help support Us, please like and subscribe.
Fiverr: https://www.fiverr.com/louismihael?public_mode=true
Never Studios: https://neverstudios.wixsite.com/neverstudios-
#inktober #castlevania #gamer #tagwagai #simonbelmont #symphonyofthenight #cosplayer #castlevaniasymphonyofthenight #castlevanianetflix #alucard #alucardcosplay #videogames #netflix #trevorbelmont #cosplay #metroid #gaming #konami #alucardcastlevania #dracula #nintendo #castlevaniacosplay #art #belmont #alucardtepes #playstation #retrogaming #vampire #castlevaniafans #adriantepes