Marvel Phase 4 Announced Including 'Thor 4,' 'Black Widow' & 'Blade'
Everything we learnt at Comic Con 2019.
At San Deigo Comic-Con Hall H, president of Marvel Studios Kevin Feige announced the slate for Marvel Cinematic Universe Phase 4. Coming off of the heels of Avengers: Endgame this had to be big... IT WAS!
But things were done a little differently this time. Shows intended to be released on the upcoming streaming service Disney+ were also involved, no doubt in an attempt to push the service.
Here's the schedule so far:
May 1, 2020: Black Widow
November 6, 2020: The Eternals movie
February 12, 2021: Shang-Chi and the Legend of the Ten Rings
Spring, 2021: WandaVision Disney+ series
May 7, 2021: Doctor Strange in the Multiverse of Madness
Spring, 2021: Loki Disney+ series
Summer, 2021: What If?
Fall, 2021: The Falcon and Winter Soldier Disney+ series
Fall, 2021: Hawkeye
November 5, 2021: Thor 4: Love and Thunder

Here are a few quick facts about each film & TV show...
Black Widow is coming May 2020 and will star Scarlett Johansson & David Habour (Hellboy and Stranger Things). The film is also set shortly after Captain America: Civil War. Judging from a few tweets from people who saw some footage, it also seems that we will be getting footage from Nat and Clint's time in Budapest as well as an apparent Taskmaster reveal!
The Eternals movie, which boasts a large cast of Angelina Jolie, Salma Hayek and Richard Madden, will be released November 6, 2020.
Shang-Chi and the Legend of the Ten Rings will come to theatres February 12, 2021, and yes, it will concern itself with the group the 10 Rings seen in the Iron Man trilogy, the Hail to the King Marvel one-shot and even has a few references in Ant-Man. But that might not be the biggest announcement of the film. Considering the backlash Iron Man 3 got for its portrayal of the Mandarin, Feige confirmed that he would appear in this film!
WandaVision, the first of the Disney+ series, will come to the streaming service in spring 2021, but it has been announced that it takes place AFTER Endgame. So... a Vision resurrection is in the works?
Doctor Strange 2 also appears on the slate titles as Doctor Strange in the Multiverse of Madness, obviously building off what was learnt in Endgame: that the multiverse does exist. But the good doctor won't be alone, he'll be joined in the film by Elizabeth Olsen, The Scarlet Witch!
Loki is the second Disney+ series to be put on the slate and it was strongly hinted at that it takes place after he steals the Tesseract in Avengers: Endgame. This means this will be a different Loki than what we are used to seeing. If this is true, then we lose the character development seen over the Dark World and Ragnarok. But only time will tell what the outcome of this show will be; it releases spring 2021.
Perhaps the weirdest show announced at the panel was the introduction of Marvel's What If? This is a series that takes a look at what could have been, a way to show other stories and possibilities without being tied down by the MCU, no doubt based on the comic series of the same name. It will be an animated series with an insane voice cast of current and past MCU actors such as Michael B. Jordan as Killmonger, Sebastian Stan as Bucky Barnes, Josh Brolin as Thanos, Mark Ruffalo as Bruce Banner/The Hulk, Tom Hiddleston as Loki, Samuel L. Jackson as Nick Fury, Chris Hemsworth as Thor, Hayley Atwell as Agent Peggy Carter, Chadwick Boseman as Black Panther, Karen Gillan as Nebula, Jeremy Renner as Hawkeye, Paul Rudd as Ant-Man, Michael Douglas as Hank Pym, Neal McDonough as Dum Dum Dugan, Dominic Cooper as Howard Stark, Sean Gunn as Kraglin, Natalie Portman as Jane Foster, Taika Waititi as Korg, Toby Jones as Arnim Zola, Djimon Hounsou as Korath, Jeff Goldblum as Grandmaster, and Michael Rooker as Yondu.
And hosting the various tales will be the voice of Jeffrey Wright as the Watcher.
The fourth show announced for Disney+ was The Falcon and the Winter Solider starring Anthony Mackie and Sebastian Stan respectively. But perhaps the biggest thing to come from this is that we will see the return of Zemo played by Daniel Brühl!
A rumoured Hawkeye Disney+ show was also confirmed at the Hall H panel. Feige confirmed it would star Jeremy Renner as the titular Hawkeye and that the show would explore his life as well as his time as Ronin and introduce Kate Bishop!
The final film on the slate may perhaps be its biggest. For the first time in a Marvel standalone series, we will be seeing a fourth film, Thor: Love and Thunder. Again directed by Taika Watiti, who injected the series with new life in Thor: Ragnarok, he returns to continue his run. He also perhaps announced the biggest news from the panel: We are getting a female Thor, and she's going to be played by Natalie Portman... Jane Foster Thor!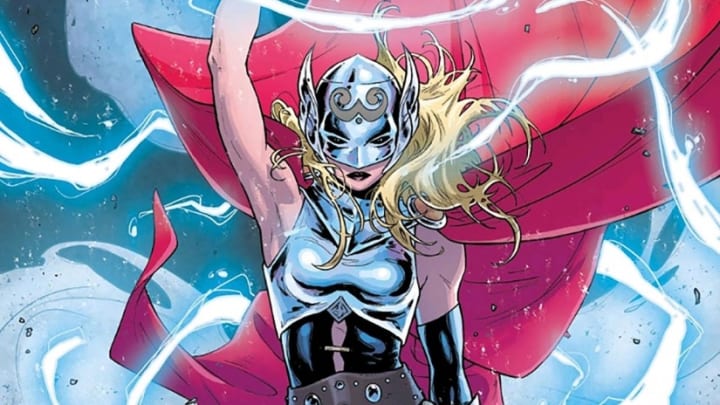 That's it for everything with release dates, but that wasn't the end of the announcements. At the end of the panel, Blade, starring Academy Award winner Mahershala Ali, was also announced! Feige also mentioned the likes of Captain Marvel 2 and THE FANTASTIC FOUR!
So this brings us through 2021, but you can be assured that there will be more films in phase 4 than just those announced here; what about Black Panther 2, Spider-Man 3 and new Avengers? From what was announced at Comic-Con 2019, I'd say all we've been given is part 1 of Phase 4, with more information and releases to be announced nearer the time that this shorter slate is done.