Marriage Story - A Movie Review
'Marriage Story' is a well-directed and well-acted film that makes a strong point about love, marriage, and family.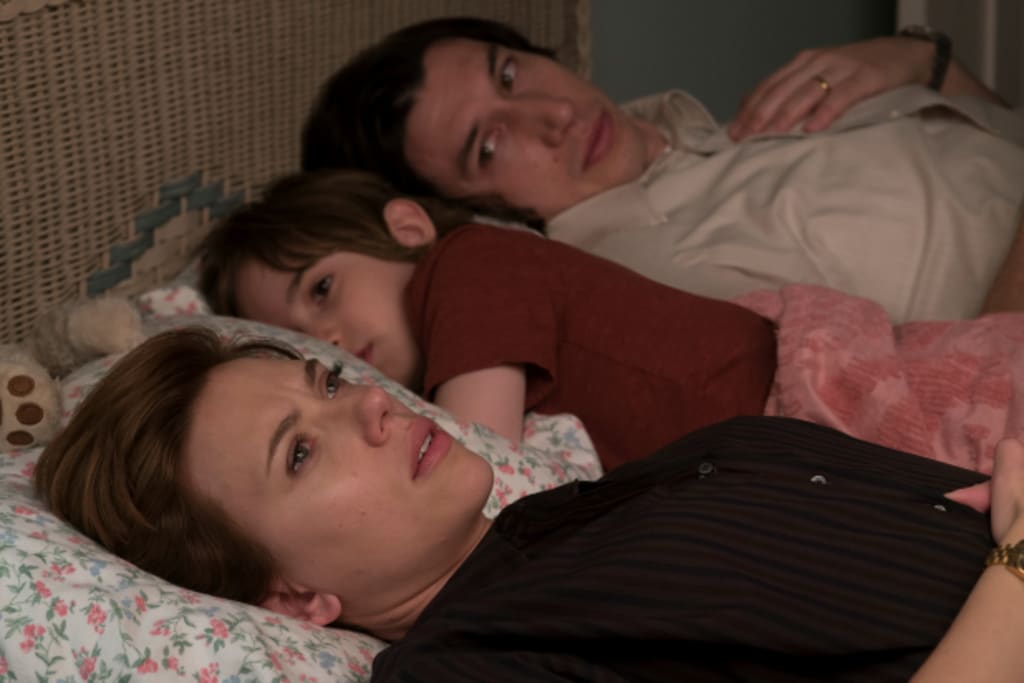 Life is a story. You control the pencil. Make it a good one.
Marriage Story is a 2019 Netflix film about a couple's marriage crumbling into pieces. Struggling as they meet with lawyers, Charlie and Nicole ponder and argue as they settle their divorce while still managing to live their lives and spend time with their child.
Marriage Story is a well-directed and well-acted film that makes a strong point about love, marriage, and family. It is a tough movie to watch at times mostly for scenes of vicious arguments and accusations, but Marriage Story is important to all families and couples who are in the process or have gone through a divorce.
Adam Driver and Scarlett Johansson lose themselves completely inhabiting people who are at a loss for trying to save their marriage. Driver was impeccable, pushing his emotion and energy into a character who has a complicated personality while in the end learning an important lesson about himself.
Johansson has a powerful scene where she opens up and talks about her feelings in this well-acted monologue digging deep into her mind about how her marriage has ruined her outlook about herself. One of the best parts about this scene is the blocking. Nicole paces around her lawyer's office going into the other room, putting on lipstick, and even interrupts herself from her own story to give a compliment about something off-topic.
Unlike other movies that center around divorce, the film gives audiences a chance to witness both characters and how their personalities clash. Audiences are taken along to understand and relate to this world.
Needing to keep everything normal for their eight-year-old son, Henry (Azhy Robertson), there are a handful of powerful scenes with one of the parents spending time with the child, either struggling or having fun. It also said a lot from the difference in Henry's behavior whenever he was around one of them.
Marriage Story includes the talents of several actors who were here to give support, while unbeknownst making the situation worse. Laura Dern gives a great performance as Nicole's lawyer. Other credits include Alan Alda, Ray Liotta, Julie Hagerty, Merritt Wever, and even an appearance by the comedic Wallace Shawn.
The staging is very important in this movie. Camera angles strongly bring out the tension while at the same time making audiences understand this complex relationship. So much is said in one vital expression, holding back from what they've been holding inside for so long.
In one of the best and most grueling scenes of the movie, Nicole and Charlie have this shattering argument releasing accusations and mistaken words of regret. I wanted to stand up and applaud after this scene came to an end because Johansson and Driver used every ounce of energy in a scene that took at least fifty takes to shoot! I wish them the best for their well-deserved nominations at this year's Golden Globes.
Noah Baumbach's genuine direction was outstanding. Every moment felt authentic. However, some scenes could have been trimmed or cut. There were moments when the story fell flat, specifically towards the end to get to the main point. One scene was questionable based on reactions and the whole point of it all.
Marriage Story tugged at my heartstrings. The moral was very important. Audiences who have gone through or are in the midst of divorces should watch this film because it captures moments of genuine reactions, conversations, and how you may be feeling. It may not be a film for all audiences, but I give a hand to the phenomenal actors who brought a powerful story to the screen.
review
pop culture
movie
entertainment
celebrities
About the author
Writing has been my passion since I was 11 years old. I love creating stories from fiction, poetry, fanfiction. I enjoy writing movie reviews. I would love to become a creative writing teacher and leave the world inspiring minds.
Reader insights
Be the first to share your insights about this piece.
Add your insights