M3GAN - A Movie Review
While it is an excellent sci-fi thriller, something was missing from the storyline to make 'M3GAN' a stronger film.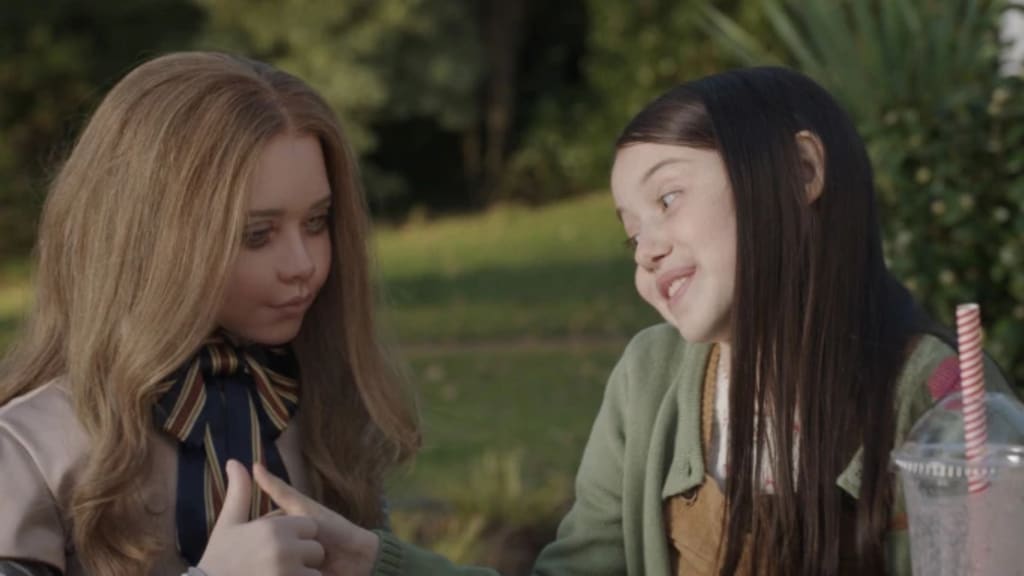 Are you sure you know everything that M3GAN is capable of?
Rebooted into theaters in 2023, M3GAN is a life-like doll built by a robotics engineer. In the recent death of her parents, Cady moves in with her Aunt Gemma. Befriending the lifelike human robot, M3GAN has more capabilities than expected.
M3GAN has surprised moviegoers. Like most people, I was on the fence about seeing the film until a wave of positive reviews flooded the Internet. While it is an excellent sci-fi thriller, I felt something was missing from the storyline to make M3GAN a stronger film.
No stranger to the horror genre, Allison Williams does a terrific job as Gemma. Having never been in the position of a parent, she has a lot to learn. She does learn through mistakes but decides to enforce parenting Cady through other means.
Violet McGraw achieved great emotion for her character. McGraw needed better instruction regarding her age. Cady is 9 but her behavior manifests as a 5-year-old, like when she has tantrums. Following these tantrums, in the next scene, Cady is calm acting polite again. It felt like the writers were still in the process of fleshing out her character and didn't finish.
Gemma and Cady's interactions are important. They have difficulty forming a bond. Williams and McGraw were excellent in their portrayals. Relationships take time.
On to talking about the main star of the film. Since I left the theater, I researched every interview and video on the design and performance for M3GAN. Amie Donald acted the doll's physical movements (and the dance that has now gone viral) while Jenna Davis supplied her voice.
This is a good character film. Ronny Chieng was a riot. Credits also include Brian Jordan Alvarez, Jen Van Epps, Stephanie Garneau-Monten, and Lori Dungey.
Gerard Johnstone emphasized M3GAN and the startling things the robot is capable of, but the story felt like it was missing a subplot. M3GAN herself states in an intriguing line that she even finds the newfound capabilities surprising. It's possible that we're going to learn more about her twisted nature in the upcoming sequel, but M3GAN felt like an enigma.
There's an unfinished subplot. At one point, one of Gemma's co-workers sneaks onto the computer to steal important files regarding M3GAN's designs. This scene is never touched on again! M3GAN's transition to being evil feels more random. This subplot should have been fleshed out further to identify if he was a jealous co-worker wanting to get a step ahead.
M3GAN is a dark comedy. Whether filmmakers were intending to make it scary, certain scenes came off more funny and silly. There were jump scares but they were obvious ones where a character turns around only to be startled by M3GAN.
The moral of technology is one of the best parts of the film. More and more, young children are turning to technology over playing with toys and interacting with one another. We need to physically interact with other people to help children grow.
M3GAN was heavily toned down in the editing process to regain a PG-13 rating so that teenage audiences could see the film. Most of the violent kills happen offscreen. Since most of my theater was filled with teenagers who were shouting random things in the film's suspenseful or funny sequences, it worked. Their reactions made the movie experience fun.
I enjoyed M3GAN. I am looking forward to a sequel to see if my questions are answered. Go see it in the theaters while it is still out. It is worth it.
About the Creator
Writing has been my passion since I was 11 years old. I love creating stories from fiction, poetry, fanfiction. I enjoy writing movie reviews. I would love to become a creative writing teacher and leave the world inspiring minds.
Reader insights
Be the first to share your insights about this piece.
Add your insights