Luca - A Movie Review
'Luca' is given a powerful statement regarding friendship.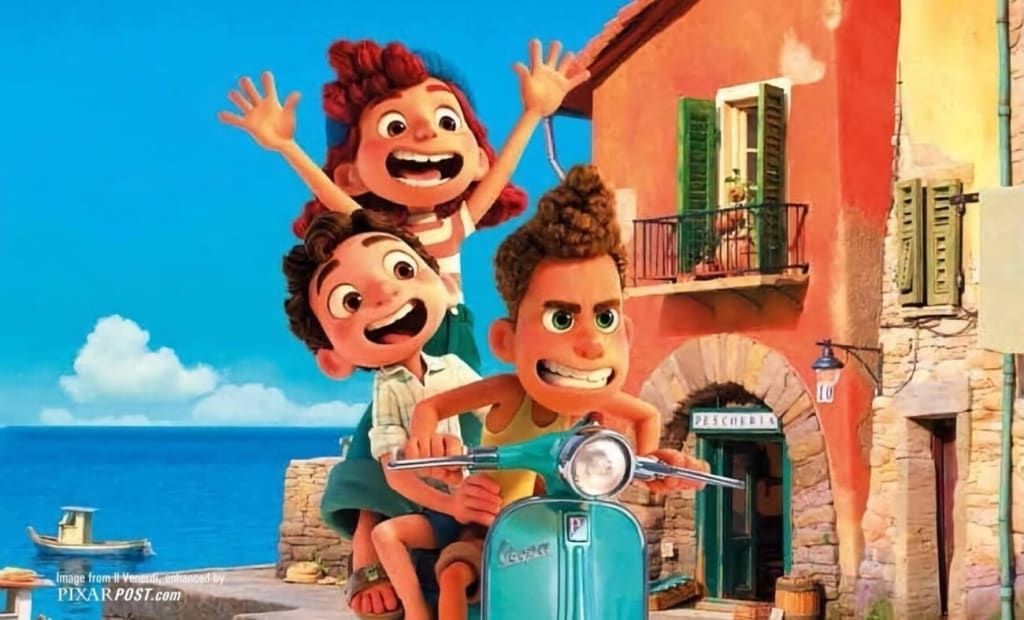 Everything good is above the surface. Let's have an adventure on a Vespa.
Luca is Pixar's latest animated film, released to Disney+ in 2021. Dreaming of what the world is like out of the ocean, Luca meets Alberto. Discovering that he can turn from a fish into a human on land, the boys go on an adventure, exploring the world.
I had this big smile on my face while watching Luca. Noticing that it was getting mixed reviews, I wasn't sure if I wanted to watch it. Never let reviews deter you from viewing a movie. Luca sports a heartwarming friendship between two boys along with an incredible definition of adventure.
As explained by the cast and crew, the friendship between Luca and Alberto is special. Writers worked closely on their interactions. My most favorite scene of all was when Luca was learning to walk on land as a human for the first time. While we cannot always rely on each other, friends help us achieve goals.
Luca is given a powerful statement regarding friendship. The friendship between the boys has been examined among the viewers. While I interpreted their friendship as either side of the conversation, it gives young viewers positive figures to look up to. We are never alone.
The voice talents are commendable. Jacob Tremblay has become a magnificent young actor. He and Jack Dylan Grazier conveyed remarkable moments of emotion. Due to the pandemic, Grazier did all his voice work from his house - inside his mother's closet! Their connection to their character's journey was astounding.
I enjoyed the ensemble of characters in Luca. Several voices added their talents to this film. Credits include Emma Berman, Saverio Raimondo, Maya Rudolph, Marco Barricelli, Jim Gaffigan, Peter Sohn, and several other voice talents.
Luca's parents were a highlight. Each character had a chance to shine in the spotlight instead of just the main characters. That's my favorite element included in films. We all have a story. Audiences can relate to that.
Luca is not as original. It has several similarities to The Little Mermaid, Finding Nemo, or other films of the genre. It is still a fun film to watch, don't get me wrong. I just wish that it could have had more of an original story.
One component that I had mixed feelings about was how the characters transformed from fish into humans. It was creative, but it's never explained upon. Have fish/humans always had this power in this universe?
Animators studied colorful oceans, designing a picturesque world. I was fond of how well the animators conducted the surface of the ocean. Still, it reminded me too much of The Little Mermaid. As other viewers have stated, I would compare it to the art style of a Hayao Miyazaki film.
The animators focused highly on Italian culture. This film spoiled viewers with tremendous views of Italy. I felt like I got to know the people. Pixar demonstrates that traveling is a virtue. We have to explore the world to discover new worlds.
For his directorial debut, Enrico Casarasa brought to life a story from his childhood. He had fun making the film what it was. The atmosphere of the film was the best. Although, he could have focused more on making Luca an original film instead of copying elements from other genres.
We can do anything. Never be afraid to try new things. I wish the film could have been presented on the big screen rather than being sent to Disney+. Go watch Luca on Disney+. It is a fun film for all families, especially young audiences.
travel
review
pop culture
movie
entertainment
comedy
celebrities
About the author
Writing has been my passion since I was 11 years old. I love creating stories from fiction, poetry, fanfiction. I enjoy writing movie reviews. I would love to become a creative writing teacher and leave the world inspiring minds.