Love at First Sight - A Netflix Movie Review
'Love at First Sight' was not what I expected it to be.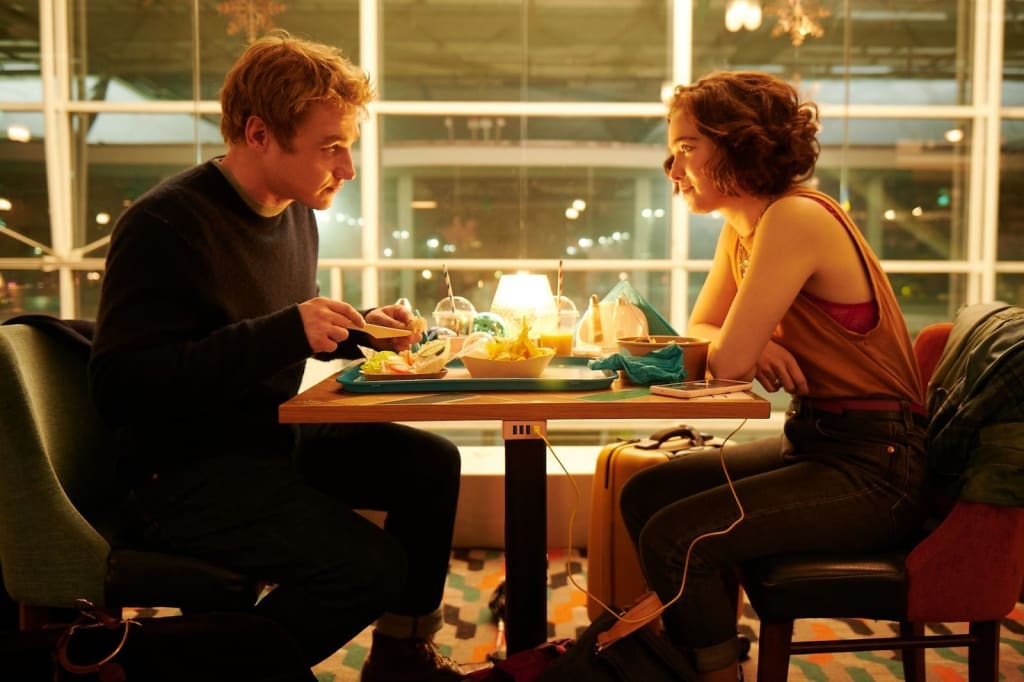 This is a story about fate. Does it have a happy ending?
Love at First Sight flew onto Netflix in 2023. Hadley and Oliver meet on a plane as they travel from New York to London to their individual parties. The pair deny that they could ever fall in love but their travels may defy those odds.
Love at First Sight was not what I expected it to be and I loved it. The story takes the usual meet-love tale and contorts it into something different. The moral of Love at First Sight invites viewers to accept any chance they're offered and be honest about their feelings.
Hadley and Oliver start as your average strangers who have conversations about families, dislikes, and travel destinations. Haley Lu Richardson and Ben Hardy did a remarkable job playing these characters, especially with their range of emotions.
They end up parting ways briefly to attend their gatherings. Hadley attends the usual dysfunctional wedding of her estranged father. I thought Hadley's actions were selfish, but that's a part of her important development.
Oliver's story was my favorite. His family is holding a rather somber (but happy) event. His angle of the story was unique. The party may inspire viewers who are undergoing similar life events.
Both stories had interesting side characters. Without over-explaining character backstories, the characters have their quirks but they carry a story. The film includes an ensemble of fun characters like Rob Delaney, Katrina Nare, Jameela Jamil, Tom Taylor, Dexter Fletcher, and Sally Phillips.
Katrina Nare has a unique role as the narrator of the story. Nare plays an assortment of characters like a stewardess on a plane, a party guest, or a random person on the street. I thought the narration was silly at first but eventually, it played well to the film's atmosphere. Not only does the narration explain characters but also cleverly plays up on numbers.
I totally had this film all wrong. The film takes a bit to get out of the usual rom-com dynamics until it gets into its main story. In Vanessa Caswell's debut direction, she presented a new twist on a romance trope that's been repeated in an assortment of rom-coms. Music choices like 'I Want to Dance with Somebody' added to the story.
Set against the picturesque backdrop of London, the film immediately captivates viewers with its visually stunning cinematography. The film is edited well as we travel all over the popular streets of London. I have always wanted to go to London.
The story takes unexpected turns which makes it more realistic. Love at First Sight is a cute story. Love is not the main theme. The film is more about finding your routes and learning to forgive.
The heart of Love at First Sight lies in its exploration of fate and the idea that love can strike in unexpected ways. If you think this story is predictable, it is not. There is so much more to it. The story invites viewers to ponder whether it is fate or the choices that ultimately guide us to love.
I was not expecting Love at First Sight to be moving. Both characters have important conversations with their respective parents regarding their relationships. By the end, I felt tears in my eyes. Always take chances no matter how silly or temporary you think the situation is. You never know where new opportunities could lead you.
Love at First Sight is not your typical rom-com. Check out the film on Netflix. I'd watch this film again and recommend it to anybody.
About the Creator
Writing has been my passion since I was 11 years old. I love creating stories from fiction, poetry, fanfiction. I enjoy writing movie reviews. I would love to become a creative writing teacher and leave the world inspiring minds.
Reader insights
Be the first to share your insights about this piece.
Add your insights