Look both ways focuses on determination
"I'm not giving up my dream!"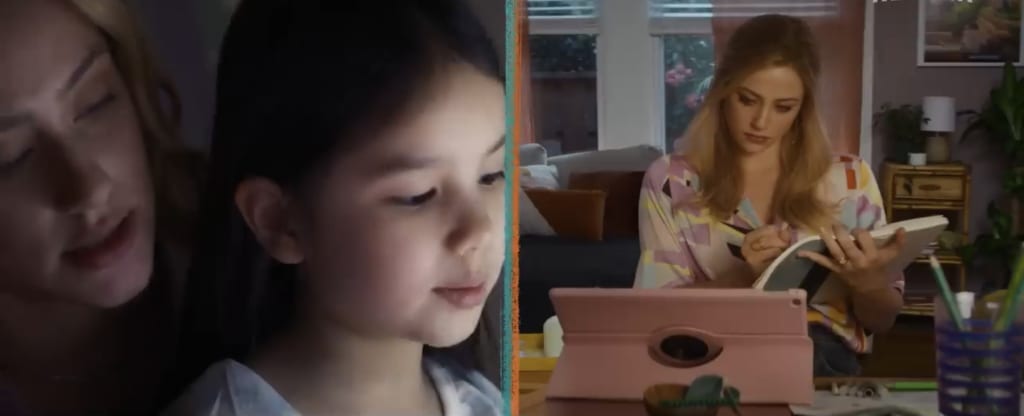 Image credit: Screenshot from Netflix on YouTube
Lili Reinhart stars as Nat or Natalie in the 2022 Netflix movie. A spoiler warning is in effect! If you like this, you can get more of my articles when you subscribe to my account. Natalie had a five-year plan laid out and had it drawn in her sketchbook. This shows determination, a path and her focus but sometimes things happen or change making it a guide to navigate the current state. She stated the quote "If you fail to plan, you plan to fail" which people use to motivate structure in their life.
This movie focuses on and explores the old age question of whether women can have it all. This movie answers this by showing the two possibilities, and the outcomes and consequences of them from the pivotal point of checking her pregnancy tests. The movie follows the structure of showing both ways that things could go in similar settings and points of life.
"For a woman to truly make her mark, she must be willing to reject the limitations society has always used to hold her back. Love…Marriage…Children…and above all…the uninvited imposition of lesser people's moral agendas."- Anne Montgomery from WHAT/IF
The movie negates this by looking at both angles and exploring different realities and their pressures. In the end, Nat had not fully made her mark but you could say her name made some noise.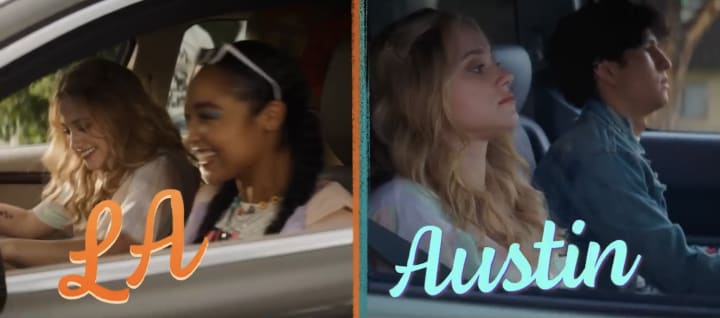 Nat initially worried about being pregnant because she never considered it a part of her plans as she and her best friend, Cara (Aisha Dee)were going to Los Angeles after graduation. A version of her checks the test with a negative to which she exhales saying, "Oh God! We're good". The movie shows the alternative of a positive result. She is speechless, visibly scared and said "I don't know what to do" before she starts crying.
In the pregnancy arc, she decides to have the baby because she feels it's right or something she had to do. This includes forgoing her plan to go to LA with Cara, Cara said she won't go but Nat encourages her to go cause she's worked very hard for it and has an advertising job lined up. She tries to encourage Cara that she will be fine by saying she could still draw.
In both realities, their reactions, the people around and the atmosphere of situations when leaving campus residence are notable. In the pregnancy arc, Nat and Gabe (Danny Ramirez) are alone and all glooming. The colours are low, they seem sad and they are not talking as they go to her family home in Austin, Texas. In the career arc, Nat and Cara are joyfully leaving together, saying goodbye to Gabe. There are bright colours, numerous people around and they are talking.
As Gabe and Nat arrive in Austin, Nat reveals the pregnancy to them and they discuss it. Nat said "it's just being put on pause for a minute" as her parents question her goals and plans for L.A. She also says "No, you can't do that. You can't tell him to give up on his dream." after the mum, Tina (Andrea Savage)asks if being a drummer in a band pays as he has a paying job as a dry cleaner. To which her mum answers, "You've gotta give up yours. Why can't he give up…". Due to the fuss of everything and Nat's parents' reaction, he feels obligated to get married. He tries to propose but Tina shuts it down immediately. appreciates this but says he might want to get married to someone he loves and he agrees. She says "Thank you, though".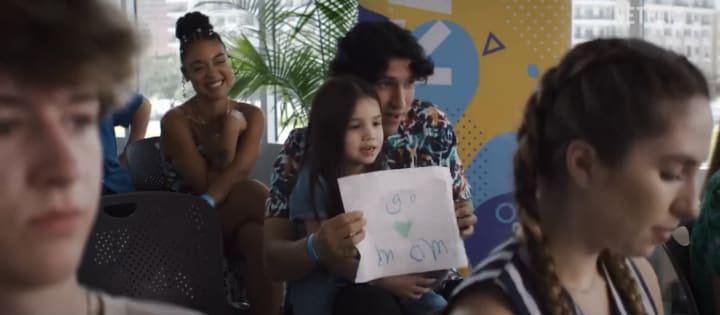 Her parents remind her of her obligations, to apply for jobs and meet with the (OBGYN)doctor. In her career arc, she searches for jobs but only finds unpaid opportunities until they see an assistant position for Lucy Galloway(Nia Long), her idol and favourite character designer at Tall Story Animation. She applies with much motivation from Cara. To no speedy avail, she decides to attempt a sneak into an event for Tall Story Animation in hopes to see Lucy. She is encouraged by Jake, a guy at the bar and gets into the event.
Jake(David Corenswet), actually an employee at Tall Story Animation called in about her application and put her resume on the top to get an interview. He also gave her tips when she came in for the interview and she thanked him as she got the job. She draws on the coffee cups as she worked as a barrister pregnant and practiced as she worked for Lucy.
Jake made a couple of statements such as It's like having a child, basically. Keep your head down, eyes on the prize. Soon, you'll have your own assistant." in reference to working in animation first-year and also questioned Nat saying, "you don't think there's any value in telling one story and telling it two different ways?". I believed these were winks from a self-aware perspective. 
She went through a lot physically and mentally as she was pregnant. Her mum, Tina related to her by saying, "there's this thing that happens when you get pregnant. No one talks about this. But you mourn a little bit. You mourn, you know, the person that you used to be. Because the fact is, no matter how much you wanna be a mom, you're never not going to be one again.". Nat was going through a lot but Gabe was still very supportive. In the career arc, she struggled to find her own voice in animation and get attention for her work 
"And I can't lose everything that I've ever wanted because of some guy."-Alex Parrish from Quantico
She joked with Gabe during their study time for finals and the possibility of not passing and graduating existed.

After saying forget finals, Gabe said "I am a drummer in a band and you are a brilliant artist" in an effort to make her relax with encouragement that she would achieve all she wants to. She objects to this by saying nothing is certain because she needs to graduate with honours, get a job in LA and excel at it to be set. She wanted to set up for the future and he wanted to focus on the present.
They stop studying in the library which he wasn't even taking seriously and had a toast cause his band got sponsored for their tour. He says they'll both pass and graduate to be optimistic with no guarantee, and told her the five-year plan is already in motion, so they should seize the present moment.
They end up sleeping together. After some time, she does pass and goes to a party on graduation night but stays in the bathroom waiting for Cara. Nat states protection was used but Cara brought three pregnancy tests and a snack.
In the pregnancy arc, Gabe encourages her to make a choice cause it is her's and he is pro her choice, no matter what it is. They are friends and not a couple but he was supportive.
After Gabe follows her to all appointments, cares for her and is fully active and present for the delivery, he gets a new place. He brings up the possibility of their daughter, Rosie and Nat living with him. He's thought far ahead to think about having a space for his drumming and her art as well as knows two good schools close by. However, Nat is hesitant because of the possibility of it not working out and panicking. He thought about having the parents be together for Ro but she's scared and doesn't want to risk it or risk what they currently have. Cara visited and talked to her about it. She realized she messed up by rejecting Gabe's wanting to be a family thing as he started dating someone else but they end up together later on.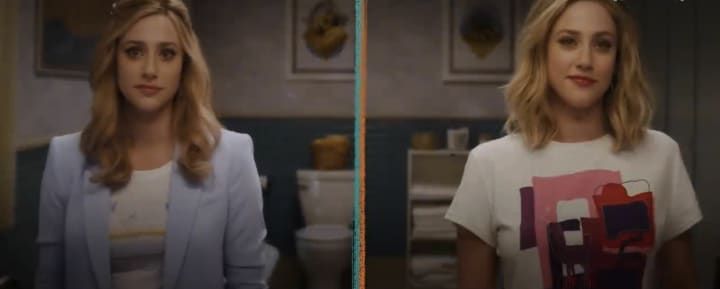 Despite the paths, some things are constants. Her drawing and the passion for animation, Cara(they are still friends no matter the path), Jake(her meeting Jake), family, Gabe(him being there and her telling him he would be such a good dad) and being recognized for her work. She was happy, no matter what she chose and still did her drawing as both versions said,"You're okay".
If you enjoyed this, for more of my articles:
About the Creator
I write on various things: social issues, well-being, cinema and out of curiosity. For contact and all other things, click this. Inactive.
Reader insights
Be the first to share your insights about this piece.
Add your insights