'Lilo and Stitch' - A Movie Review
"Ohana means family. Family means nobody gets left behind or forgotten."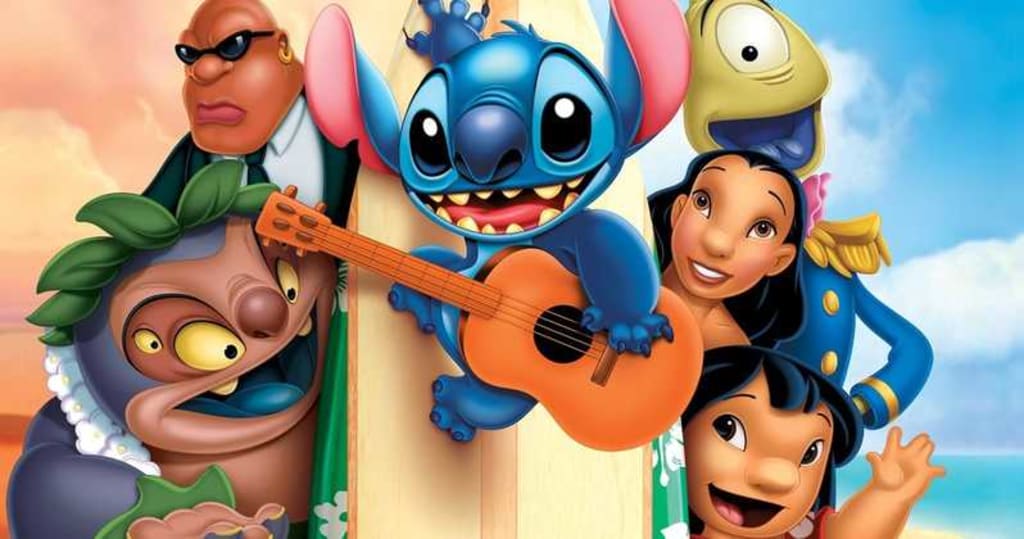 "Ohana means family. Family means nobody gets left behind or forgotten."
Lilo and Stitch was an animated Walt Disney picture released in 2002. When an alien crashes down to Earth on the beaches of Hawaii, he is adopted by a lonely little girl as her pet dog. Together, Lilo and Stitch learn the importance of friendship and family. Meanwhile, aliens are trying to capture Stitch as they inadvertently destroy the world.
It has been a while since I have watched this film. Do you remember when there were all those promotional trailers where Stitch was an unwelcome visitor in The Little Mermaid and in Aladdin's world? I miss that sort of promoting!
Upon viewing it again, I never realized what an emotionally impactful film Lilo and Stitch is. Lilo and Stitch set a number of daring records, most especially for the unconditional love between two sisters, a science-fiction plot, and even featuring a protagonist of color before many popular Disney films had.
Behind the voices of Lilo and Stitch are Daveigh Chase (Lilo), Chris Sanders (Stitch), Tia Carrere (Nani), David Ogden Stiers (Jumba), and Kevin McDonald (Pleakley), among many more talented actors. If you don't know who Daveigh Chase is, she made a haunting appearance as Samara in the horror movie, The Ring.
Lilo and Stitch has such a strong message about friendship. It's a fun film to sit through, watching the two get along, learn about the world, and fill in a needed missing friend.
Nani has become one of my favorite Disney characters. After the sudden death of their parents, she is the only family left to take care of Lilo. It's evident that she is not the most responsible person, but she does everything to be a good sister.
And you know what? Since Disney is so awesome at subtlety, look carefully in Nani's bedroom and you'll learn that Nani gave up her life as a professional surfer to take care of Lilo. Now that is a sister.
The movie has a great start. There are never any scenes that lag. And the voice acting is superb. The animation is beautiful, capturing the life of Hawaiians in breathtaking watercolor paintings.
I love how the writers, and the animators, created a way to tell a story that would distract younger audiences from mature elements regarding the death of a parent, being different, and a dysfunctional household. No matter what, there is always a second option.
Lilo and Stitch is a joy for all ages to sit through. However, it is emotional. Lilo is at risk of being taken away. Viewers instantly connect with Lilo's loneliness and how she is trying to connect with the world. Stitch crash lands on Earth at the right time. He has some manners to learn, however. And a meaningful lesson about Ohana. Every being has value.
In my opinion, I feel like this is one of Disney's strongest films. It has a unique plot, it is funny, and it's also really heartfelt. Movies are such a different experience from when you watch them as a seven-year-old and then again in your 20s. I am really grateful that we have movies. Generations can forever be thankful to have films to watch over and over to relearn and understand morals.
Join Lilo and Stitch as they mimic the life of Elvis Presley and avoid being captured by the aliens. The Jumba and Pleakley subplot is also rather humorous.
I recommend Lilo and Stitch to any audience who has not yet experienced this fun film. Watch it together with your family. It makes it an even more empowering film.