Lifetime Review: 'Driven to the Edge'
Danielle Burgess dominates as the Uber driver from Hell in this Lifetime obsession thriller.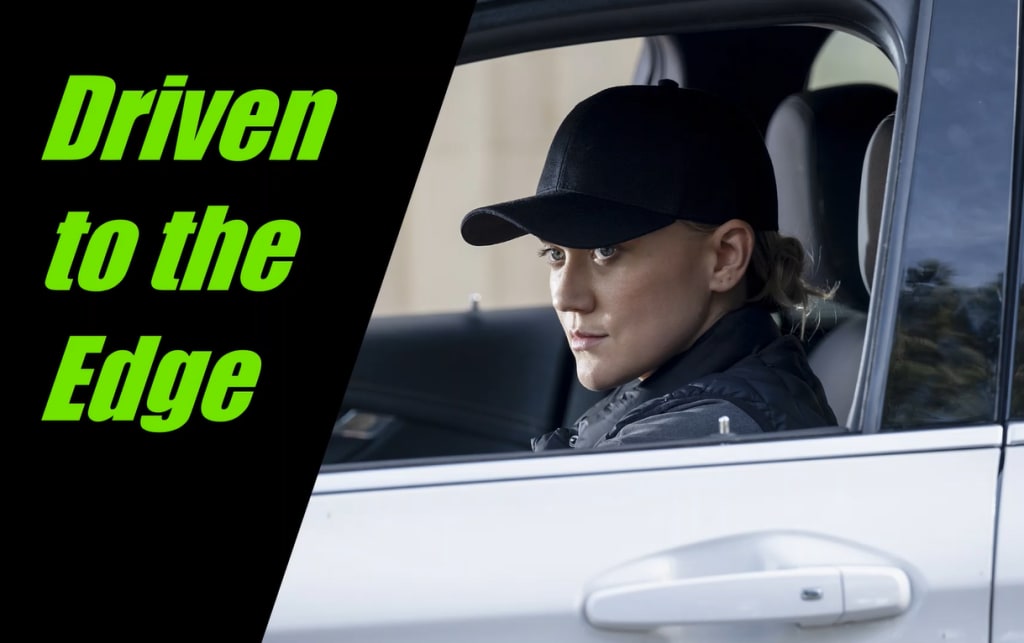 For fashion designer Tess (Taylor Spreitler), rideshare apps have become her means of getting where she needs to go. One day, on her way to a meeting, Tess winds up sharing a car with Jaye (Danielle Burgess). The chance encounter ends with Jaye asking to be Tess's friend, and while Tess is initially reluctant, she ultimately finds Jaye to be a charming young woman and begins to spend more time with her newfound friend.
But beneath Jaye's warm smile and witty remarks lies a twisted mind. Unbeknownst to Tess, her meeting Jaye was no accident, and Jaye (secretly a rideshare driver herself) is hellbent on ensuring nothing gets between her and Tess. Will Tess discover the truth about her "friend" in time--or will her next ride be taking her to her grave?
Coming courtesy of MarVista Entertainment, Driven to the Edge is not the first Lifetime to come out of MarVista where an Uber-type app is used for nefarious purposes. Previously, there was 2016's Wrong Car, which centered around a woman being the victim of rape after trying to take an Uber home from a night out. Driven to the Edge, meanwhile, utilizes the rideshare aspect of its plot to splash its familiar story of obsessive friendship with a bit of originality. In addition to a few other unexpected curves, Driven to the Edge brings plenty to the table that keeps it from sticking too firmly to the oft-seen formula.
Much of these deviations can be traced to Jaye, who is played with a demented fire by Danielle Burgess. While psychotic women are far from uncommon on Lifetime, rarely are they portrayed as thoroughly and completely out of their mind as Jaye is. Through some excellently shot and directed sequences, the viewer is taken on a tour of Jaye's warped mind and how she goes about preparing to manipulate her way into Tess's life. Burgess truly throws herself into Jaye's fractured mind, bringing an unnerving chill to Jaye as we see her practice smiling and give herself monotone "pep talks". Her disturbing history only compounds this chill, with Jaye's background, insane quirks, and habit for recording her violent crimes to savor later making her a memorably nutty and sadistic villainess. While the third act adds a less original and more predictable fold to Jaye's past, Burgess plays well with the reveal, not allowing it to chip away at the marvelous psychopath she and writer Chris Siverston created.
But a downside to Jaye's strengths as a character is that they make the ones found in main heroine Tess more visible. Taylor Spreitler gives a strong performance in her first Lifetime movie since 2013 (Unfinished Betrayal), but her efforts alone aren't enough to sand over Tess's unsympathetic qualities. A big part of this has to do with how little we see of the beginning of Tess and Jaye's relationship, thus leaving us wondering why Tess would become so comfortable with Jaye so fast and why she's so willing to brush off the red flags to her true nature. With Tess being established as a socially active woman who was previously the victim of identity theft that left her wary to trust strangers, the quickness with which Jaye worms her way into Tess's life is baffling and makes Tess look like impossibly naive.
(And as a nitpick, despite Tess's fashion designing profession, a few of the outfits we see her in are pretty gaudy for my taste)
The supporting cast proves solid in terms of performances, but character-wise, it's a mixed bag. Stephen Friedrich is effectively witty as Isaac, and Amanda Grace Benitez similarly brings charm to his girlfriend and Tess's hyperactive best friend Olive. In the latter's case, however, Olive becomes an audience-dividing character as her neurotic and slightly immature antics straddle the line between endearing and annoying.
WARNING: Spoilers Below
Getting the short end of the stick are Chris Gann and Robert Scott Wilson as the real Jaye's ex-husband Myles and Tess's sort-of-boyfriend Danny respectively. While Myles could've been an interesting obstacle for Jaye's plans or even become an ally for Tess, he's instead murdered by Jaye as quickly as he's introduced. The same fate also hits Danny, which strikes me as even more frustrating after seeing Wilson's stellar performances in films such as Stalked by a Reality Star and I Know Where Lizzie Is. Like Myles, Danny appears in the movie out of nowhere and gets killed by Jaye just as quickly, with the fact that Tess apparently forgets about him after his death all but confirming that his character serves no other purpose than to up the body count.
(Lifetime regular Laurie Fortier gets shafted to a lesser degree as Jaye's opening victim, though she's able to give her character some compelling sass before she gets axed and her early departure from the film can be justified by the film pulling a Dead Star Walking)
Spoilers Over
But despite all the faults to be found with Driven to the Edge's protagonist and supporting characters, the film redeems itself for its character blunders through a well-constructed story and a villain as entertaining as she is psychotic. If you're willing to suspend your disbelief regarding some of Tess's more facepalm-inducing actions, the film brings you a deliciously deranged villain and a plot that keeps the drama coming at a steady rate. If you love a good Lifetime villainess, Driven to the Edge is certainly for you, and here's hoping its Sequel Hook ending leads to a follow-up film.
Score: 7.5 out of 10 broken toothbrushes.
About the Creator
Aspiring writer and film lover: Lifetime, Hallmark, indie, and anything else that strikes my interest. He/him.
Twitter: @TrevorWells98
Instagram: @trevorwells_16
Email: [email protected]
Reader insights
Be the first to share your insights about this piece.
Add your insights