Lifetime Review: 'Death of a Cheerleader'
Kellie Martin's desire to fit in leads to murder in this solid thriller on morality and peer pressure.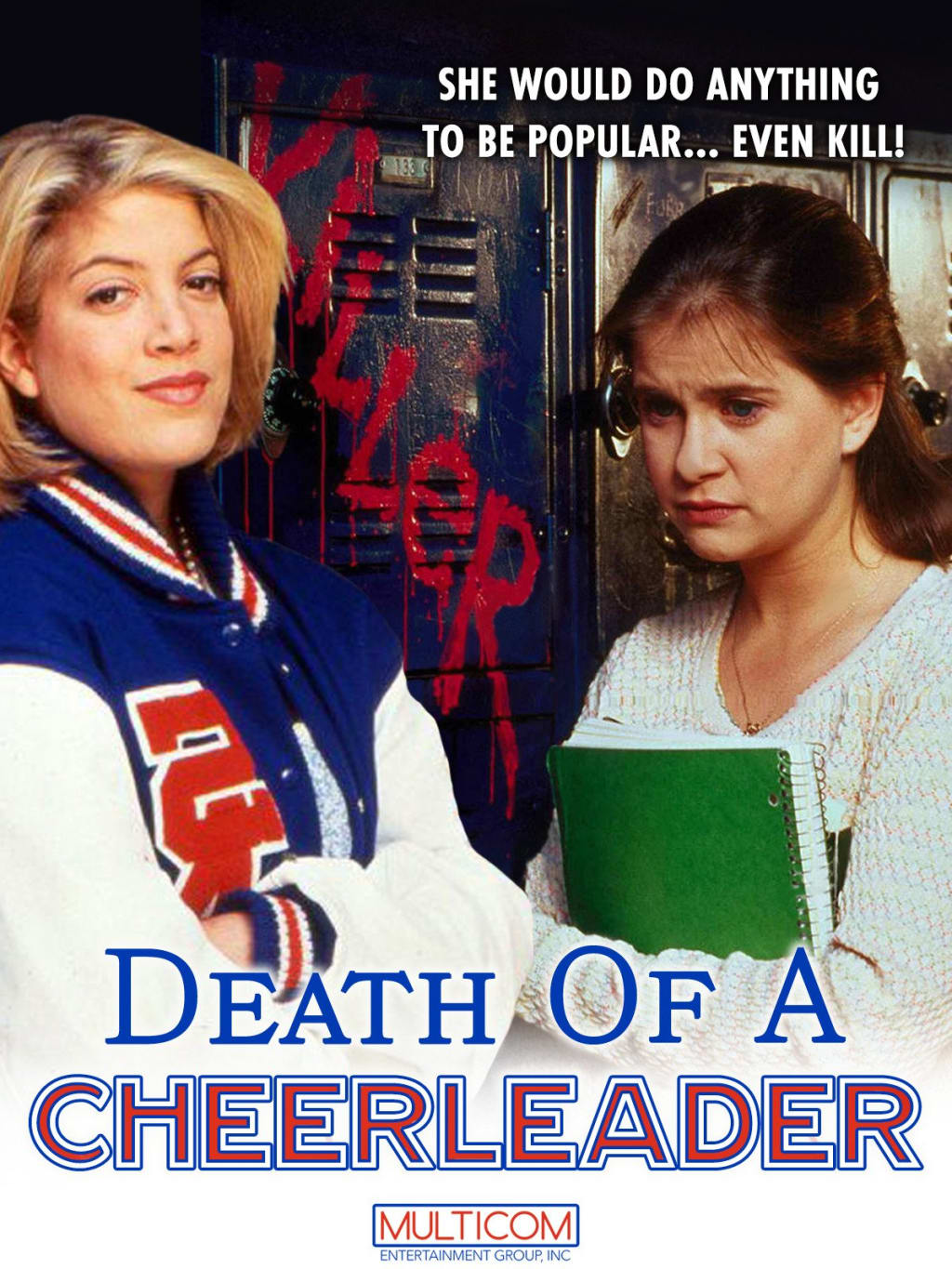 A shy sophomore at the affluent Santa Mira High School that pushes its students to excel, Angela Delvecchio (Kellie Martin) aspires to become popular. Her desires ultimately lead her to aspire to be like popular student Stacy Lockwood (Tori Spelling)—seemingly oblivious to Stacy's frequent acts of bullying. Angela's ultimate goals: join yearbook and the cheerleading squad, and join the elusive clique at Santa Mira known as "The Larks."
Despite the warnings of her best friend Jill (Margaret Langrick), Angela pursues her desire to join Santa Mira's popular elite—only for her efforts to be rejected by the cruel and callous Stacy. While discouraged, Angela decides on a last ditch attempt to win Stacy's friendship... only for the night to end in a horrifying act of violence. When Stacy winds up dying in the hospital, Angela's guilt regarding her actions reaches a climax, leading the town of Santa Mira to begin to wonder if their attitude towards success may have contributed to the tragedy that has befallen their community.
With a remake of this film coming soon, I decided to take a look back at the original 1994 Lifetime classic Death of a Cheerleader (also known under the much less snappy title A Friend to Die For). But unlike other titles that have become synonymous with the Lifetime channel, Death of a Cheerleader doesn't have as much melodrama and thrills as its' title would suggest. Despite this, the film remains an entertaining view, with its' level-headed nature allowing for a good build-up to its' climatic moment of violence. The opening pretty much lets the audience know who the murderer is, so the rest of the film's first and second acts are essentially a tense waiting game for how long it will take for Angela to snap and lash out at her bullying idol. Death of a Cheerleader also uses music to sprinkle in moments of melodrama and borderline dark comedy, with the title card being shown over a peaceful lake and triumphant music being a shining example.
Acting wise, Kellie Martin perfectly embodies the film's sympathetic villain protagonist. With the knowledge that Angela's desire to be popular and her idolization of Stacy will only leave her hurt and with blood on her hands, the way Martin plays Angela as a wide-eyed, idealistic girl with a deep-seeded desire to feel like she belongs makes you feel bad for Angela, in spite of her brutal future actions. Her later guilt and struggle to deal with what she's done further make the viewer see Angela is not a scorned girl who killed Stacy for rejecting her friendship—but rather an emotionally fragile teen who finally snapped under the inner pressure she felt to be the best. Tori Spelling, meanwhile, throws herself into her performance as the unapologetically nasty and cruel bully Stacy Lockwood, making her the perfect "Love to Hate" character that you can't wait to see get her comeuppance.
As for side characters, Valerie Harper is impactful in her unfortunately small role as Angela's religiously devout mother who is left dismayed by her daughter's actions, as well as her blindness to the pain that drove her to her heinous crime. Margaret Langrick is likable as Angela's fellow unpopular friend and has a cathartic moment of standing up for Angela, and Marley Shelton gives an emotionally understated performance as Jamie Hall, a member of Stacy's clique who is shown to be less than comfortable with her friend's cruelty towards anyone falling below her superficial standards and later guilty over never standing up to her. Terry O'Quinn is also enjoyably slimy as Santa Mira's elitist and willfully blind principal, and Eugene Roche is memorable as a priest who stands in support of Angela and calls the town out for their attitudes driving Angela down her dark spiral. Kathryn Morris also appears as angsty Gothic outcast Monica Whitley, serving as a sympathetic parallel to Angela's desperate desire to belong to Stacy's crowd; a parallel that is unfortunately isn't utilized as much as it could've been.
While it doesn't measure up to the cult classic-level melodrama of films like Mother, May I Sleep With Danger? or She's Too Young, Death of a Cheerleader is a memorable and entertaining watch in its' own right, with solid performances and a well-constructed plot that knows when and where to have a bit of campy fun making it worth a watch. It will be interesting to see what updates Lifetime delivers in their soon-to-be-premiered remake of this classic.
Score: 7 out of 10 car knives.
movie
Aspiring writer and film blogger: Lifetime, Hallmark, indie, and anything else that strikes my interest. He/him.
Twitter: @TrevorWells98
Instagram: @trevorwells_16
Email: [email protected]