"Let Me Tell You a Story" Is The One Book You Should Read This Year
Finally, a genuinely life-changing book
Photo via Pexels
A couple of days ago, I finished Jorge Bucay's "Let Me Tell You a Story". It's his most popular and most-read book. I remember falling in love with its synopsis and buying it immediately.
Upon finishing the book, I immediately posted a story about it on Instagram (I'm mentioning it because I rarely use social media). I recommended it to all of my friends. And I still can't stop thinking about it, which says a lot about its quality and impact.
I gotta say that throughout a year, I read a lot of books — on average one per week — and also re-read a couple of my favorites. But, if someone told me I could re-read only one book this year, (or read it for the first time) I would choose this one.
Likewise, if you asked me to recommend you only one book to read, it would be this one. And you know how excruciatingly difficult it is to recommend just one book.
Here's what this book is about and what makes it special.
Let Me Tell You a Story by Jorge Bucay
"The only way to know if you can achieve something is to try again, putting your whole soul … your whole soul!"
So, what this book is about?
It's a collection of short stories/folklore tales narrated by Jorge, a psychoanalyst, to Demián. Demián is a young man who's trying to discover the world, himself, and the meaning of life. But, as most of us, he struggles with life's everyday problems, society's norms, and trying to fit into other people's ideas and expectations of him.
So, he finds the guidance and advice he needs in the face of Jorge, an unconventional psychoanalyst, who helps him understand himself and confront his fears through a number of short, allegorical stories.
Here's why that book holds a special place in a heart and it will likely win a similar place in yours:
#1. It's a different approach to self-improvement
This book is considered a self-help/psychology book. But instead of offering you generic advice and telling you what you need to do — as most mainstream self-help books do — this one challenges you to think and discover yourself what changes you should make in order to create a better life.
You know, there are three things I find extremely annoying in a lot of self-help books( or rather, their authors) and I'll think you'll back me up:
They tend to make assumptions about your life.
They act like they know what you feel and think.
They preach/dictate.
In this book, however, you're the one who finds the solutions you need, depending on your struggles and problems. Every story tackles a different issue, gives you food for thought, and helps you recognize your problematic situations and find a way through them.
#2. It is written by a psychotherapist
To be clear, I don't believe that self-help books should only be written by psychologists. I think that, depending on your life experiences, you can give good advice with no psychology degree.
However, I do think that someone who has studied psychology and has guided hundreds of patients through hundreds of therapy sessions (like this book's author) will dive deeper into and approach self-development in a more delicate, masterful manner.
And that's exactly what happens in this book.
#3. It has something for everyone
Self-improvement is different for everyone. We don't have the same struggles, we don't strive to improve the same areas of our lives, and something that works for me might not work for you, and vice versa.
One of the things I loved about this book is that it didn't focus on one area of life. Every story had a hidden meaning and dived into any issue someone could struggle with, such as:
jealousy
guilt
society's norms
other people's expectations
relationship problems
low self-esteem
And so, so much more. Whatever you're currently struggling with, this book offers you a story to help you get through it.
"A neurotic does not need a therapist to heal him or a parent to take care of him. All they need is a teacher to show them when they got lost on the road."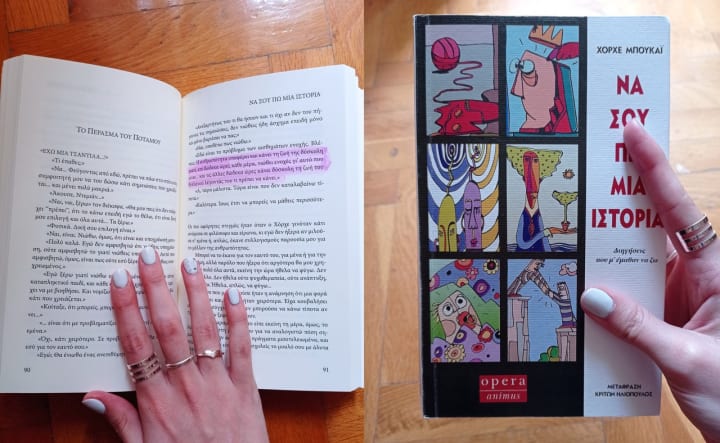 Some Outstanding Quotes From the Book
"Let Me Tell You a Story" is full of beautiful quotes (I ended up highlighting half the book) that spoke directly to my soul and will likely speak to yours, too. For example:
On following your dreams:
"In order to fly you have to create space in the open air so that your wings can really spread out. It's like a parachute. They only work from a high altitude. To fly you have to begin taking risks. If you don't want to, maybe the best thing is just to give up, and keep walking forever."
On overcoming your fears:
"We are all a little bit like the circus elephant: we move through the world attached to hundreds of stakes that wrest from us our freedom. We live thinking "we can't", making mountains of things simply because once, a long time ago, when we were small, we tried to do something and couldn't."
On other people's criticism:
"The deaf always thinks that those who dance are crazy."
Final Note
Sometimes I get so excited about a book that I can't even find the right words to describe it. You know, like when you go on a mindblowing date with someone and all you are able to say about it later to your friends is "It was great. So great. I can't believe how great it was".
I guess what I'm trying to say is that I hope I managed to give you at least a slight idea about this books' brilliance through this article. I can't say that it changed my life overnight — no book can do that, as change needs time and work.
However, it was one of the few self-help books that actually challenged, encouraged me, and moved me towards a path to change my mindset and my approach to life's various different problems.
Now go grab the book… and happy reading!
About the Creator
Words have power.
I write about relationships, psychology, personal development, and books.
https://linktr.ee/margpan
Reader insights
Be the first to share your insights about this piece.
Add your insights