'Lady Bird' Dominates with Four Awards from Iowa Film Critics Association
Greta Gerwig, Saoirse Ronan, and Laurie Metcalf Honored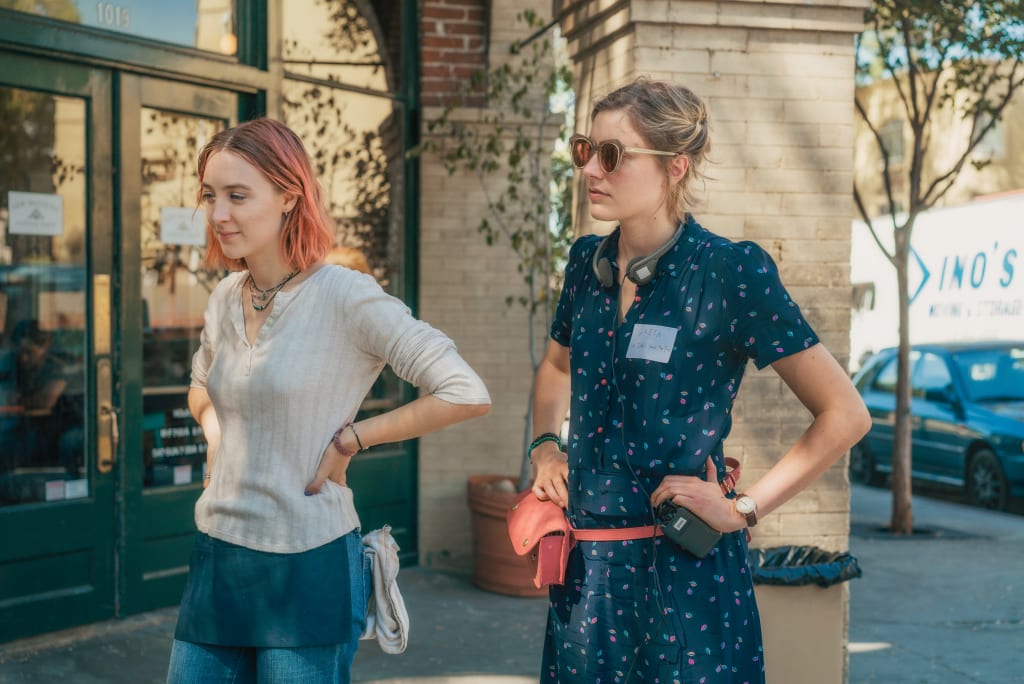 Lady Bird won most of the big awards from the Iowa Film Critics Association. The Iowa Film Critics, of which I am a voting member, made the announcement on Monday, following voting that began in late December. Greta Gerwig's extraordinary directorial debut was honored with four awards while Willem Dafoe, Call Me By Your Name, and Three Billboards Outside Ebbing Missouri each earned an award.
Lady Bird stars Saoirse Ronan as Christina "Lady Bird" McPherson in a coming of age story that is based loosely on writer-director Greta Gerwig's time growing up in Sacramento, California in the early 2000's. Lady Bird is a complex teenager with few friends, lots of opinions, and little direction. As played by Saoirse Ronan, she is a minor force of nature who gains strength going up against her equally complex mother, Marion, played by Laurie Metcalf.
Lady Bird was named one of three finalists for the Iowa Film Critics Best Picture Award alongside The Shape of Water and Dunkirk before being named the winner this week. Writer-Director Greta Gerwig was named Best Director out of a field of nominees that included Guillermo Del Toro and Chirstopher Nolan. Gerwig topped my personal ballot from the first nomination round all the way to her win.
Lady Bird kept up its winning ways in the Best Actress and Supporting Actress categories. Star Saoirse Ronan's remarkable lead performance topped a three nominee field that included Sally Hawkins for her work in The Shape of Water and Frances McDormand's fiery performance in Three Billboards Outside Ebbing Missouri. Co-star Laurie Metcalf led a field that also included Mary J. Blige in Mudbound and Holly Hunter in The Big Sick.
In non-Lady Bird winning news, Gary Oldman was named Best Actor for his work as Winston Churchill in Darkest Hour. Oldman led the category that included Timothee Calamet in Call Me By Your Name and James Franco in The Disaster Artist. I personally cast my vote for Franco, but I can't deny that Oldman's performance is incredible in Darkest Hour, even as the film is fundamentally flawed in its pop history.
Willem Dafoe was named Best Supporting Actor for The Florida Project, the story of people living below the poverty line at a Florida flophouse. Dafoe topped a Supporting field that included Sam Rockwell for Three Billboards Outside Ebbing Missouri and Armie Hammer for Call Me By Your Name. Dafoe was the top pick on my personal ballot for his surprisingly warm and sensitive performance.
In the Best Animated Film category, Coco was the winner, beating out fellow nominees The Lego Batman Movie and Ferdinand. Jane was named Best Documentary, beating out Agnes Varda's Faces Places and Matthew Heineman's City of Ghosts, a recent BAFTA Nominee. In the music categories, Three Billboards Outside Ebbing Missouri took home Best Score for Carter Burwell's exceptional work and Remember Me from Pixar's Coco was named Best Song.
The final category for the Iowa Film Critics Association awards is a special one, and one we wish we didn't have to have. Call Me By Your Name was given the special award for the Best Movie Not Currently Playing in Iowa. Being in the Midwest and being film critics gave us the privilege to see Luca Guadagnino's brilliant coming of age romance, but we still don't know when we can tell audiences when they can see it. Thus, we have our category where, each year, we pick one, sometimes two movies, to honor in this category so our readers can keep them in mind for when they actually do come to Iowa. There were no other nominees as this is a special citation category.
movie
About the author
Hello, my name is Sean Patrick He/Him, and I am a film critic and podcast host for Everyone's a Critic Movie Review Podcast. I am a voting member of the Broadcast Film Critics Association, the group behind the annual Critics Choice Awards.
Reader insights
Be the first to share your insights about this piece.
Add your insights