'Knives Out' Is a 'Clue' Style Joyride
There's a lot to love about Rian Johnson's fun, sweet and lightly chaotic whodunnit.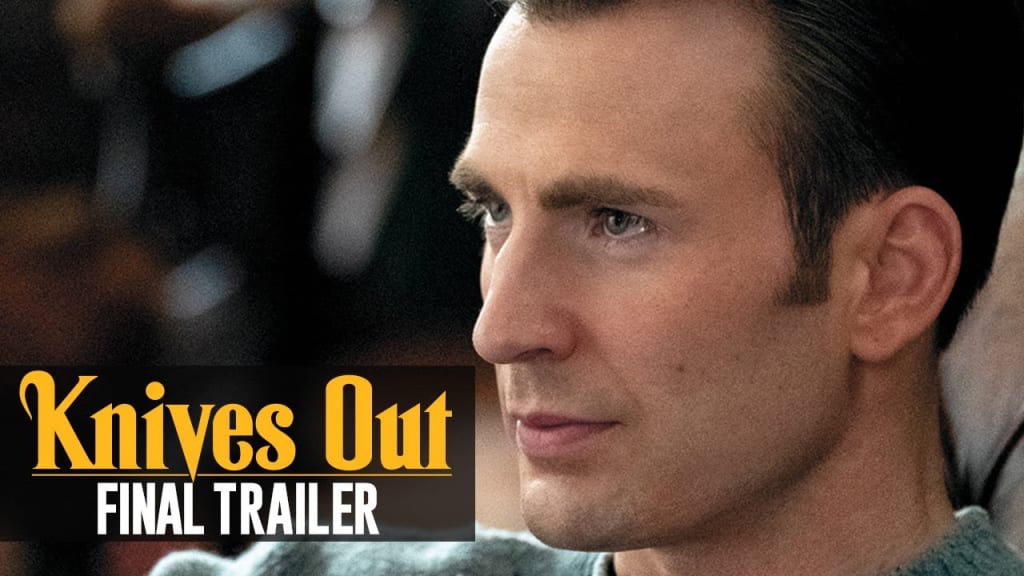 Photo Credit: Lionsgate Movies/YouTube
This holiday season is providing fans with a classic whodunnit story with Knives Out. There's so much to love about Rian Johnson's entertaining whodunnit. This review is based on an advanced screening. The classic whodunnit relies on mystery and surprise twists and reveals. The plot of the film involves wealthy patriarch Harlan Thrombey (Christopher Plummer) being found dead the morning after his 85th birthday celebration. Suicide is the assumption, but the detectives have a few questions for this chaotic family.
The police gather Harlan's family together for questioning including: Linda (Jamie Lee Curtis), Linda's husband Richard (Don Johnson), and the questionable son Ransom (Chris Evans); Walt (Michael Shannon), wife Donna (Riki Lindhome), and incel son (Jaeden Martell); and Joni (Toni Collette). Those asking the questions include Detective Lt. Elliott (LaKeith Stanfield), Trooper Wagner (Noah Segan) and the odd private investigator Benoit Blanc (Daniel Craig).
Knives Out has an incredibly strong ensemble cast
One of the most recognizable cultural reference points is Clue, and then Succession. One of the most enjoyable part of Knives Out is watching a rich family taking jabs at each other, throwing verbal daggers at each other, while trying to prove they are not the killer. The only difference between Succession, and Knives Out, is the film is more family-friendly.
What makes this movie work so well, is the rich casting that Rian Johnson has put together. Everyone gives their best and goes above and beyond, while also looking like they are having a blast playing their characters. It's odd seeing Daniel Craig doing a Southern accent and Chris Evans is clearly enjoying the post-Cap attitude. Ana de Armas is the star of the ensemble cast. She is the heart of Knives Out. Her character is charming and easy to root for. Her character provides more humor, plot and dramatic tension.
Knives Out is not without flaws but it's still worth watching
Knives Out does come with a few flaws. The early sequence of interrogations and the family members giving their take on the night's events, is a tad bit choppy. The transition from narration to flashback and back to interrogation could be a bit smoother. It was a struggle to understand what is supposed to be taken as fact, while the film becomes a long-con misdirection.
Knives Out, brings out its share of twists. Sadly, some of the twists are predictable for anyone who is knowledgeable into the classic mystery stories. While you may see something is coming, it's not clear how it all fits together. There is one glaring incongruity, but I could only explain it by revealing too many spoilers. The ability to predict a few details, in no way takes away from the fun ride.
Knives Out is the perfect holiday flick for families to watch over Thanksgiving. It will definitely be one of the rare late November releases that is perfect for a group outing. It comes with a multigenerational appeal and a good hook. This will definitely be among one of the best holiday films coming to theaters during the Thanksgiving and Christmas season.
Knives Out will definitely leave fans entertained and laughing as they work to find out who the real killer is. The secret is, the killer is not who you expect. One of the best moments is Chris Evans' presence as he is interrogated. After watching the film, I could see a second chapter to this story. Chris Evans has definitely found a way to grow as an actor, after spending the past few years as Captain America. Daniel Craig also gives a performance fans will never forget.
review
About the author
Alaska born and bred, Washington DC is my home. I'm also a freelance writer. Love politics and history.
Reader insights
Be the first to share your insights about this piece.
Add your insights