'Kiki's Delivery Service' - A Movie Review
'Kiki's Delivery Service' is a beautiful film for all ages to enjoy.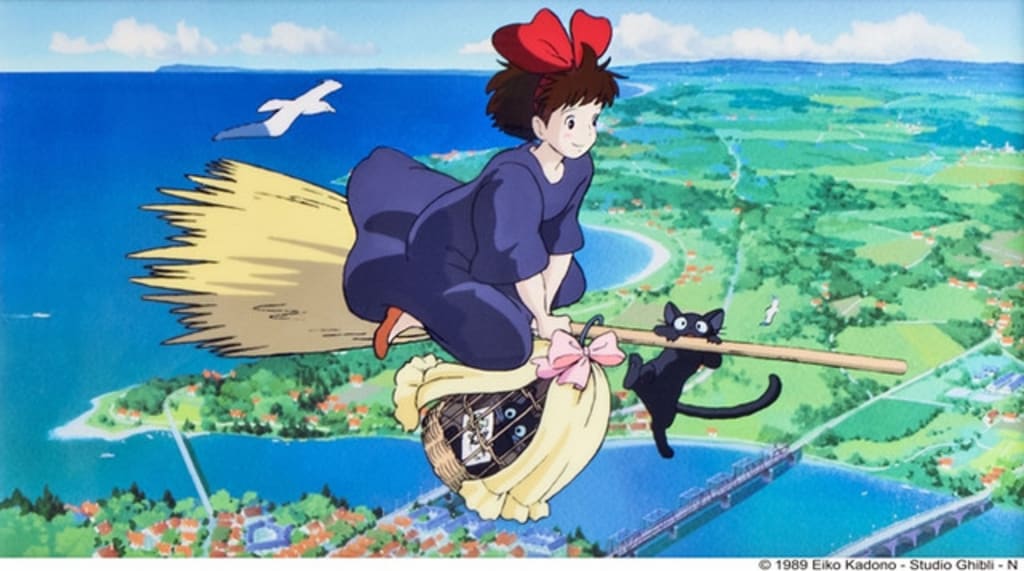 Admit it, you've always wished to have the power to fly on a broomstick across the world.
Released in 1989, Kiki's Delivery Service is about a 13-year-old witch, Kiki, who has reached the age to make a life of her own. With her black cat, Jiji, they find a small town to live in. Obtaining a career as a delivery service, Kiki struggles to fit in. Slowly making new friends, Kiki establishes the importance of never losing hope in yourself.
As a child, Kiki's Delivery Service was my favorite Hayao Miyazaki film. Seeing it again on the big screen felt like a wave of nostalgia. I forgot so many plot elements and subtle details. Kiki's Delivery Service is a riveting, heartwarming, and well-animated film.
Kiki's Delivery Service is filled with outstanding characters. Everyone has a distinct personality. I especially like how not every character needs to have a voice. You can say so much through various over the top expressions.
Kiki is an inspiration to many people who have been in her place, or are struggling to make a life of their own. She is a bright, cheerful, and energetic young girl. However, due to her excitement, she doesn't make a full plan, thus getting herself into roadblocks along the way.
One of my favorite characters in the film is Kiki's black cat, Jiji. Though he is mainly there to support Kiki in guidance, his sarcastic comments are the best moments in the film.
Although a bit clumsy and forgetful of his manners, Tombo is one of my most favorite characters. He's an eccentric nerd who loves creating numerous fun inventions.
Since the film was originally released in Japan, it has been re-dubbed in English. Kirsten Dunst (Kiki), the late Phil Hartman (Jiji), Tress MacNeille (Osono), Janeane Garofalo (Ursula), Matthew Lawrence (Tombo), and even the late Debbie Reynolds (Madame), and a handful of actors voice individual characters. No part is ever small.
The animation of Kiki flying through the sky, rain, or just little subtle moments is profound. Backgrounds are beautiful. 462 colors were used! I also really love the animation of the once fast-paced Kiki gradually slowing the more defeated she feels about herself.
I love the messages in this film. Growing up is tough, especially when we're on our own for the first time supporting ourselves. Reaching rock bottom, Kiki finds solace from Ursula, a woman who lives alone in the woods. As a painter, she has advice for Kiki. Every now and then, we need a break from doing what we love.
Those words stuck with me. As a person who has a passion to write and draw, sometimes you do need a break to recharge and think of new ideas. We never lose our magic.
Self-care is one of the most important matters to remember, especially when living on your own. Kiki is still so young, but she goes through an ever-changing coming-of-age journey to establish her person.
I like how Miyazaki was not afraid to show unpleasant people. Animated movies tend to shy away from the unlikeable character in the chance of how they'll make audiences feel. Although a risk, showing unpleasant people is a valuable learning lesson, especially for young kids. Not every person you meet is going to be nice.
Kiki's Delivery Service is a beautiful film for all ages to enjoy. Filled with fun characters, a meaningful lesson, and a heart-pounding climax that had me on the edge of my seat when I was a child, it's a film to fall in love with. It's incredible to think that it flew into theaters thirty years ago!
movie

Marielle Sabbag
Writing has been my passion. I love creating stories from fiction, poetry, fanfiction, and I even enjoy writing reviews about movies and plays. I would love to become a freelance writer and leave the world inspiring minds.
See all posts by Marielle Sabbag →