Juno - A Movie Review
'Juno' is a bold film that showcases teen pregnancy in a better light.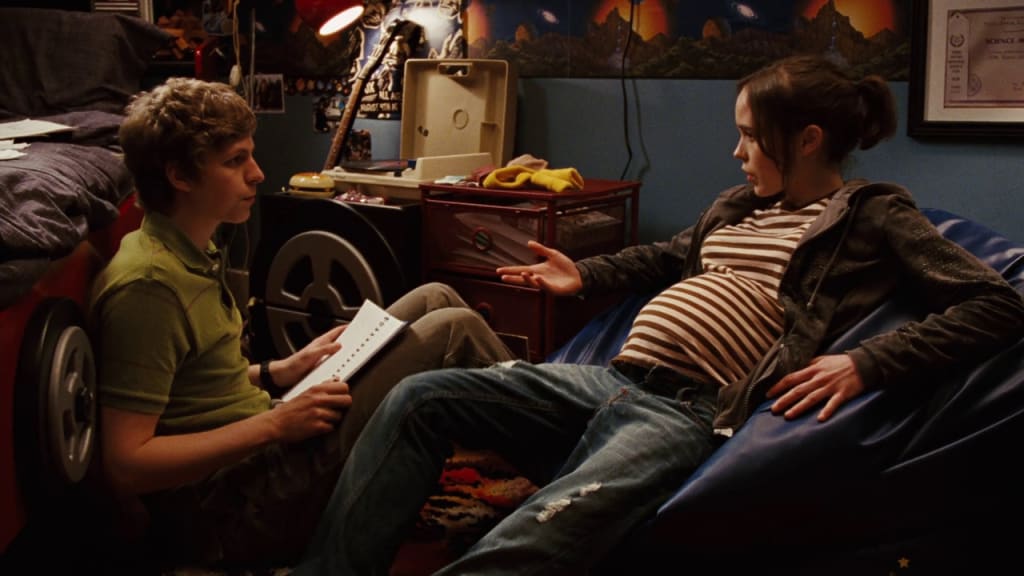 There's no such thing as normal. Never let anyone tell you how to write your life.
Juno is a 2007 film. Juno, a 16-year-old high school junior is pregnant. Unplanned, Juno searches for what to do. Deciding to give the baby to adoptive parents once it is born, throughout the nine months, Juno learns several lessons about herself and life.
I have been on the fence about watching Juno, not knowing if it would fall under the usual negative cliches of teen pregnancy. Turns out, I am so glad that I watched this film. Juno is a bold film that showcases teen pregnancy in a better light.
Each actor in Juno studied their characters closely, finding how to connect with them. Elliot Page conquered an eye-opening performance. Juno is a goofy 16-year-old who is unsure of her place in the world. I liked her character's innocence and misinterpreting certain subjects due to her age. She does not let negative words get her down.
Page was excellent in pursuing their character's journey, reflecting a unique personality. I also like how Page put their own touches on the character, like with Juno's hairstyle. These genuine touches led to Page's nomination in acting.
J.K Simmons and Allison Janney were excellent as Juno's parents. They are open and tolerant of all of Juno's ideas. While they are unhappy with what Juno has done, they never make her feel guilty. I love the talk Simmons has with Juno. It was heartfelt.
I did not recognize Allison Janney until reading the cast list. Normally, Janney has always been typecast as an unpleasant woman, either in personality, appearance, or both. Here, she puts new boundaries to the tiring evil stepmother trope.
Michael Cera is another gifted actor. He has the best sense of humor and awkward reactions. I will always love the argument between Paulie and Juno.
Jennifer Garner and Jason Bateman's characters have undergone several analyses since the release of the film. Each did a good job studying their characteristics. You don't have to agree with everything a character says or does. That's one of the most important lessons you can learn from films.
Juno is a character study. Every interaction is studied closely. The subject matter has brought attention to several eyes. Teen pregnancy is a tough subject. We all have our opinions. What you should do, and this is a lesson that I learned, is never judge. You don't know anybody's story.
Jason Reitman worked closely with his cast, and in his direction. He stayed in Juno's perspective. This is a movie that we need to talk about. Juno is ahead of its time. The whole cast had a hand in working on Juno. At the time of its release, Juno was the highest-grossing film out of the best picture nominees of that year.
The animation sequence at the start of the film was a creative touch. Reitman also thought of creative elements to display the changes in the seasons through the film. With only 31 days to film, I am impressed with the detail. Overcoming challenges, I liked the changing moods of the film.
All the locations are given the best makeovers to manifest the character's personalities. Juno's hamburger phone made me laugh. Reitman wanted audiences to connect to these characters. I was worried that this was going to be a toxic film. It turns out that Juno is a film to help audiences think differently about their decisions and behavior.
I recommend that you put Juno on your list. View it with an open mind. It's funny and it is heartfelt.
review
About the author
Writing has been my passion since I was 11 years old. I love creating stories from fiction, poetry, fanfiction. I enjoy writing movie reviews. I would love to become a creative writing teacher and leave the world inspiring minds.
Reader insights
Be the first to share your insights about this piece.
Add your insights