Jumanji: The Next Level - A Movie Review
'Jumanji: The Next Level' is a heartfelt film about friendship, growing old, and taking risks.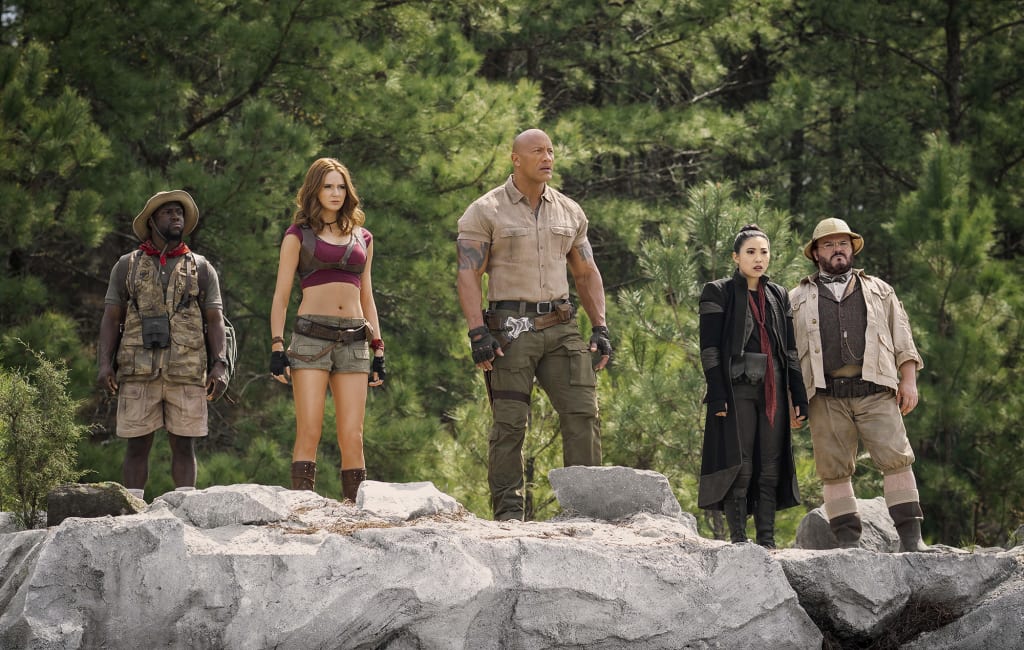 Beware of the game Jumanji. It snatches anyone into its world.
Jumanji: The Next Level takes place three years later from when the quartet first discovered the game. Now, they find themselves in another challenge to complete a new level. While on this journey, the gang switch avatars, gaining new perspectives.
To be honest, I never thought I was going to enjoy this sequel to Jumanji: Welcome to the Jungle until I was sitting in the theater howling in laughter at all the hilarious antics. In contrast to the first sequel, Jumanji: The Next Level is a heartfelt film about friendship, growing old, and taking risks.
Alex Wolff, Ser'Darius Blain, Morgan Turner, and Madison Iseman return as the four young heroes. Right off the bat, I loved the character development and the genuine friendship they formed after bonding in the first movie. Honestly, that is my favorite part of this sequel. I felt like they had more personality and a stronger character arc than how they were portrayed in the first film.
Jumanji: The Next Level proved to be an acting challenge for some. As the avatars in the game, Dwayne Johnson, Jack Black, Kevin Hart, and Karen Gillan had new shoes to fill. While I'm sure you loved Jack Black as Bethany in the first film, in this film he does a funny portrayal as Fridge (Blain). But, that is not all.
Get ready Danny Devito lovers. Danny DeVito plays the snarky grandfather of Spencer. DeVito was hilarious as always. Along for the ride joins Danny Glover as Milo the longtime friend of Spencer's Grandfather, Eddie. They have a long history together. And so, DeVito and Glover are transported into the world of Jumanji where they inhabit the avatars of Dr. Bravestone (Johnson) and Mouse (Hart).
In the ultimate test, Johnson is given a new acting challenge more from what we saw in his successful portrayal as the nerdy Spencer in the first film. Playing Danny Devito is a challenge in itself because Danny DeVito is, well Danny Devito! While it looked as if Johnson was struggling to pull off this personality in the beginning, he gradually got into more as the film went. Johnson pulled off DeVito's trademark personality and funny facial expressions.
I have to applaud Kevin Hart's believable impression of Danny Glover, actually taking the part seriously. Instead of just playing his usual self as he did in the first movie, Hart challenges himself and distributes a serious portrayal that I would like to see in more of his films. He had me tear up in one scene from an emotional monologue!
Nick Jonas, Rhys Darby, and Colin Hanks also return. I was very excited to see Awkwafina join the cast. She too does an outstanding job challenging herself as different personalities when switching bodies. Essentially, that's what this film came out to be. Challenging yourself to capture a personality different from yourself.
Off-topic, but I would have loved to see Danny DeVito's reaction to this movie!
As for the rest of the film, it is sequence after sequence of action as characters struggle across roped bridges, running from ostriches and in the ultimate fight for their lives. Jake Kasdan brought out a promising sequel with a heartwarming message. He worked closely with his actors blending together character arcs with the action of the film.
If you have not seen Jumanji: The Next Level yet, I strongly recommend that you do. I was laughing out loud for most of the movie. It is a great sequel and I hope for more will be released in the future.