Jingle Jangle: A Christmas Journey - A Movie Review
'Jingle Jangle: A Christmas Journey' gets audiences into the festive mood.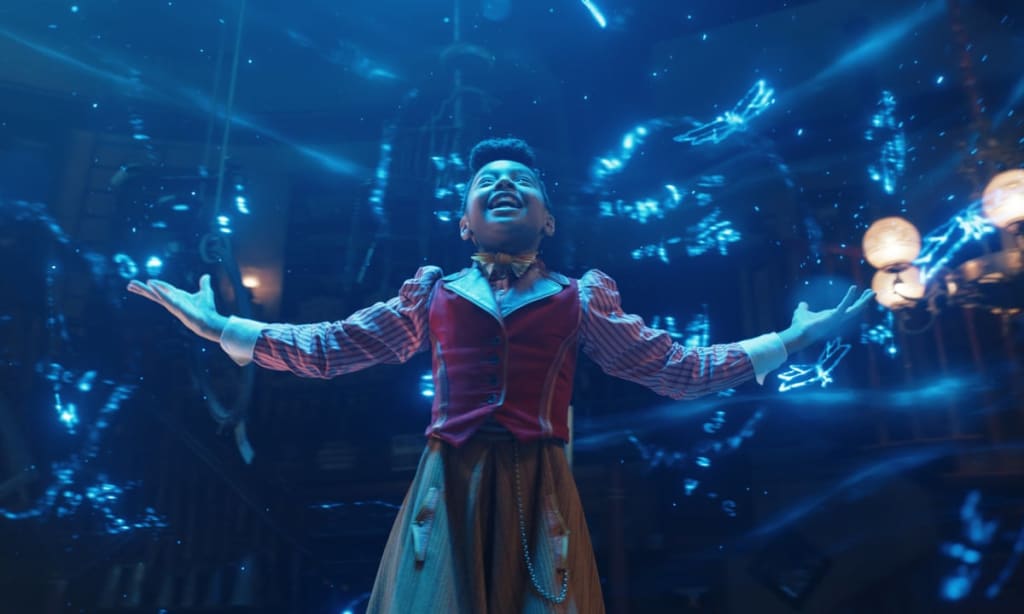 Magic is not what you lost, it's what you still have. Anything is possible.
Released to Netflix for the holidays in 2020, Jingle Jangle: A Christmas Journey is about an adventure between a magical inventor and his granddaughter. In his youth, someone stole his plan to create a toy for all. Losing all hope, Journey is here to help her grandfather believe again.
I had no idea how much I missed performing in musical numbers until viewing this film. Jingle Jangle: A Christmas Journey is a magical film. It's a story that makes you smile. The best part is that it gets you into the holiday spirit. Never lose hope if yourself if you thought you failed. Anything is possible.
When cast members are having fun bringing a story to life, that means the audience is having fun too. The energy of the cast is a standout. Jingle Jangle incorporates talents from actors of various backgrounds in the arts. Members of the casts perform dance-hopping songs, get into their characters, and find the magic in life.
In her film debut, Madalen Mills shines. She has tremendous vocal abilities. Her number 'Square Root of Possible' is extraordinary. Journey is an exuberant young girl who is ready for any challenges. Talk about an inspiring name. I adore the relationship that evolves with her grandfather, Jeronicus.
Other credits to include are Forest Whitaker, Keegan-Michael Key, Hugh Bonneville, Anika Noni Rose, Phylicia Rashad, Ricky Martin, Sharon Rose, Lisa Davina Phillip, and Kieron L. Dyer. An ensemble of talented individuals performs incredible dance numbers with their exuberant energy.
As I mentioned, most of the actors have different theatrical backgrounds. In another film debut, Keiron L. Dyer is hilarious. But at times his deliveries didn't feel realistic. I was very impressed with Phillip as the bubbly Ms. Johnston. I wish Anika Noni Rose could have been in the film more. Her character is important to the story along with the relationship with Jeronicus.
The visuals bring Jingle Jangle to life. The sets are fantastic. The town feels realistic. The overall design is notable for the holiday atmosphere.
As an inventor, Jeronicus has nifty inventions. However, one specific invention that has a significant role carries a resemblance to a popular Pixar character.
The film takes a different approach, challenging itself to tell the story differently. The segments where toys describe events that occur were a creative idea. Part of me wishes what the movie would have been like if the filmmakers decided to take this route with the toy figurines.
The musical numbers were the best. They have a lot of energy when performed, only they're all performed in the same upbeat style. One choreographed style could have fit all the dance numbers. Songs created for the film are lively. A few songs to name are, 'Borrow Indefinitely', 'Not the Only One', and 'Make it Work'.
Jingle Jangle: A Christmas Journey is all about imagination, family, and never losing hope. David E. Talbert took an imaginative idea and made it come to life. Talbert did an incredible job leading his actors in this inventive story.
Jingle Jangle enjoys being what it is. It's a holiday film for all audiences to enjoy. However, it was a little long in places. There was one scene that didn't connect to the story. It took away from the film's charm turning it into an action film.
Jingle Jangle: A Christmas Journey is a great film for the whole family to watch during the holiday season. I have already watched it twice and I always bop my head during the musical numbers.
movie
About the author
Writing has been my passion since I was 11 years old. I love creating stories from fiction, poetry, fanfiction. I enjoy writing movie reviews. I would love to become a creative writing teacher and leave the world inspiring minds.
Reader insights
Be the first to share your insights about this piece.
Add your insights