James Woods Flames 'Call Me By Your Name;' Armie Hammer, Amber Tamblyn Fire Back
Those who live in glass houses...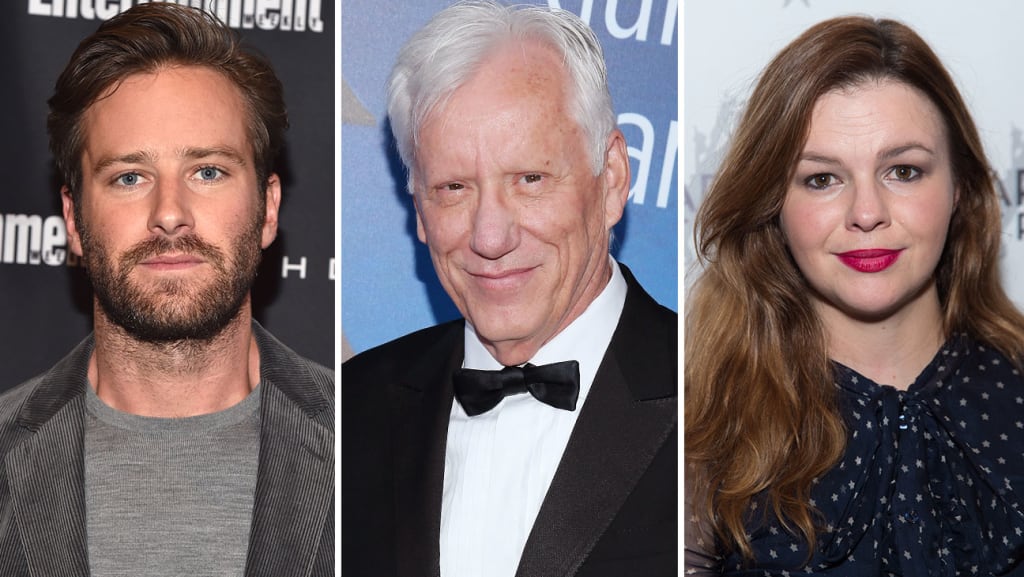 Source
It should come as little surprise that actor James Woods would have something to say about the newest critical indie darling, Call Me By Your Name. The actor took to Twitter to comment regarding the same sex romance that blossoms between a 24-year-old university student and a 17-year-old.
"As they quietly chip away the last barriers of decency. #NAMBLA," Woods tweeted, using the hashtag to represent the North American Man/Boy Love Association, an organization dedicated to "removing the age of consent laws."
As one might expect, Call Me By Your Name star Armie Hammer clapped back at Woods for the comment.
"Didn't you date a 19 year old when you were 60.......?" Hammer shot back.
Woods was in fact 59 when he struck up a seven-year relationship with 19-year-old Ashley Madison. That was 11 years ago; he is currently dating Kristen Baugness, who is now 24 while he is 70.
Actress Amber Tamblyn also leapt into the fray shortly following Hammer's comments, further supporting the notion that perhaps Woods is the last person who should be commenting about a romance featuring an age gap.
"James Woods tried to pick me and my friend up at a restaurant once," her tweet began. "He wanted to take us to Vegas. "I'm 16" I said. "Even better" he said."
Tamblyn, now 34, is married to actor David Cross, 53.
The exchange has captured the attention of the Twitterverse, who for the most part have resoundingly supported both Hammer and Tamblyn.
"Damn. @RealJamesWoods got owned," tweeted @wes_chu.
Some were not so subtle in their commentary over the Twitter dustup.
"Aging homophobe James Woods vs Call Me By Your Name actor Armie Hammer, giving us a preview of the inevitable ~discourse around this movie," tweeted @Hello_Tailor.
Certainly, this is not the first time that Woods has spoken out about his views about homosexuality; earlier this year, he was lambasted by none other than Neil Patrick Harris for attacking a boy online in the aftermath of a photo of said boy at a July Pride event in Southern California.
"This is sweet," he wrote. "Wait until this poor kid grows up, realizes what you've done, and stuffs both of you dismembered into a freezer in the garage."
Neil Patrick Harris, who is reportedly friends of the family, fired back.
"Utterly ignorant and classless, Mr. Woods," he said. "I'm friends with this family. You know not of what you speak, and should be ashamed of yourself."
At the time, the Human Rights Campaign called Woods' tweet "vulgar & hateful" and said that all children should be loved and respected for who they are - a statement that many would agree with.
Call Me By Your Name continues its film festival tour, having recently stopped at the Toronto International Film Festival (TIFF). Hammer's co-star, Timothée Chalumet, who plays his eventual love interest in the film, is being resoundingly praised for his portrayal of the 17-year-old whom Hammer's character falls for.
Woods continues to be accused of being a hypocrite for his tweet about Call Me By Your Name, with the hashtag #hypocritemuch surfacing every so often. While he has not yet responded to Hammer's or Tamblyn's tweets, there are those who have also admitted to hearing unsavory stories about Woods.
"I have also heard creepy stories about James Woods!!!!!!!" tweeted user @ohhoe.
There are also Twitter users - some of whom are fans of James Woods - who have admitted to disappointment following Woods' comments. One Twitter user pointed out that at one point, Woods seemed to make the comparison between dating young women to buying puppies, a comparison which caused some cringing via social media.
While it's probably certain that Woods will remain unapologetic for his views about Call Me By Your Name, it's equally certain that he will not soon escape the backlash generated by his comments.