'It's a Beautiful Day in the Neighborhood' - A Movie Review
Seeing, 'It's a Beautiful Day in the Neighborhood' made me appreciate Mr. Rogers all the more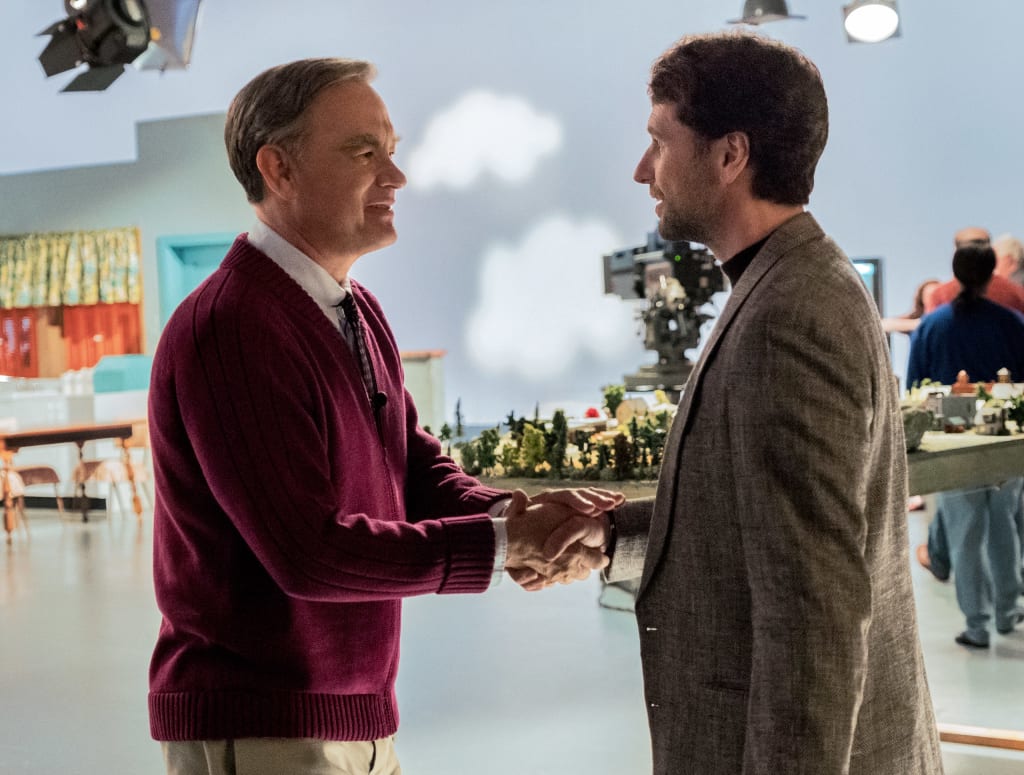 Let's go visit Mr. Rogers. It's a beautiful day in the neighborhood!
It's a Beautiful Day in the Neighborhood tells a true story of a struggling man assigned to write a story about the famous Mr. Fred Rogers. Little does he know how much Mr. Rogers will positively impact his life.
Growing up, I never watched Mr. Rogers very much. I caught airings every once in a while with Mr. Rogers either talking about feelings or playing out fun scenes with puppets. Seeing, It's a Beautiful Day in the Neighborhood made me appreciate Mr. Rogers all the more for his dedication to making people understand their feelings.
Tom Hanks did an exceptional job capturing the personality of Mr. Fred Rogers. From the moment he stepped on-screen singing the famous show tune, Hanks carried the film absorbing Rogers' hidden depths and his kind and complex personality. The movie doesn't spend time getting to know personal details about Mr. Rogers, which I would have liked to see more of. Although, his personal life was well established through Hank's subtle expressions.
Based on an article written about Fred Rogers, the film's main character was Lloyd Vogel, a man who goes to great lengths to keep his emotions behind a solid steel wall. Matthew Ryes did a great job. I liked his character development in the movie, specifically with his estranged dad.
The film includes talents by Chris Cooper, Susan Kelechi Watson, Maryann Plunkett, Enrico Colantoni, Wendy Makkena, and some musical subway singers singing a familiar show tune. Each character is holding onto or holding back from emoting. Eventually, we have to open up about our feelings so we won't destroy relationships with those who we love.
I loved the scenes where the family was together finally reconnecting after long-winded battles over the years. Cooper was especially funny and heartwarming at the same time. I especially loved the reactions whenever someone met Mr. Rogers for the first time.
One of the best parts of the film is how they recreated some of Mr. Rogers's most famous television scenes. Now, I wished that I watched Mr. Rogers more when I was a kid to appreciate the humorous moments involving puppet shows. These scenes are nostalgia, they feel real, and provide us with a funny dream sequence.
I had no idea what to expect from this movie, and it turned out to be a much different film from what I thought. It's a Beautiful Day in the Neighborhood was more of a sad story than happy. Centering around a death in the family, I admit that it was tough to watch in some scenes. However, the message about forgiving, opening up about feelings, and being true to oneself is an important moral of the film.
Director Marielle Heller brought out a beautifully written story about a figure who enjoyed listening to others' stories and making an effort to fix the turmoils in their lives. This movie represents the importance of human compassion and that kindness still exists for anyone who is struggling right now.
I am so glad that I saw It's a Beautiful Day in the Neighborhood. I admit that I was skeptical about it at first, but it made me think about the world in a different way. We all have our struggles, but we are never alone. Forgive and forget.
It's a Beautiful Day in the Neighborhood is a heavily emotional film at times, but it's a movie that you have to see. I loved Tom Hanks' portrayal and I thank him. I recommend that you catch it in theaters to travel back into the nostalgia.