"Invincible": Why You Need To Watch The Newest Can't-Miss Animated Series From Amazon Prime
We're a little understaffed in the hero department.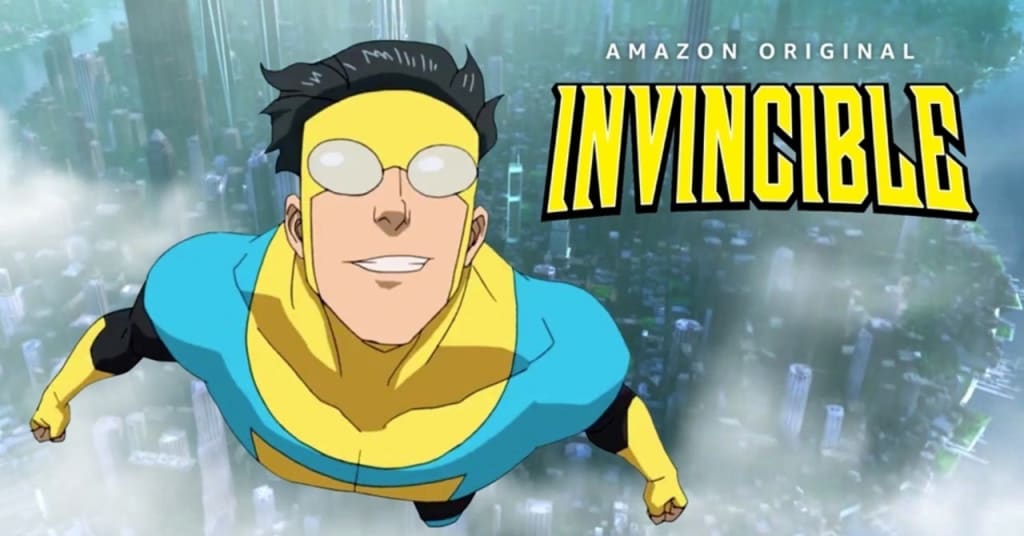 by Jerah Rose
Amazon's Prime Video has just wrapped its first season of Robert Kirkman's Invincible animated adaptation! One of Image Comics' most popular and exciting titles finally found a home on the small screen. Invincible aired eight episodes from March 26 through April 30, 2021, with plans for a second season to air in 2022!
Invincible follows our lead, Mark Grayson, through his journey of gaining superpowers inherited genetically. I love following Mark through essentially the "training wheels" of his imminent super-heroics. I also love how liberally Robert Kirkman includes characters poking fun at Grayson's choice to go by the name "Invincible" rather than something wittier or more intimidating like his father, Omni-Man.
I read a few of the typical DC or Marvel superhero comics as a kid, but my real love of comics began when I was much older. The Walking Dead show began in 2010, and I was instantly hooked, just like everyone else at the time. Then someone spoke the most beautiful words any bookworm in love with a tv show will ever hear, "It's based on a (comic) book."
I was salivating over the idea that there was more content, more story, more world-building ALREADY in existence. I started looking for the first issue. I found the ePubs for sale on Image Comics' website and that was it. I tumbled down rabbit hole after rabbit hole. I fell in love with incredible worlds, universes, and adventures that all of the creative teams from Image had to offer before expanding to Vertigo and so on.
One of those titles written by Robert Kirkman, who also wrote The Walking Dead and many others, became one of my very most favorite comics that I have ever read. Invincible is so much more than just another superhero comic. I love finding all of Kirkman's parodies from all of the most well-known nerd franchises. Invincible included parody cameos for many classic heroes from Marvel, DC, Star Trek, and more sprinkled throughout each issue.
I still remember the opening scene of The Walking Dead, season 6, episode 8, "Start to Finish." The previous episode had ended on one hell of a cliffhanger, and they were doing the usual slow open before titles and intro. The scene showed quick glimpses around one of the children's bedrooms, and for about two and a half seconds, there were Invincible lego figures on my screen! I was SO excited! I LOVED this Easter egg so much!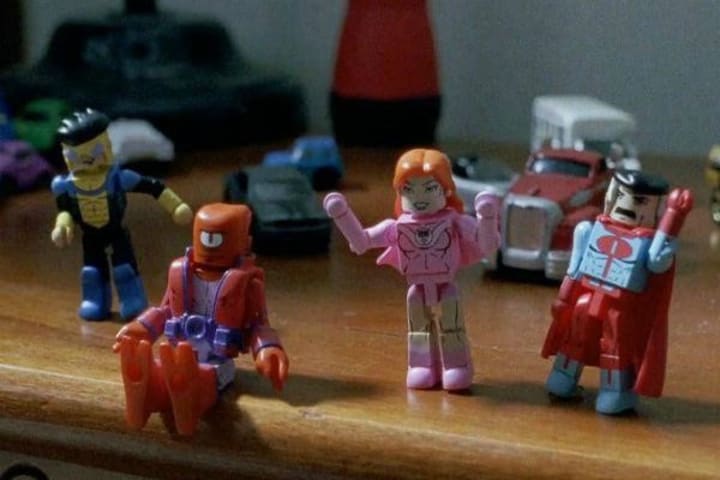 I was so excited to see such a loud and blatant nod at one of my favorite titles! Nobody that I knew cared one bit. But man! That was a huge win! Invincible was on my TV! And that was enough. Those two seconds were satisfying enough. Because it was too much to dream that Invincible would have its own adaptation...right?
WRONG! It took YEARS of waiting and hoping. For years I collected the original trade paperback issues through eBay and everywhere else. Three years ago, at long last, I got to hang them up on shelving in my room to be adequately bagged, boarded, and displayed. I've referred everyone who asked where to begin reading comics to this series since it is an easy and lovable and intense and hilarious read.
FINALLY, on March 26, 2021, Amazon dropped the first three episodes of their animated adaptation of the first season of Invincible. It. Was. EVERYTHING.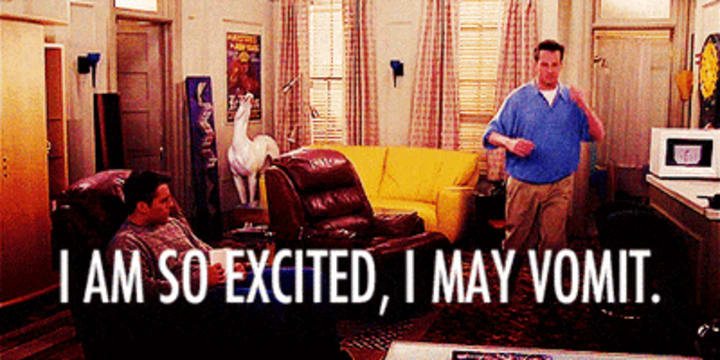 I cried. I legitimately cried moments into the first episode when the Mauler twins arrived. Then again, at first sight of Mark Grayson/Invincible, and my forever favorite Atom Eve/Samantha Wilkins. Everything was exactly how it should have been in the first episode.
From this superfan's perspective, I died and went to heaven watching ninety percent of the first episode be lifted directly from the pages of the first issues of a title I have loved so much for so long.
If you haven't read the comics, I have to encourage you to do that! I have begun another re-read and Comixology is the fastest and easiest way to read the issues from the beginning. I prefer to read the digital issues to keep my paperbacks in good shape.
So I created an account with a seven-day free trial. At the end of that trial, Comixology offered me 30 more free days before charging the $5.99/month as long as I added a payment method that Comixology can charge at the end of the 30 days.
Image Comics no longer sells digital issues to be downloaded through their website, but they offer links to Comixology, Google Play, Apple iBooks, and the Amazon Kindle store.
You get the most bang for your buck signing up with Comixology as long as the titles you want to read are included with their "Comixology Unlimited" plan.
At $2-$4 per individual issue everywhere else, you can only read one or two issues per month before surpassing the cost of the Comixology monthly subscription. And you still have access to all of the Comixology Unlimited titles entirely free for 30 days!
My original thought for this issue was introducing the series and adding to the hype by explaining how I feel about Invincible, why I love it so much, and then breaking down the episodes. I wanted to explore the similarities and differences, share news about the future of the Amazon series, and do a character breakdown.
But I've spent too long on the hype, and this title/show DESERVES THE HYPE! I'm hoping to have encouraged new fans of the show, the comics, or both! So look for future articles!
Another small mini-series! In a similar fashion to my Harry Potter Fan Theory series, I will share an article a week diving into Invincible!
Each piece will be an introduction for new fans who want more with as few spoilers as possible. But I also want the long-time fans to weigh in! Fact check me! Tell me what you thought!
To create an account on Comixology, read at least the first issues, and meet me back here next week for an article on the good, the bad, and the "why on earth did they change THAT?" for the first season recap of the animated adaptation of Robert Kirkman's Invincible!
Share your thoughts about this and more on The Nerd Habit's Facebook page. Be sure to follow us on Twitter, join our Subreddit, and check out our website too!
tv
About the author
The Nerd Habit is a collaborative group of writers who love all things nerd. We write about the latest happenings in nerd/geek culture as well as short fiction.
Our 2022 Team:
Christopher D. Horton, Hani Masry, Jerah Rose, Whitney Thompson
Reader insights
Be the first to share your insights about this piece.
Add your insights