I Watched The First Four Episodes of Stranger Things 4
And this is what I think so far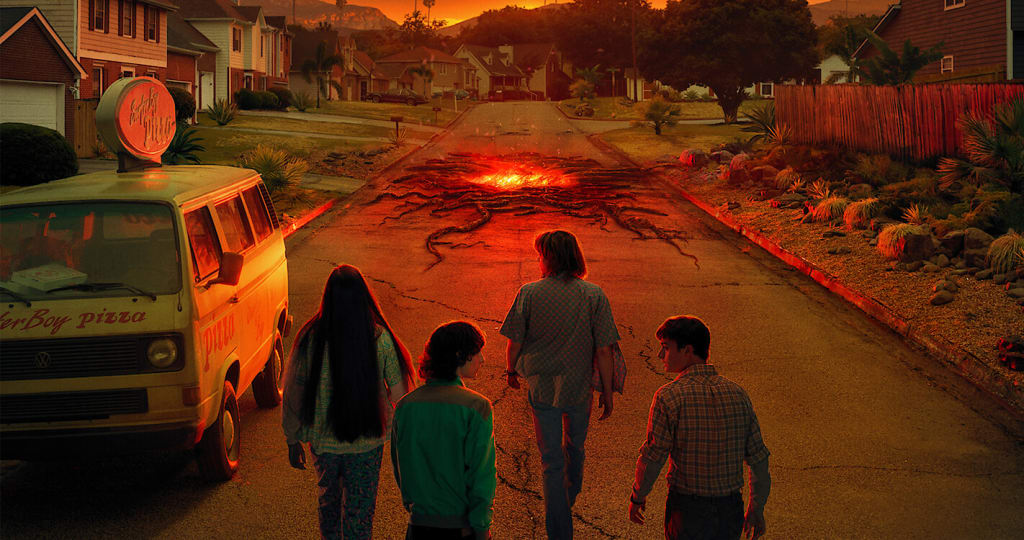 From netflix.com
Don't worry, no spoilers!
Most of us who are fans of the Netflix Original TV show Stranger Things, have been waiting years for the 4th and possibly final season of Stranger Things. For those who have never heard of the show, it's probably one of the biggest shows that Netflix has produced, aside from maybe Tiger King (which is much stranger than Stranger Things).
The show's season four aired on May 27, 2022, and I watched four episodes back to back. Each episode is more than an hour so most of my day was spent watching the show, grabbing snacks, and taking bathroom breaks. But here is what I thought of the show so far. I have only watched four episodes.
I will write my final review once I have completed the show. Netflix has released only seven episodes and the last two will be aired in July, so look forward to that then.
For those who are new to the franchise, Stranger Things is a show set in the 80s that follows a group of boys, a strange girl with powers, Eleven, and a town that has a direct portal to the upside-down, a dark, demonic, duplicate of our world. It mixes 80s nostalgia, comedy, action, sci-fi, and drama. Each character in the show is lovable and an instant fan favorite, even the bad guys.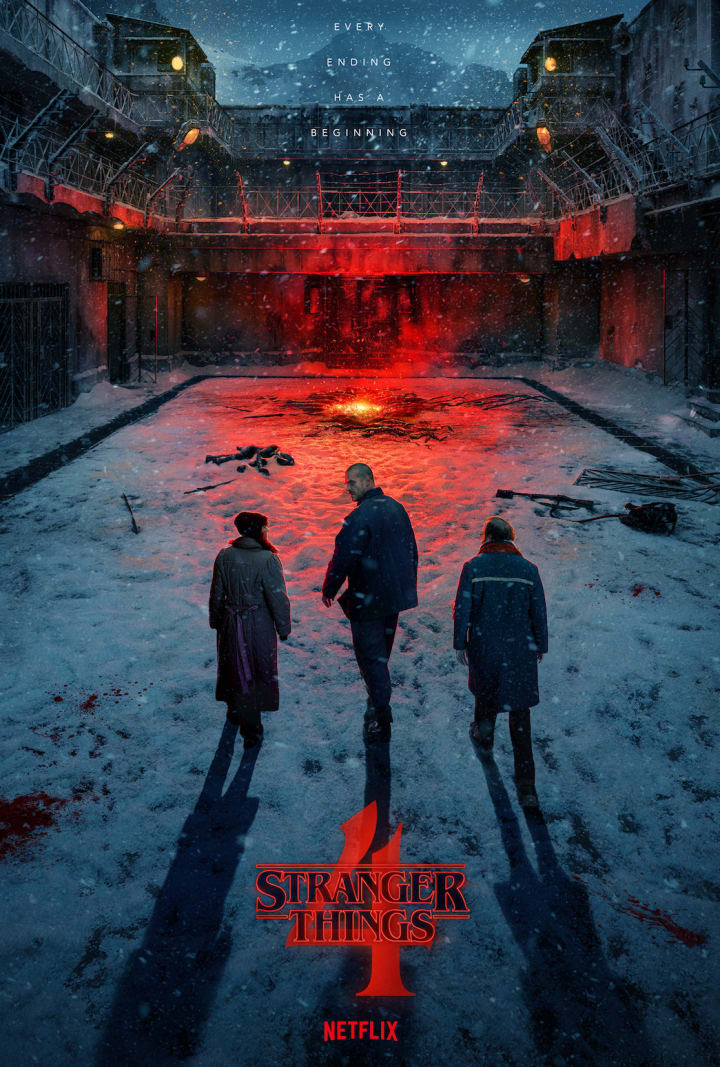 The New Season
So Netflix pushed the release of Stranger Things 4 many times because of the Covid-19 pandemic, and it left the fans sad but even more desperate to see what finally happens to the town of Hawkins, where the show is set.
I will not reveal any major plot points or give any spoilers as I know for those who haven't watched it yet, the shock and plot twists and turns are part of the experience. Of course, true fans have already probably figured out by the end of season three, that Hopper is most likely alive in that Russian prison.
The first thing I noticed right away as the show began was that it has become a lot darker and geared toward adults. The opening scenes and the new villain are beyond creepy. At par with Hellraiser or the clown from IT, the creature that the cast must face is one of the creepiest monsters I have seen.
The show has gotten a lot more bloody, gruesome, and felt like an 80s horror film like Friday the 13th so if you are easily spooked or not a fan of horror, some parts in this show will have you looking away.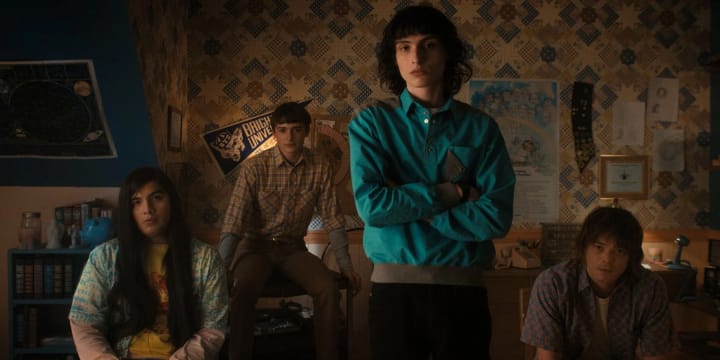 New Characters
What I liked about the first few episodes is that despite having all the regular cast of characters that everyone is looking forward to seeing on screen, there are a group of side characters who quickly become likable and part of the show.
I will admit, it took me a while to completely get used to the concept that the show and cast have been split into two towns. In season three, Joyce and her two kids Will and Jonathan, along with Eleven move away to start a new life.
The show continues with this theme and while half the cast is dealing with the return of murder and mayhem in Hawkins, the other half is also dealing with dire situations in the small town of Lenora Hills. Keeping track of which character is where especially the newer characters get confusing.
Once again, not to provide any spoilers but I feel in this season, there are so many different stories all happening at once. As the characters have increased so have the different plot lines. Each group is dealing with a different issue. I am sure as the show goes on, these will all come together but for now, it's like watching four or five different shows.
Along with the main monster that has returned and killing residents of Hawkins, there are once again underground government factions searching for Eleven, a group of boys on the hunt for a student they think is a killer, bullying from various students, convicted serial killers at a mental asylum, and the madness goes on.
What I will admit is that there is never a dull moment in the show. Even when there is no action taking place, the dialogue between characters, the 80s music and fashion are so perfectly mimicked, and there are genuine heartfelt moments between characters that once again prove that this show is anything but just an attempt at nostalgia.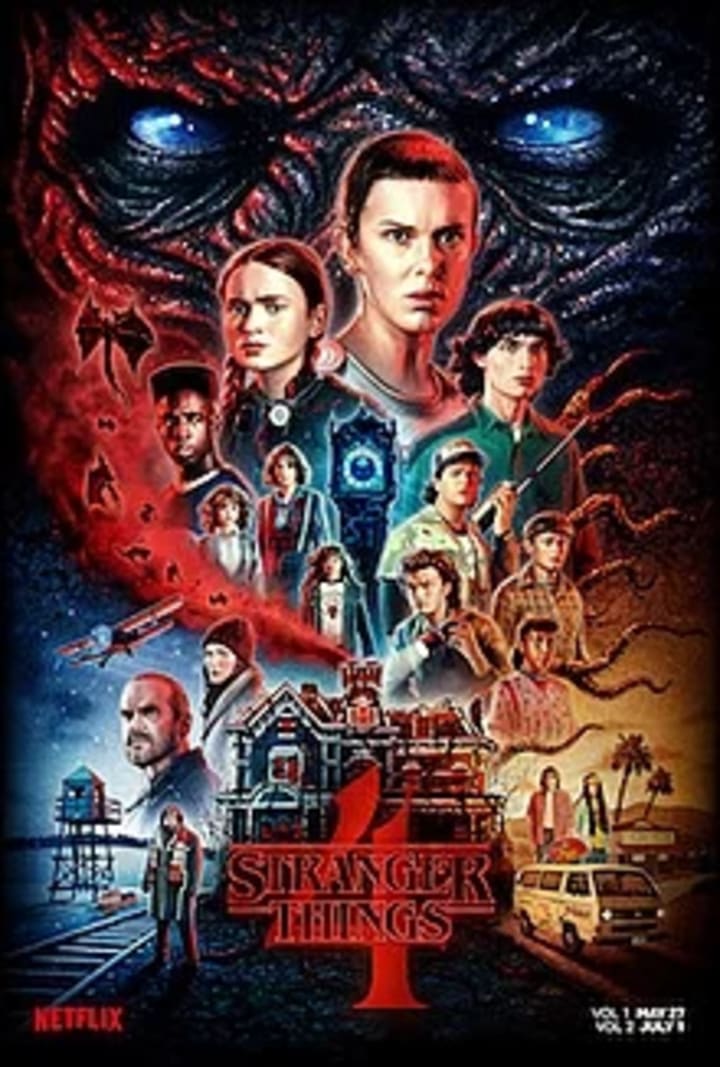 Should You Watch This Show?
If you haven't watched the first three seasons then you should definitely start from the beginning. Unlike some shows where you can start from the middle and pick things up, this show definitely requires knowledge of previous episodes.
If you grew up in the 80s or like the era then this is a definite watch for you. Also, if you are into Steven Spielberg movies and retro then also a definite watch. Because the show starts with kids in a small town and goes from there, it is a pretty easy show to get into.
If you are not into sci-fi, 80s movies, horror, or fantasy then maybe this show might not be for you. Though despite having roots in fantasy, dungeons and dragons, and other "nerd" stuff, the general public can enjoy this show without too much knowledge so don't feel like it might be too nerdy for you.
Hopefully, I have convinced you to watch and enjoy this show. I am off to finish the last three episodes!
tv
About the author
Reader insights
Be the first to share your insights about this piece.
Add your insights