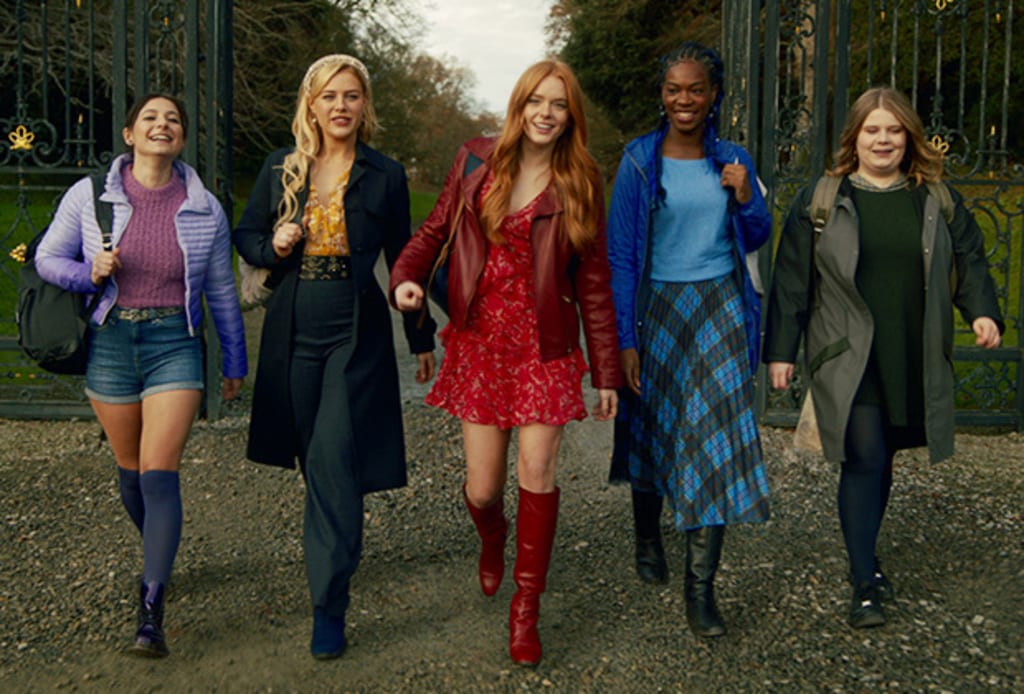 Recently Netflix released their new original series Fate: The Winx Saga and despite it coming from such a colorful and fun cartoon, it is a snore-fest of a show and I couldn't even make it through episode one.
I knew from the trailer this series would be bad from the lack of diversity to the loss of the campy and fun aesthetic, but it was so boring and basic. I am a fan of the original Winx Club, so seeing the trailers and teasers I was already disappointed, but I still wanted to give it a shot. I wanted to give this live-action remake a chance, but I wasted an hour watching a show that is like every other teen drama.
There are little bits of drama every five minutes in the first episode. From Stella and Sky's messy relationship, to Bloom and her family problems, to Terra being outcasted, to Musa being an empath and being a bit cold-hearted, there is some type of drama every five minutes and it's only the first episode. Maybe they had so much drama in the first episode because the series only has 6 episodes but it was tiring.
Also of course we have 24-year-olds playing 16-year-olds and making the teen years very unrealistic, but that's Hollywood I guess. I just wish one time a teen drama could have actual teens in the show, or it would have been better to make it during the college years, but nope we get adults playing teenagers like every other teen drama.
And like every other teen drama, Fate: The Winx Saga is quite moody and gloomy. The aesthetic and styling of the show is dreary, the characters are all so intense, and this show doesn't have anything that makes it stick out from the rest of teen dramas. I felt like I have already seen this show because of how basic it is.
It reminds me of countless other teen dramas: Teen Wolf, Chilling Adventures of Sabrina, The Vampire Diaries, Titans, and Riverdale to name a few. It isn't distinct and follows the teen drama formula that consists of grittiness, moody atmospheres, and dark coloring. It is so bland and basic, which sucks because it had potential to be out of the box because it is from Winx Club.
Winx Club was colorful, fun, and a bit quirky and that's why so many people liked the original cartoon. Then Y2K fashion is so trendy and popular these days, Netflix could have made a fun teen drama that stood out by making the styling vivid and fun. Instead, they washed it down to a dull show filled with angst, and I don't see how teenagers who never watched the Winx Club or people who grew up watching the Winx Club enjoying this show.
For someone who grew up with the Winx Club, the Netflix remake really tainted it by doing a whole 180 on the show and getting rid of everything fun about it. Then for teenagers who never watched Winx Club, I really don't see how they could enjoy it. I am 19 and personally even if I didn't watch the original Winx Club, I still wouldn't like it. I don't see a lot of teenagers enjoying this show. Maybe middle schoolers, but I can't see teens between 16-19 watching this show and wanting to see what happens next. I don't see anybody besides middle schoolers possibly enjoying this show because of how moody the show is.
Fate: The Winx Saga could have been amazing. It could have been fun and colorful, stood out from other shows with its campiness, but instead, it followed down the path of every other teen drama: dull and overly dramatic.
Reader insights
Be the first to share your insights about this piece.
Add your insights