I Really Want to Like Netflix's New Series 'Disenchantment' But...
A Review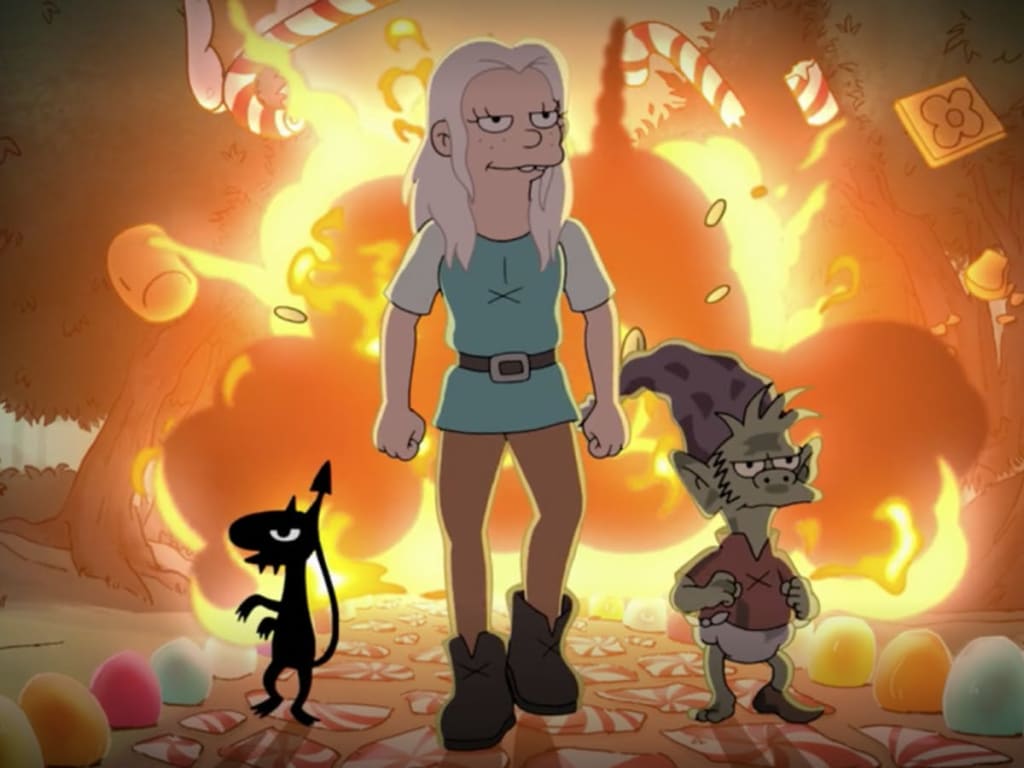 HUGE DISCLAIMER SPOILERS AHEAD
(You've been warned)
Netflix Original Series content as a whole is hit or miss when it comes to the overall enjoyment its viewers experience. Some of these titles are good and have continued being good, some of these titles are good but over-time become less and less enjoyable and often leave fans of the show questioning the writers.
Like most of the Matt Groening's fanbase, I was eagerly anticipating the "Netflix Arrival" of a whole new series of favorable characters in funny situations. Growing up on The Simpsons reruns and falling in love with Fry and his best buddy Bender, I was extra excited about a Fantasy world and a kick-ass princess protagonist.
Because I was totally into sword fights and jumping off of the couch playing Hobbit, a part of me was secretly a Princess hiding her Princess status as she adventured among the Halflings.
I built up so much lore inside my head, wondering what this show could possibly be about, that I was highly disappointed on the execution the first season pulled off.
In the era of fast-moving, YouTube length videos, and the constant need for endings, structures, and orders in storytelling scenarios. We, as viewers and consumers pick and choose what works and what doesn't and the fast-moving plot that Disenchantment writers thrust on their viewers was awkward and uncomfortable.
What worked and what didn't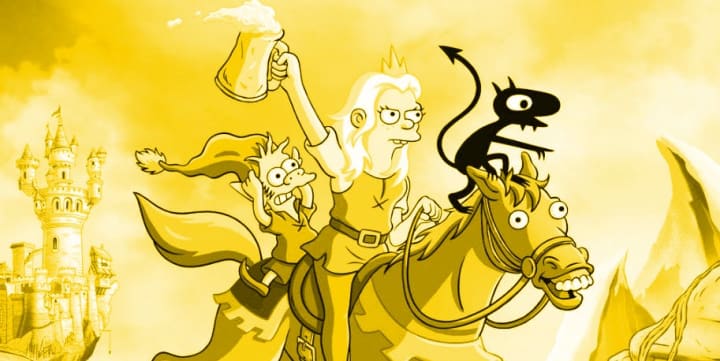 When we first meet our hero she is cheating out her fellow drunk villager at a game similar to that of Poker. This, in turn, starts a fight where she slips away from the bar as everyone fights themselves. I was quickly on board with the idea of a defiant Princess. After all, it was what I was when I would play pretend. Even after her next scene where my opinion of her changed dramatically. I still enjoyed her flaws.
On paper though, this tactic of characterization and execution makes sense, she's not only a princess but a teenager going through puberty and struggling to deal with the unresolved grief that understandably comes to light when we meet her self-centered, short-tempered, father King Zog. However, the indecent exposure in front of her father topped off with under-age drinking left a bad taste in my mouth.
In fact, all of the characters in Disenchantment are screwed up and flawed and the only realistic and 3D character is Luci, the demon that was gifted to Bean, but even that character who acts more of a Deus Ex Machina to carry the characters out of a dangerous jam and that's just not good writing.
I wasn't really a big fan of the Elfo plot twist at the end of the first season and Tiabeanie's decision although understandable, when it comes to who her character is, it wasn't completely a shocker but really upsetting because it feels like a whole season of introduction and character development between Elfo, Bean, and Luci was wasted and the part of me that enjoyed Disenchantment hopes for a quick and beautiful reunion in some magical fantasy type of way between Elfo, Bean, and Luci. Because on top of the lazy writing (Dreamland, why is it called Dreamland? That seems like an obvious name for a Toddler's storybook land. Is it ironic because the villagers of Dreamland live under the rule of a Tyrant who cares about only one thing and makes surviving a nightmare?) Suddenly Bean has notable powers 5 minutes before the end credits on the last episode and it's so significant that it almost gives it away that it was a last minute cliff-hanger to snag audience attention who waited all season for that.
The series is full of lazy and cliche plots and story dialog and even though I shouldn't be, I'm hoping that if there is a Part 2/Series 2/Season 2 some of this rushed content will be cleaned up in the next few episodes if it even gets renewed for a new season. Because the way this show ran, I don't expect people to rewatch and help the writers of Disenchantment give its viewers a proper explanation as to what the last episode was really about.
About the Creator
I thrive on midnight talks about the Universe and how it works. More so, I love the idea that with a single pen and 50 cent notebook I can create worlds.
Reader insights
Be the first to share your insights about this piece.
Add your insights