Hustle - A Netflix Movie Review
Even if you are not a sports fan, 'Hustle' is an enjoyable film.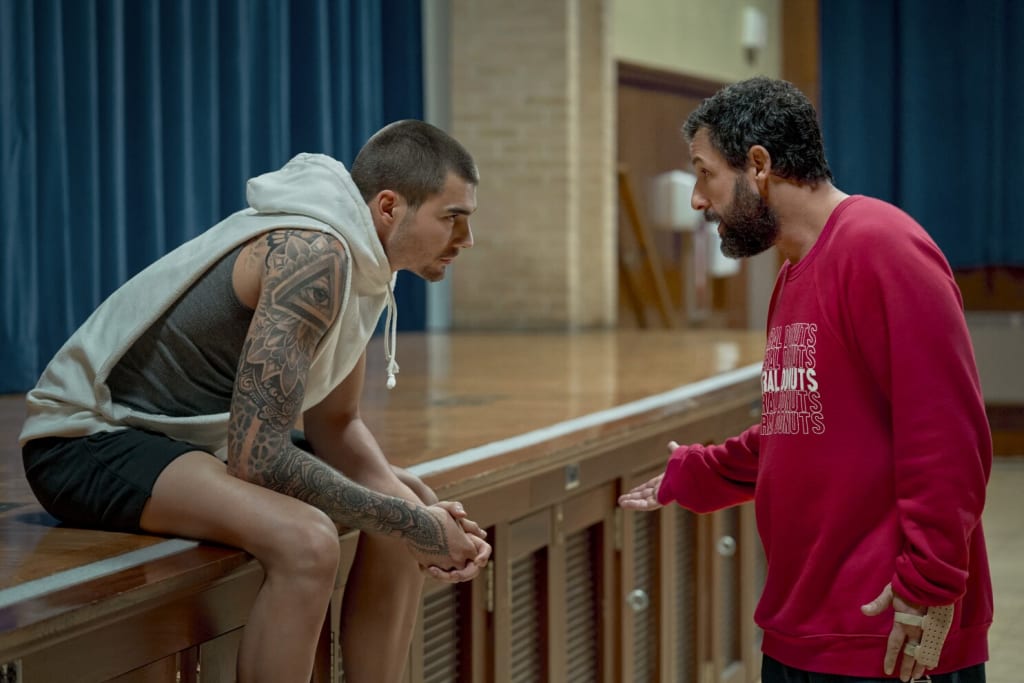 No matter what, never back down.
After a basketball game, Hustle was released to Netflix in 2022. Stanley Sugerman, a struggling basketball coach discovers a gifted street ball player on his trip to Spain. Seeing an opportunity to get back into the NBA, Stanley trains Bo Cruz for the championship.
Sports movies are not my forte but when I noticed Hustle getting hype, I decided to check it out. Hustle is like most sports films; overseeing training montages and witnessing a miraculous journey. Regardless, Hustle is a satisfying film with a provocative message.
In the last couple of years, I have come around to Adam Sandler. Stanley Sugerman is one of Sandler's best roles. Stanley does not let anyone back down. Sandler was funny, charismatic and he put his heart into this role. He gave coaches the right representation they deserve. I hope that Sandler gets recognized during award season.
Juancho Hernangomez was splendid. Unsure of his path, Bo Cruz doesn't believe that basketball is the way to go. Coming from a difficult past, Bo's love for his family is his best trait. In his film debut, Hernangomez was wonderful bearing emotions. His connection to the role made his performance all the more impactful.
Sandler and Hernangomez had the best interactions. The dynamic between any coach and a student is complex. Working hard in strenuous training sessions, Hustle is a good representation of coaching. All coaches should be given the representation they deserve in any sports film.
Who would have thought that Sandler and Queen Latifah made an excellent married couple? This was something that I was looking forward to when I saw it in the trailer. With a mix of sarcasm and sweet moments, I love their relationship. I especially liked the relationship Stanley had with his daughter, Alex (Jordan Hall).
Hustle is well-cast. In his short appearance, Robert Duvall was fantastic. More credits include Ben Foster, Kenny Smith, Raul Castillo, and Anthony Edwards. Most of the players in the basketball scenes were not actors. They were, in fact, real basketball players. I was surprised to learn this. All the players were so natural in their performances.
Two of my favorite credits go to Maria Botto and Ainhoe Pillet. As Bo's mother, Paola delivers a heartwarming monologue to her son about who he is. Family is a monumental theme in Hustle. It's not just about sports. Not only your teammates, but you will always have a family to support you.
As for the story, it's the same setup as every sports film. It doesn't bring anything new to the table. It's the same sports formula of training, playing in games, and briefly giving up. Training sessions go on a little too long. Writers were just extending the story by the end to see what else they could do before the big championship.
The basketball scenes were filmed well. Jeremiah Zeger captured the excitement of basketball. Zeger did a great job with the cinematography but most importantly finding the moral. Never back down in any situation. You just got to do what you love.
Finding the best locations to film in, audiences travel to several locations. I felt like I was traveling with the characters. Due to being stuck in one place for so long, Hustle issues a message for viewers to travel more.
Hustle immediately starts in on the action without any exposition build-up. You will enjoy this film even if you are not a sports fan. Find Hustle on Netflix. It's a film for all sports fans, especially basketball lovers.
review
About the author
Writing has been my passion since I was 11 years old. I love creating stories from fiction, poetry, fanfiction. I enjoy writing movie reviews. I would love to become a creative writing teacher and leave the world inspiring minds.
Reader insights
Be the first to share your insights about this piece.
Add your insights