1. Buy or rent indie films across streaming platforms
Yes, we all love the cinema experience – there's nothing like the big screen, the crunching of popcorn and feeling connected to a room full of like-minded strangers whilst you immerse yourselves in the story playing in front of you. But watching films from the comfort of your living room can be just as fun, and it is desperately needed with the continued closure of cinemas and theaters.
There is a huge choice of independent films across streaming platforms such as Netflix and YouTube and Amazon Prime Video in particular offers a fantastic platform for low-budget filmmakers. For example, Prime Video was the first platform where Eliza Hittman's moving production Never Rarely Sometimes Always was made available to rent at the beginning of April, and a plethora of brilliant new releases can be streamed right now for just a couple of pounds or dollars – this includes Parasite, A24's Waves, Queen & Slim and Honey Boy to name a few!
Other popular platforms such as Netflix and YouTube also offer a wide range of independent films which can be streamed for free with a Netflix account or rented cheaply on YouTube. So, this Friday evening, get the microwave popcorn ready, make sure you are sitting comfortably, hit the lights and turn your living room into your very own indie cinema!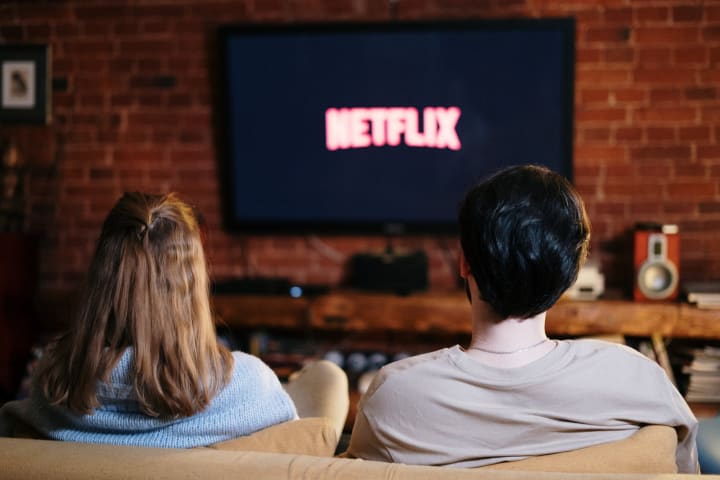 2. Stream films from the website of independent theatres
With being closed to the public, some independent cinemas are giving their visitors the opportunity to stream current releases digitally. For example, an independent movie theater I often visited before COVID-19, Broadway Cinema (Nottingham, UK) is keeping their business alive through providing links to stream films via their website (see picture below).
If you want to support your local movie theater, please take the time to check their official website and see if they offer any options which allow you to stream films digitally.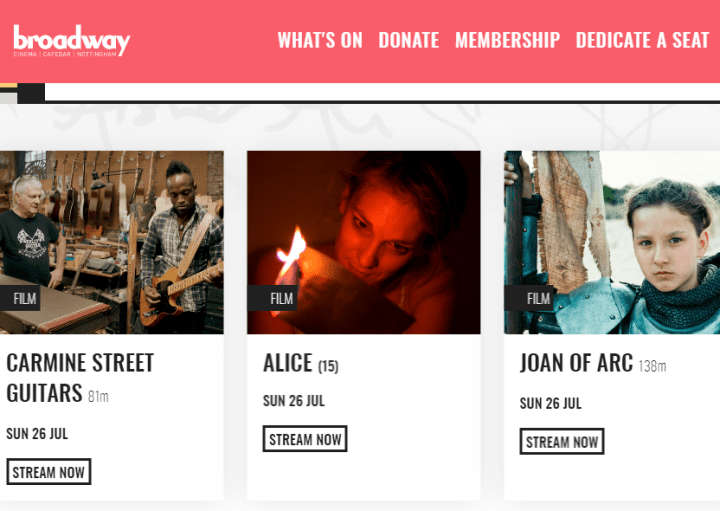 3. Attend virtual independent film festivals
You may have already attended the virtual Cannes and Sundance Film Festival online when they streamed on YouTube as part of the "We Are One" Global Film Festival – this 10-day event took place between May 29 and 7 June and featured a stunning array of feature-length and short films from independent artists across the world.
Although it isn't quite the same as spending an exciting few days discovering new films in a different city - and many Cannes visitors have also said that they have missed experiences such as the meals and afterparties – virtual film festivals mean that many more participants around the world can attend. More importantly, during a pandemic, digital film festivals are the only way that festival-goers can stay safe whilst supporting independent cinema.
If you have a local film festival that happens monthly or annually and they are currently holding virtual film screenings and masterclasses, do not hesitate to participate – sign up or buy tickets to support independent films and festivals in any way you can. Some upcoming film festivals that are being held digitally or have limited in-person programmes include Venice International Film Festival and TIFF in September and BFI London Film Festival in October.
4. Donate to your local independent cinemas
Independent and local cinemas that aren't part of a major chain are usually geared around helping artists who are having trouble getting noticed and they are often registered charities which support fair representation in the film industry - that's why we cannot lose them.
As many small and charitable movie theatres have lost money due to not being able to screen films, they have been at risk of closing, and have struggled to pay operational fees and staff wages – in Virginia, a 67-year-old cinema owner even had to start selling popcorn on the side of the road to ensure his staff would get their paycheck at the end of the month.
Although independent cinemas usually rely on the generosity of their customers to run, more than ever they need the help of the public - if you have some spare time and spare change, visit your nearest independent cinema and donate money to them directly, or via their website if they have one. You never know, your five dollars/pounds/euros could save the future of filmmakers who are trying to get recognized in your town or city!
5. Promote the work of indie film directors and producers across your social media channels
With a very limited number of film festivals and cinemas open, filmmakers are unable to promote their productions as easily and are relying on digital channels to do this. You don't have to be a filmmaker to help them – you just have to be a social media user.
As a result of the coronavirus lockdown, more people worldwide are using social media more to keep in touch with one another – a report published last month found that 72% of UK and US consumers said that they have been spending more time on social media since lockdown. That is why it is important to take advantage of this and use these platforms to help out indie film directors, producers and actors.
If you follow or are friends with filmmakers on Facebook, share their work on your timeline so that others can see it. If you use Instagram, it is also easy to share others' posts and video clips to your stories using the little 'Send' icon below the image/video. As well as sharing the work of creators, I also often search hashtags such as #independentfilm and #filmmaker on Instagram in order to engage with their posts, as more engagement equals more exposure on social media!
If you're a big fan of independent films and you want to do more than interacting with and sharing social media content, you could consider writing short reviews of filmmakers' work and even interviewing them via Facebook or Instagram's live feature.
6. Create petitions or fundraisers to keep your local independent cinemas open
If you know an independent movie theater or arthouse that is on the verge of shutting down as a result of the pandemic, you could create a petition in order to spread awareness or to perhaps persuade your local government to offer more support to the arts community. For example, petitions have been created in the UK in recent months urging the government to better support theaters and live events. You can create your own for free through Change.org or ipetitions.com.
If you know others who would hate to say goodbye to the cinema that is at risk as well, it may be good to create an online fundraiser through a free platform such as GoFundMe or JustGiving - this way, everyone can chip in through donations and save the venue that is at risk.