How to become a Content Writer?
by Arulkani Victor George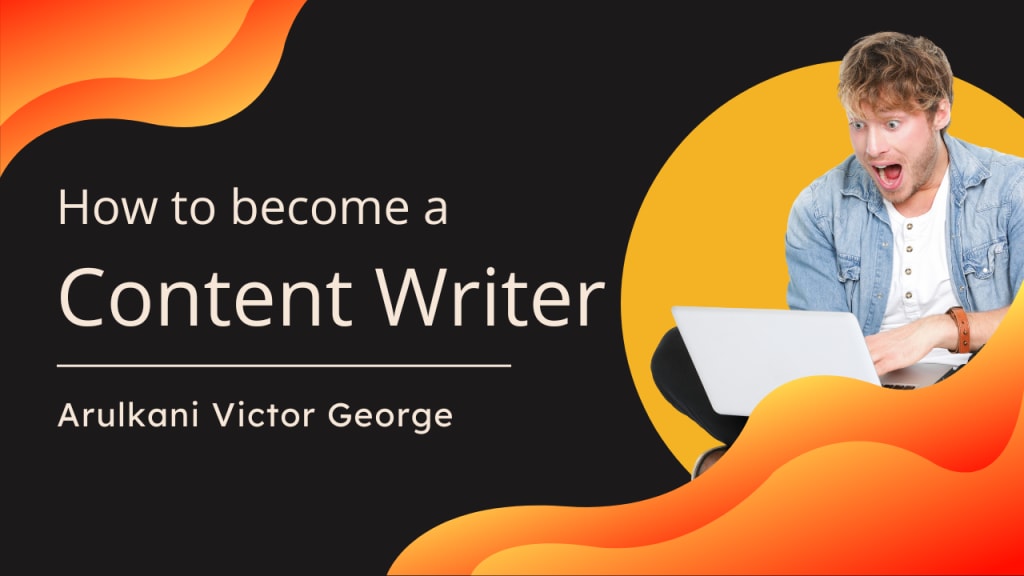 Who is a Content Writer? A content writer creates or develops written content for various platforms, such as websites, blogs, social media, and marketing materials. For example, they may write articles, product descriptions, blog posts, and various other types of content to engage and inform readers. Content writers often research and write on a wide range of topics and are skilled in writing clearly, compellingly, and engagingly.

Importance of a Content Writer: A content writer is responsible for creating written content for various mediums, such as various social media, websites, blogs, and marketing materials. The importance of content writers lies in their ability to effectively communicate a company's message and engage its audience through compelling and informative writing. A content writer can help to establish a brand's voice and tone, increase website traffic, and drive conversions by creating relevant and valuable content for target audiences. Additionally, well-written and optimized content can help to improve a website's search engine rankings, leading to increased visibility and potential customers. Overall, a content writer plays a crucial role in helping a business to connect with its audience and achieve its marketing and sales goals.
How to become a Content Writer: Becoming a content writer can be relatively easy, as it typically does not require a specific level of education or formal training. However, it does require strong writing skills and the ability to write engaging and informative content that appeals to a specific target audience. Additionally, as with any profession, becoming successful as a content writer takes time and dedication and requires a willingness to learn and improve one's craft.

Technical vs. Non-Technical Content Writing: Technical content writing refers to writing specific to a particular field or industry and often includes specialized vocabulary and terminology. Examples include writing user manuals, instructional guides, and technical reports. Non-technical content writing, on the other hand, is intended for a general audience and does not require specialized knowledge or vocabulary. Examples include writing articles, blog posts, and marketing materials. Both types of writing require strong communication skills and an understanding of the audience, but technical writing may also require additional research and knowledge of the subject matter.

Becoming a content writer typically involves the following steps:
Develop writing skills: Practice writing in various forms, such as blog posts, articles, and social media content. Read widely to improve your writing style, grammar, and vocabulary.
Build a portfolio: Create a portfolio of your writing samples to exhibit your skills to potential clients or employers.
Get familiar with industry standards: Learn about SEO best practices, content marketing, and the latest trends in digital media.
Network: Connect with other writers, editors, and industry professionals to learn about job opportunities and get feedback on your work.
Consider taking a course or getting a degree: Some formal education in English, journalism, communications, or marketing can be helpful, although it is not always necessary.
Get Experience: Start writing for Blogs, Webpages, and freelancing platforms. This will help you to improve your skills and build a portfolio.
Look for job opportunities: Look for job openings in various industries, including publishing, marketing, advertising, and public relations.

Free tools for Content Writing (as of 2022): There are several AI writing tools that you can use for free, such as:
1. GPT-3 by OpenAI
2. Articoolo
3. Copy.ai
4. Wordsmith
5. Quillbot
6. AI Writer
7. Writefull
8. Contentgenerator.net
Please note that some of these tools may limit the number of monthly characters or other functions.

The global job market for content writing is strong and growing. With the rise of digital media and the increasing importance of online content for businesses and organizations, the demand for skilled content writers is on the rise. Content writing jobs can be found in various industries, including marketing, advertising, media, and technology, and can range from full-time positions to freelance and contract work. Some popular job titles include content writer, copywriter, content strategist, and digital content creator. The ability to write clearly, persuasively, and in various styles and formats are in high demand, as well as the ability to understand and write for specific audiences.
Happy Content Writing!
Reader insights
Be the first to share your insights about this piece.
Add your insights