How Roleplaying Improved My Writing
Testimony for Online Text-Based Roleplaying
Let me clear this up right now: I'm not talking about Dungeons & Dragons or cosplay. I mean, I'm sure that there are ways in which those kinds of roleplay can help with your writing, but since I've never participated in either—I know, bad geek, bad geek—then I wouldn't know from personal experience. What I am talking about is online text-based roleplaying games, specifically ones played through internet forums.
From the time I was twelve until I was about eighteen, I was highly active in roleplaying forums based on Anne McCaffrey's The Dragonriders of Pern series. (If you haven't read it, I highly recommend it, especially for fans of science fantasy.) Not only did I make some great friends through those forums, but the roleplaying also helped to develop my interest in writing and add a new level to my already fervent love of reading. Honestly, I might not have gone down the path of writing—Stanford writing programs, Bachelor's in English, Master's in Creative Writing—if I had never started roleplaying.
But how could a simple game have shaped my ability and attitude towards writing so strongly?
It's easy: this was no simple game. Layers upon layers went into playing. It can become quite time-consuming, especially if you're the obsessive type (like I am). But there are three aspects in particular that helped me to become a better writer:
1. Character Sheets
In order to play any characters, we had to fill out characters sheets that contained information about their appearance, personality, and history. Typically, there were minimum sentence counts for the personality and history sections of the sheets. The more unique, realistic, yet also intriguing the character was, the more likely it was to get approved by the administrator(s). It was actually a lot of fun to fill out these sheets, at least for me. Sticking to them while playing proved to be a little more difficult, particularly in the personality department, but that was part of the game that helped improve my writing. It helped me learn how to develop a character and then stay consistent with them, even as they start to grow and change. I still use character sheets for the main characters of my larger projects, especially if I find myself stuck in the middle of it. They help me to remember what my characters' motivations are, and from there, I can figure out where I need to go with my work.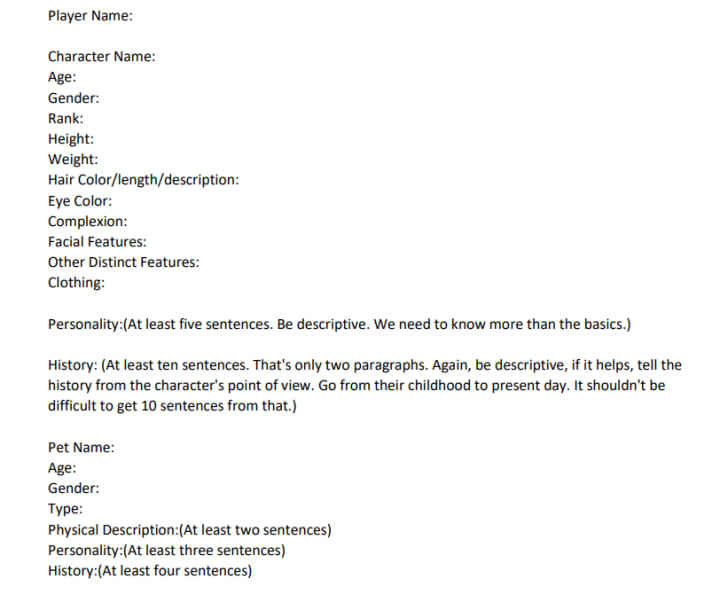 2. Rapid-Fire Responses
Forum roleplaying is a fast endeavor. If you blink, you miss a lot. (I'll admit, I'm one of those people who causes it to be that way with how quickly I respond, but I learned early on that you had to be that way if you wanted to keep up.) Through this fast-paced atmosphere, roleplaying kept me writing every day—multiple times a day, in fact. Whenever I didn't have homework or something to do, I was on the computer catching up on responses. It kept me writing all the time, and writing so quickly kept my imagination and my mind in general sharp. (I actually wish my mind were still that sharp.)
3. Collaboration with Other Players
Writing is typically a solo endeavor. This causes writers to become a bit inflexible when it comes to their projects. In roleplaying, I had to be willing to alter my course based on what other players did. At first, this was hard for me. For a quiet kid, I was more stubborn than people could believe. After a while, though, roleplaying made me more flexible in the game and in writing. I could take any curveball that my fellow players threw at me, and now, I can take any curveball that my characters throw at me as well—even if it means changing the entire plot I've charted out.
Roleplaying isn't for everyone. Some people can't keep up with the speed, others can't remain friendly with other players, and still others can't fit it into their busy lives. Some people just don't have interest in it or can't find a gaming world that fascinates them. If you are built for this kind of roleplaying, can fit it into your life, and have found a world that has caught your interest, I highly suggest that you go with it. It could help improve your writing as it did with mine. At the very least, consider using character sheets. You won't regret it.
For more of my work, check out my Vocal profile or my blog, The Writer's Scrap Bin.
About the Creator
With a BA in English and MSc in Creative Writing, writing is my life. I have edited and beta read as a freelancer for a few years with some published stories and poems of my own. You can learn more about me at thewritersscrapbin.com.
Reader insights
Be the first to share your insights about this piece.
Add your insights