'Hidden Figures' Review
Brilliance knows no boundaries.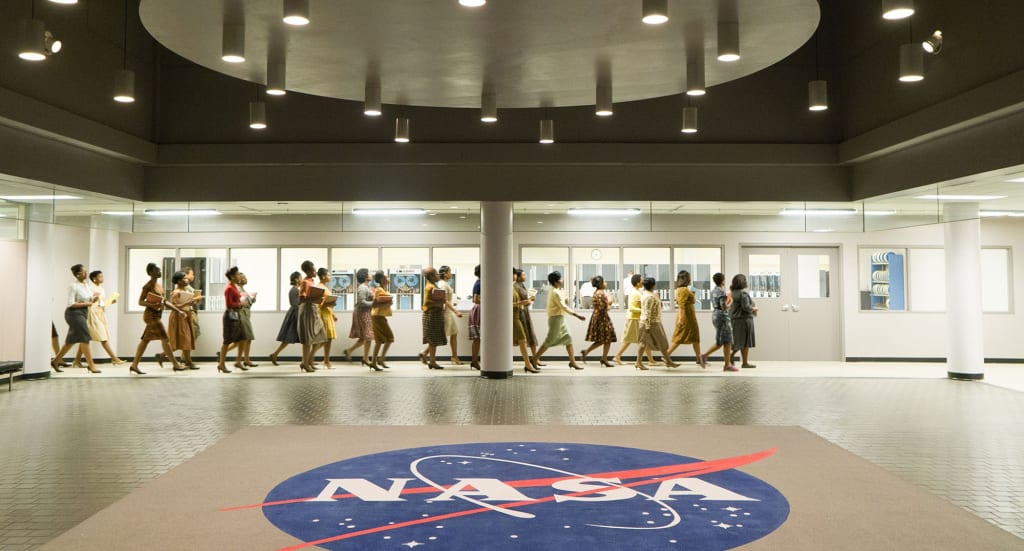 Courtesy of 20th Century Fox
Gender, race, and professional barriers are broken in Hidden Figures, a historical drama that tells the story of the women who majorly contributed to the mission of assisting John Glenn's orbit around the earth, making him the first American astronaut to do so. Directed by Theodore Melfi (St. Vincent) and produced by several including Pharrell Williams, Hidden Figures is an upbeat and inspiring movie that will hopefully be included in the upcoming Academy nominations.
Based on Margot Lee Shetterly's book of the same name, the movie focuses on defying expectations, and how you should always push boundaries. She writes,
"What I wanted was for them to have the grand, sweeping narrative that they deserved, the kind of American history that belongs to the Wright Brothers and the astronauts, to Alexander Hamilton and Martin Luther King Jr. Not told as a separate history, but as a part of the story we all know. Not at the margins, but at the very center, the protagonists of the drama. And not just because they are black, or because they are women, but because they are part of the American epic."
(Anyone who loved the movie should definitely pick up a copy of the book for a more in-depth version of these women's stories).
It's 1961 in Hampton, Virginia. John Kennedy is President, and the Space Race against Russia is well under way. Enter Katherine Goble (Taraji P. Henson), a brilliant mathematician, as her assignment is transferred from the segregated West Computers of the Langley Research Center to compute on the mission that sends John Glenn into space. Her two friends, Mary Jackson (Janelle Monae) and Dorothy (Octavia Spencer), also compute for NASA, and struggle to move up in the ranks for better jobs and better pay.
When Russia sends Yuri Gagarin into space in 1961 as the first man to orbit earth, Al Harrison (Kevin Costner) decides to push his team twice as hard to get John Glenn into space, ultimately making him the first American to orbit the earth. Between work and personal lives and the overall concern throughout America to beat Russia at pretty much everything, the stakes are high.
Ultimately, the brilliant minds band together and make his mission possible, breaking barriers on personal and universal levels.
The cast included Jim Parsons as Paul Stafford, Kirsten Dunst as Vivian Mitchell and Glenn Powell as John Glenn, making for an excellent ensemble piece. Parson's appearance made for an exciting detail, as his know-it-all character in this film is reminiscent of Sheldon Cooper on The Big Bang Theory.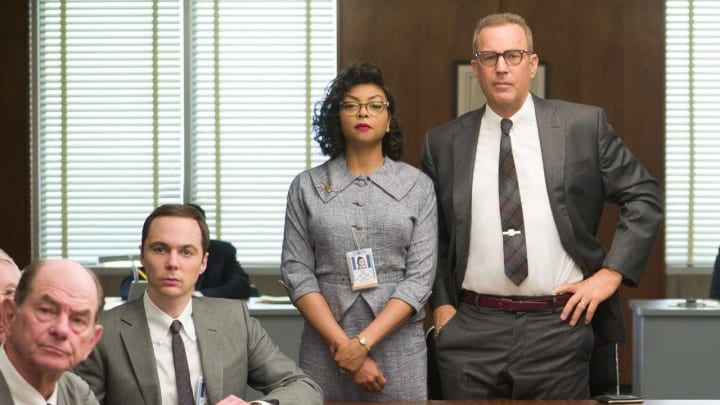 2017 is off to a great start. It swept the box offices its first week, which can place it in a good spot for a few Academy Award nominations later this month. Although to a certain extent I think pushing the feminist agenda is unnecessary (seriously, do we need Ocean's Eight, a remake of a remake?), Hidden Figures is exactly what we need. There is a very strong bond between these women, and anyone who has ever experienced such a friendship on steroids can appreciate them overcoming obstacles, together and alone.
The task of computing and calculating how all this can be possible was even more tedious in the days before the internet and laptops (yes, these kinds of dark ages did indeed exist). It took much more than just watching a YouTube tutorial (yes, there were days where that didn't exist as well) in order to understand the inner workings of the IBM (international business machine). Complicated coding was necessary in order to calculate the coordinates for launch, orbit, and landing of John Glenn's space mission. As though this wasn't complicated enough, Vaughan, Jackson, and Goble faced barriers because of the color of their skin, along with the fact that they were women.
With the complications of segregated libraries and schools in the south, it was hard for these women to even gain access to the appropriate information they needed. Mary Jackson needed a court appeal in order to attend the Hampton High School, this way she could get promoted from "mathematician" to engineer. Dorothy Vaughan was forbidden from checking out certain books from her local library.
As though this wasn't difficult enough, the bathrooms were segregated as well, as several scenes show Goble frantically running across NASA's campus in heels and a pencil dress in order to use "her" bathroom. However, these women endured and made strides in order to complete their task at hand.
"Yes, they let women do some things at NASA," Goble says. "and it's not because we wear skirts. It's because we wear glasses."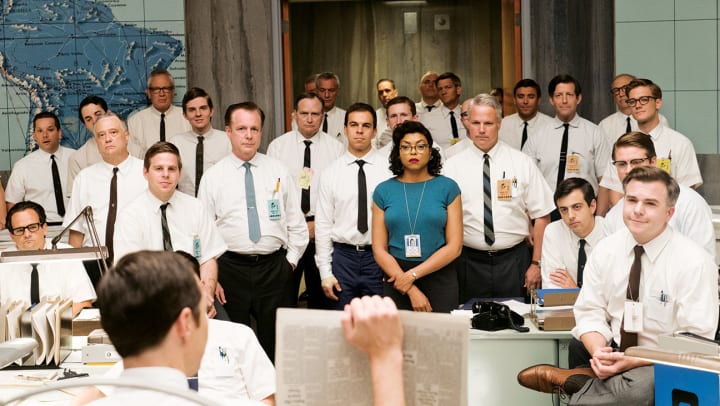 So, who are these women? What happened to them after the credits rolled? How about before we met them at the start of the movie?
Mary Jackson (Janelle Monae) got her bachelor's degree in physical sciences and mathematics at the Hampton institute. Her tasks included performing wind tunnel tests and working on aircraft flight experiments for NASA. Along with serving on the Mercury Seven and Apollo 11 missions. She worked with minorities and women to help them advance in their careers, along with serving as both the Federal Women's Program Manager in the Office of Equal Opportunity Programs, and as the Affirmative Action Program Manager. Jackson worked at NASA until she retired in 1985, and passed away in 2005.
Katherine Goble Johnson (Taraji P. Henson) was a physicist and mathematician. She worked as a "computer" for NASA from 1953-1958, and then was promoted to an aerospace technologist. Here, she worked closely with Alan Shepard and his colleagues to calculate the coordinates for John Glenn's mission to orbit earth. Glenn was such a big admirer of Johnson and trusted her work so much that he refused to fly unless she confirmed the IBM's calculations. Johnson co-authored many scientific papers,and also worked on the Apollo 13 mission to the moon. She was awarded the Presidential Medal of Freedom in 2015. She lives in Hampton, Virginia with her husband.
Dorothy Vaughan (Octavia Spencer), originally a mathematics teacher, started working with NASA in 1943. She was assigned to the West Area Computers, which was the segregated division. She taught workers how to use the IBM and became an expert FORTRAN computer, and her understanding of the machines benefited NASA greatly. She worked in the Numerical Techniques Division throughout the 60s, and retired from NASA in 1971. Vaughan passed away in 2008.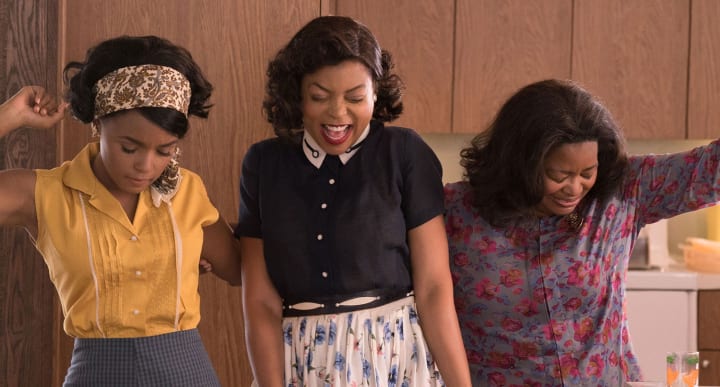 From an aesthetic standpoint, Hidden Figures is 1960s America at its finest. It rivals the look of other 60s period pieces, such as Mad Men and 11.22.63. Everything from the shoes and the dresses to the car Goble, Vaughan and Jackson drive are absolutely gorgeous. Little details like the way women wore their hair to how homes were decorated back then were definitely taken into account when creating the world in which Hidden Figures took place.
The score was produced by Hans Zimmer, teaming up with Pharrell Williams to give the music "an extra nuance." "Everybody has their assumptions about the way music and space and space exploration sound," states Zimmer. "Either you have the idea of mathematics, which is the Philip Glass thing, or you have preconceived ideas like The Right Stuff or Apollo 13. But nothing in the music ever hints at an African-American, let alone female, undercurrent." By adding the missing piece to the music that Zimmer and Williams felt it needed, Hidden Figures is given an amazing and distinct sound. Hopefully it receives a nomination from the Academy for Best Original Score.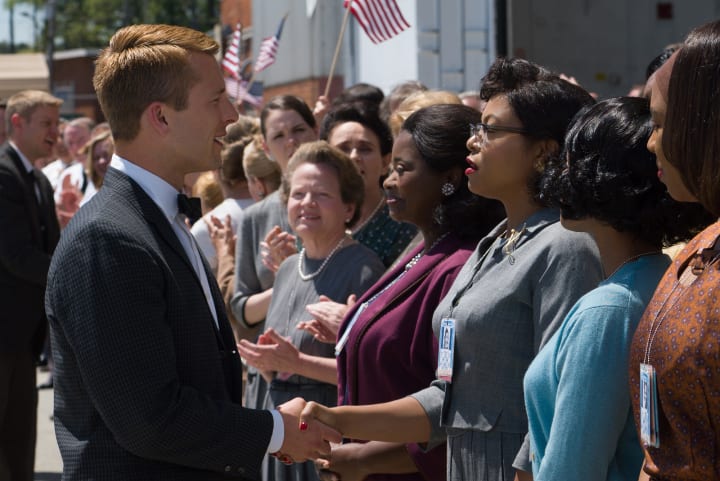 Their overlooked contributions were well overdue for recognition, and Hidden Figures did an excellent job with just that. The film shows that every member of a team is important, which is something to always keep in mind. The movie places everyday struggles of race and gender next to that of the space race, something else very important to Americans. This juxtaposition is brilliant, as the everyday victories of overcoming racial barriers and gender barriers is just as important as (if not more than) the space race against Russia.
Overall, Hidden Figures is a must-see this Oscars season. Space travel films (such as The Martian, Interstellar, Gravity) have all been big box office hits and caught the Academy's attention. However, this historical drama tells a true story of diversity, triumph and friendship. It will make you smile from beginning to end.
About the Creator
Marina loves Frank Sinatra and hates decaf coffee. The native New Yorker and Cornell grad knows every word to "Ferris Bueller's Day Off" and thinks Shakespeare is cool. If you need her, she's waiting for Godot. Twitter: @marina_caitlin
Reader insights
Be the first to share your insights about this piece.
Add your insights