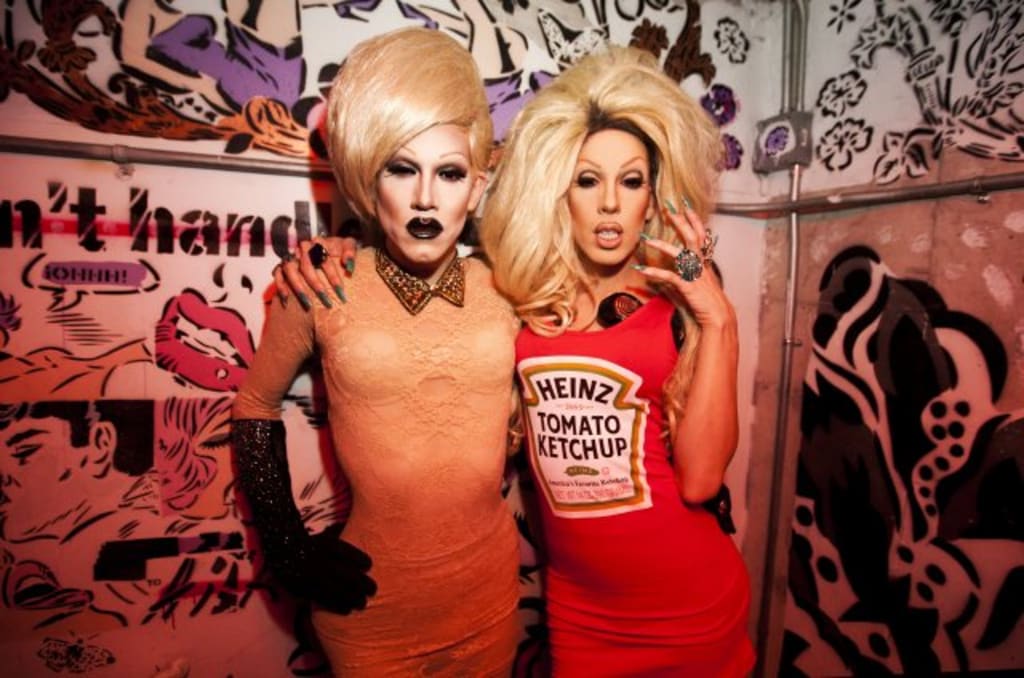 A reminder of the Sharon we used to know and love
Now, don't think that this is me hating on the evolution of a performer, because all stars shine with a different light from time to time, but Sharon Needles won
RuPaul's Drag Race
for being unique, putting the gore in gorgeous, and letting her "freak flag" fly high—that's not who she is anymore. Or at least, it's not the image she projects anymore.
Sharon used to be my third favourite Drag Race winner—preceded by Bianca Del Rio and Sasha Velour—because she spoke to the dark parts of me, the parts that revel in slasher films and love being pale, the parts that felt like I couldn't ever be appreciated because I had my own freak flag flying—but then I started actively looking at her social media and it seemed that the House of Haunt was no more, replaced instead by the House of Hum-drum, a pale immitation of the Living Dead Girl from days gone by that could have made Rob Zombie himself shiver in terror.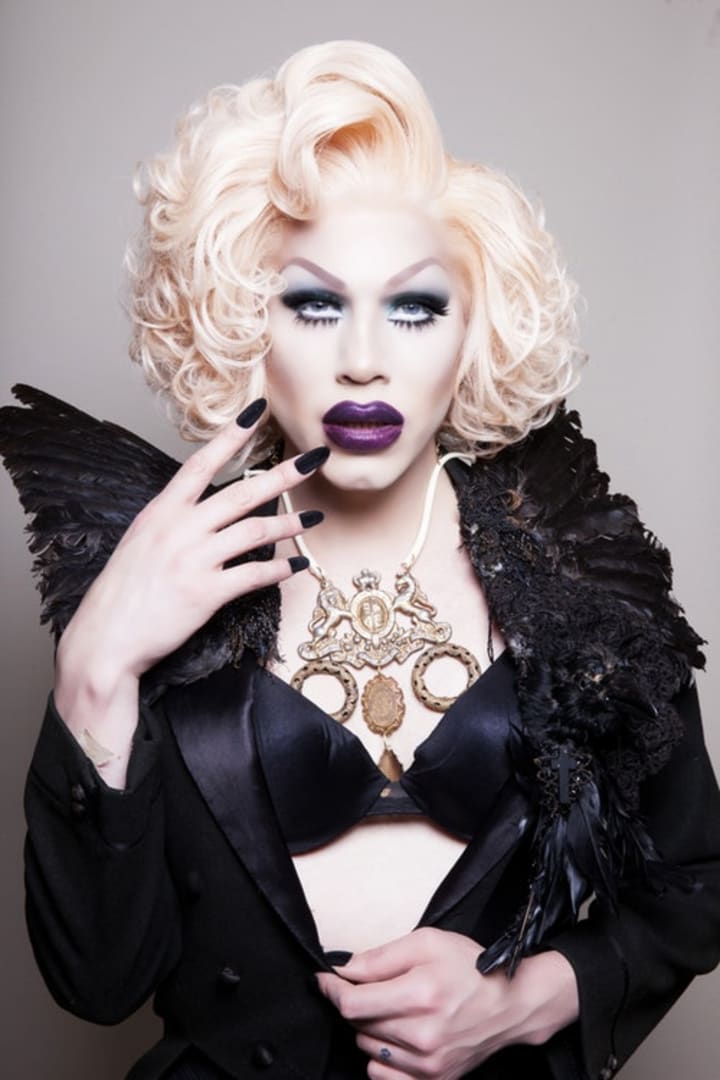 Knowing my mum had treated me to tickets (meet & greet, no less) to see both Sharon and Alaska in a "Halloween tour," I hoped that the audience would be treated to a blast from the past and we would get to see more of the originality that made Sharon so special to her fans to begin with—my hopes were dashed the moment I laid eyes on her. Dressed in black spandex pants and a red long sleeved t-shirt adorned with a mirror on the stomach, all I could see was a redheaded Sandy from
Grease
—I later learned it was an
homage
to the film
Death Becomes Her
, a classic reference that unfortunately isn't relatable to many younger Drag Race fans... or a unique idea, something hardcore Sharon fans had come to expect from the creative queen.
Despite my disappointment at not getting to see the queen I had hoped to, she did look truly beautiful, and I told her as much when I met her—but it wasn't the same beauty as before. It was a classic, almost overtly sexy beauty that didn't fit the traditional Sharon brand of sexy because it's a bit off-beat. The look she wore for the finale of her season of Drag Race was mindblowingly gorgeous, but what made it (and Sharon herself) so alluring was that it wasn't traditional.
So, after being happy to have met Sharon, and elated beyond words to have met the filthiest bitch in drag herself, Miss Alaska Thunderfuck 5000, we were treated to the musical stylings of Divina De Campo, a Queen born and bred in the UK and decked out in some campy Halloween realness. (Check out this photo of her hair from the night—the first thing I called it when I saw her strutting about the club was "majestic," and I stand by it!). Her rendition of "Defying Gravity"from beloved musical Wicked had the majority of the audience (who knew the words) singing along, and the ones who didn't have a mental lyrics sheet still felt empowered by it—you could tell from the energy in the room that Divina was singing the song exactly as intended, and with a West End worthy voice to boot. Followed by "I Put a Spell on You" from Disney classic Hocus Pocus which admittedly, I've never seen, she still managed to inject me with a little more Halloween spirit with the song, and when she began to belt out "Poor Unfortunate Souls" from a Disney classic I have seen, The Little Mermaid, I had chills. This queen can sing, dance, and has some comedy in her belt too—definitely one to watch when we finally get a Drag Race UK, and I'd bet she could make it to Top Three!
Another supporting act from the night was Victoria Secret, a Dublin based queen who quite frankly was one of the only queens that got the crowd pumped up enough to dance along with her. This girl can throw some serious shapes—I'm not talking basic triangles and circles here, folks, she was working nonagons, hexagrams, octagons and parallelograms—and despite the fact her microphone wasn't working for some of her set, she powered through like a true professional and left a lot of bitches thirsty for more. Forget Alyssa's Secret—I want to know Victoria's!
After being put in to a high-energy Halloween spirit, the crowd was well and truly ready for the main event—fan favourite Alaska Thunderfuck 5000 and the Queen of Halloween herself, Sharon Needles. It's worth noting at this point that Alaska was welcomed with bigger whoops and cheers by the majority of the crowd, and I can only speculate that the reason is this: we know and love Alaska for being an off-kilter but fabulous bitch, and we expect the wonderfully weird from her, so the costume of Madeline Ashton from Death Becomes Her was a both suitable and fun choice... but from the devilishly creative mind of Sharon, bigger and better things were expected. This is the queen who looked more ghoulish than the zombies from well, every zombie film ever made, in the first challenge of RuPaul's Drag Race, but for a Halloween tour she comes out dressed as something someone else can claim as their own?
However, never one to judge a book by its cover, I kept faith that if the aesthetics weren't to my liking, the performance would blow me away, just as she had in the finale of Drag Race. I was wrong.
Singing one of Sharon's songs, she and Alaska performed a duet, their voices blending together perfectly—they may not be a couple anymore, but their voices are destined to be heard together—with Sharon pulling a few more solo parts than Alaska. This is where my issues really begin—Alaska is every bit the winner and star that Sharon is, so why did it feel that the focus was being put on just the one of them? Before you misunderstand, I'm not accusing Sharon of stealing the limelight. I'm hypothesising that someone backstage felt that Sharon deserved more attention from the audience, when in fact the majority of us were there to see a tandem performance of two beloved queens. Followed by a bizarrely captivating spade fight (literally, they fought with spades. I'm sure it's a reference to something that I didn't recognise, but regardless, I couldn't look away!), their first set was rather short but enjoyable.
Then came another high-energy performance from Victoria Secret, which instantly pumped up the crowd. I hadn't noticed until I saw the way the people around me came alive during her set, but the atmosphere during Sharon and Alaska's first set had actually died down a little. It was like the excitement we showed for the two stars was manufactured because we didn't want to admit it wasn't what we expected, and suddenly dynamic Victoria reminded us of the fun a drag show usually is.
Brief but thrilling, Victoria handed the stage over to a local Liverpool queen, the incomparable Shania Pain. Decked out in a true Halloween look and werquing her zombeautiful (coining it and owning it, thank you very much), face makeup, she looked the part and it was the level of uniqueness I had come to see... but had expected to see in Sharon. Thank you, Shania, for reminding us how a real Halloween look should look. Aside from looking the part, Shania was a spellbinding performer who can sing, dance, and knows how to get an audience feeling part of the action. The highlight of the night for me was the singing of "Time Warp"from cult classic The Rocky Horror Picture Show, which had every member of the audience jumping to the left and stepping to the right. Even I, who feels bulky and cumbersome when I dance, was pulling my knees in tight and doing the pelvic thrust. It was a brilliant performance that got the audience excited all over again, and after a brief intermission which I assumed Shalaska was using for a costume change, we were ready to get in to the Halloween spirit with a solo performance from Sharon.
Unfortunately, Sharon's solitary set felt a little more like a lecture than entertaintment as Ru would say. She sang one of her songs in which she refers to herself as God, because Sharon believes you are your own God, in control of your own destiny—a great message for anyone plagued by self-doubt, but I don't think many people came to hear her talk about the flaws of religion for five minutes straight.
Unlike Sharon, I'm not here to talk to you about my personal religious beliefs (or lack thereof), but to understand where I'm coming from, my beliefs are this; I believe there is a higher power. Maybe not a single omniscient being, maybe not multiple all-powerful beings, maybe Sharon has it right and "God" truly does come from within us, but when Sharon asked if we believed in God and the audience chanted "No" with fervor, I felt alienated. It's possible everyone else in the room were true atheists, but she alienated a fan with a single question, making me feel like I didn't belong in her crowd because of it. She could have talked to us about feeling power within ourselves without implying that we can't believe in a higher power too—I know I feel power within myself, and the fact I think there's probably a vague idea of God too doesn't stop me from believing in myself.
The next issue I want to address is inspired by some things that Sharon said, but its also a much wider problem. Sharon told us that she is "more Rupulsive than RuPaul, more Courtney Love than Courtney Act, and more Marilyn Manson than Marilyn Monroe." You can build yourself up without tearing others down. There is no need to imply that being RuPaul, Love, or Monroe is a negative. She could have talked about being all of those things without disparaging those people, one of whom is responsible for her being the star she is today. I know that "reading" [definition here] is typically done from a place of love and caring; to expose a fellow queen's flaws in a humorous way so as not to hurt them, but gurrrrrl, it didn't sound like it was being said with love. It sounded like being those things was a straight-up insult, and I wasn't into it.
While I'm on the subject, I can't quote her verbatim on this, but she said something along the lines of "I'm not like Sasha Velour, begging to be understood as intelligent when I'm not." Again, it did not come off like an affectionate read, it sounded like real nastiness—which it may not be, she may have been speaking from a place of kindness, but if she is, she really needs to work on her delivery. She did the same thing again later on, this time aimed at Lady GaGa—a singer who has been a beacon of hope for so many young people, in particular LGBT+ youth—implying that because she names her fans "little monsters" she is calling them "little" in terms of capability. Anyone who is familiar with GaGa knows this is not the case. GaGa refers to herself as "Mother Monster," so when she calls her fans her little monsters, she's calling them her children. In case you've missed the connection, Ru herself is commonly called Mother Ru, and names every queen on her show as one of her family, affectionately calling them "kiddo" in the workroom on a regular basis. It felt to me that Sharon has lost the ability to be proud of herself without seeing herself as better than someone else in the process, and again, if I'm wrong, it's because her delivery was off.
I was so bored of this that I actually left the venue to go for a cigarette while she was still on stage. Now you can ask my mum for verification if you want—I've been one of Sharon's biggest fans since the first time I saw her on Drag Race, championing her through every challenge, so for me to leave while she was performing really spoke to the fact that to me at least, I wasn't watching the same queen I had fallen in love with originally. I only returned to the venue when it was announced that Alaska would finally be returning to the stage.
Ah, Alaska. Despite the fact we only got to see two solo songs from you, one of which was Sharon's, it was a magical experience. You inspired excitement and elation from all of us, even being handed cash from the people lucky enough to be in the front row, and watching you loving the interaction between you and us just proved that you are the queen we fell in love with twice on Drag Race. There is no difference between the Alaska I saw on TV and the Alaska I saw on the stage, and that is why I'm a bigger fan today than I was before that night.
So, to close what is the longest article I have written to date, I'll leave you with this: I still love Sharon Needles, but I love the Sharon we saw in the workroom, on the runway, on the main stage of the finale. I have every faith that she still owns one of the most brilliantly twisted minds of the decade, but won't be paying to see her until she starts to show it again. I hope that day comes soon, because she may be earning more fans with her new style and attitude, but her original fans like me are really yearning for the House of Haunt to make a comeback, and we probably won't wait forever.
About the Creator
Conservative-hating feminist who writes about pretty much whatever pops into her head. Big fan of dead trees with tattoos. Twitter @SRJWriter
Reader insights
Be the first to share your insights about this piece.
Add your insights